Augustin Daly's A MARRIAGE CONTRACT Opens To Rave Reviews At Metropolitan Playhouse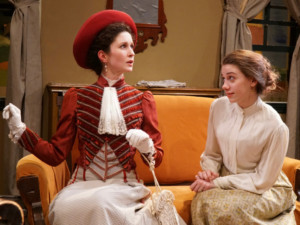 Metropolitan Playhouse (220 E. 4th Street) welcomes back Victorian impresario Augustin Daly with A Marriage Contract now on stage through Sunday, March 18. This riotous 1892 comedy of a marriage caught between the big city and a small town, makes a triumphant return to the New York stage for the first time since its premiere.
Performance Schedule:
Wednesday, March 14 at 3pm
Thursday, March 15 at 8pm
Friday, March 16 at 8pm
Saturday, March 17 at 3pm and 8pm
Sunday, March 18 at 3pm
Tickets: $30 general; $25 seniors/students; $10 children, and may be purchased on line at www.metropolitanplayhouse.org/tickets or by phone (800) 838-3006.
A Marriage Contract (originally titled A Test Case; or, Grass Versus Granite) is a comedy of country and city life when well-intentioned and determined lovers of each must content with falling in love with one another. The valiant effort of a city boy to bring himself to his wife's little town nearly succeeds, in spite of its inertia and judgements. At least his failure opens some hitherto closed eyes and hearts.
A Marriage Contract features Andrew R. Cooksey, Jr., Terrence Dineen, Mike Durkin, Dionna Eshleman, Nick Giedris, Teresa Kelsey, Tyler Kent, Florence Marcisak, J.M. McDonough, Jennifer Reddish, Anna Stefanic and Trevor St. John-Gilbert.
The production team includes Alex Roe, director and set design; Jessica Kidwell, stage manager; Deejay Lindo, technical direction; Christopher Weston, lighting design; Sidney Fortner, costume design; Julie Katzenberger, costume assistant; Talia Feldberg, assistant director; Brianna Fernandez, assistant stage manager; Michael Hardart, carpenter; with scenic painting by Max Frank, Anthony Kochensparger, Rachel Kosch and Florence Marcisak.
Augustin Daly (1838-1899) was one of the grandest theatrical impresarios of the late 19th Century and is considered by many to be the first modern American director. While his exceptional success as a producer chiefly owes to the smash success of Under the Gaslight (1867, and revived by Metropolitan in 2009), he began his career in 1859 as a drama critic for several New York papers. Already writing and producing adaptations and new plays, he assured some favorable press by writing his own reviews. He went on to manage successful venues such as the Fifth Avenue Theatre, in two locations, and then a Daly's Theatre in New York and a second in London. In New York, he gathered his own company of actors, including luminaries such as Ada Rehan, Clara Morris, Maurice Barrymore, Fanny Davenport, Tyrone Power, Sr., Isadora Duncan, and many more. Known for both the authenticity of his settings and his sensational effects, insistence on justified behavior on stage, and a propensity for extensive alteration of even the most sacred theatrical works (such as Shakespeare), Daly was a driving force in American theater for nearly half a century.
METROPOLITAN PLAYHOUSE explores America's theatrical heritage through forgotten plays of the past and new plays of American historical and cultural moment. Now in its 26th season, the theater received a 2011 OBIE Grant from The Village Voice for its ongoing productions that illuminate who we are by revealing where we have come from. Called an "indispensable East Village institution" by nytheatre.com and "invaluable" by Back Stage, Metropolitan has earned accolades from The New York Times, The Village Voice, and The New Yorker. Other awards include Outstanding Performing Arts Group from the Victorian Society New York, and 18 nominations for NYIT Awards since 2010, with winners Lenore Wolf for short script, Sidney Fortner for costumes, Frank Anderson for lead actor. Recent productions include ON STRIVERS ROW, LEAH, THE FORSAKEN, END OF SUMMER, O'NEILL (Unexpected), WALK HARD, ALISON'S HOUSE, INJUNCTION GRANTED, THE MAN OF THE HOUR, ICEBOUND, WITHIN THE LAW, THE HERO, A MAN'S WORLD, BOTH YOUR HOUSES, THE HOUSE OF MIRTH, DEEP ARE THE ROOTS, THE JAZZ SINGER, ONE-THIRD OF A NATION, UNCLE TOM'S CABIN, and DODSWORTH, as well as the Alphabet City and East Village Chronicles series.