Martha Wilkinson and Rachel Potter Star in Chaffin's Barn's MAMMA MIA!
Here's an oft-proven truism, if not an out-and-out fact, about theater in Nashville: If Martha Wilkinson is the star of a particular show - any show, whether it's Noises Off, Chicago, Little Shop of Horrors, Sister Act (well, you get my drift) - you can rest assured that she will (A) play the role to the hilt, (B) knock your socks off with her timing and delivery and (C) you'll believe that, no matter how many times you've seen a show, any show, it was as if you were seeing it for the first time.
Therefore, director Bradley Moore and producer/impresario Norma Luther, have stacked the deck decidedly in their favor with the production of Mamma Mia! - the theatrical juggernaut that gave Broadway audiences the antidote for what ailed them in the fall of 2001 and which has delighted audiences around the globe before and since - that opens on Thursday night, September 7, for a run through October 20 at Chaffin's Barn Dinner Theatre.
Mamma Mia! is set to start all the right tongues a-wagging about how audiences shouldn't miss this particular rendition of the show in which a young woman tries valiantly to determine which of three possible candidates - all former lovers of her mom - could be her birth father...
Wilkinson, a nine-time First Night Award winner (primarily for her performances in musical theater, but also in the plays category) and a 2015 First Night Honoree, leads the cast of Nashville theater all-stars in the leading role of Donna (the role played by Meryl Streep - perhaps you've heard of her - in the film version) to bring the show to life at the newly reinvigorated Chaffin's Barn Dinner Theater where she pulls double duty as artistic director.
Joining her onstage, in addition to a bevy of local thespians, is another musical theater star - Rachel Potter - whose resume includes starring roles on Broadway, The Addams Family's Wednesday Adams and Juan Peron's young mistress in Evita among them, who a few years ago decided to make Nashville her home to pursue a music career and to start a family. Clearly, the addition of Potter to the already impressive ensemble only ups the ante for Bradley, Luther, musical director Kelsi Fulton, choreographer Everett Tarlton and all the other creative forces (such as designers Joy Tilley Perryman and Jamie Lyn Scott) working to lead Chaffin's Barn through another noteworthy half a century, one show at a time.
Founded in 1964 by the legendary A.W. Chaffin and his family, the iconic red barn dinner theatre that became Nashville's first professional theater, employing some of the very best actors to be found anywhere (like theater luminaries Tony Award winner Cherry Jones and 2013 First Night Honoree Michael Edwards) has entertained all comers since it first opened, but with Luther's acquisition of the venue earlier this year, The Barn has reestablished itself as one of the region's leading purveyors of live entertainment, producing critically acclaimed and audience-approved shows during the first two-thirds of 2017, with more hits like Mamma Mia! on the horizon heading into 2018.
Clearly, the show's starry pedigree is assured, thanks to Wilkinson and Potter in the show's leading female roles. Recently, the two women took time off from an intense rehearsal schedule - musicals at The Barn are typically mounted during a hustling, bustling fortnight: a harried two weeks of blocking, singing, wardrobe fittings, photo shoots and more that results in an opening day spectacle to thrill patrons - to talk about their shared experience in taking a script and breathing vibrant life into, all set to a score of ABBA hits.
"Rehearsals are going great," Potter reports, excitement and anticipation in her voice. "We are in a short rehearsal process, but we're cramming everything in and everyone's very excited and we have a great team of people to guide us."
Wilkinson agrees: "As you know, we have a very short time period here to put a musical up, but we're used to it. And we have a great cast...we are so fortunate to have Rachel here and our ensemble is full of lead players."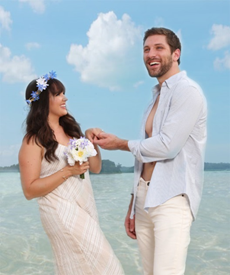 That blending of new players with familiar faces is a practice that has served The Barn well over its first 51 seasons, so it's a winning formula to serve the company well into its next 51, Wilkinson says.
"I had not even really considered playing Donna before," she admits. "But once we selected the show and I read the script, I became very excited about playing Donna. I share a lot of similarities with her - we're both strong, independent women, although I don't think I'm as bitter as she is!"
For Potter, the role of Sophie (the young bride-to-be in the show) is one that had somehow evaded her for years - almost to the point that she'd given up hope of playing her: "When I was living in New York, I had auditioned for Sophie multiple times and I had assumed it was a role that was just never meant to be for me, and when it closed on Broadway I was pretty sad that I missed the chance to play her."
"Luckily," she laughs, "my wrinkle cream is working pretty well on me and I'm still able to be cast a little younger than I actually am in real life, so I'm now able to do the role that was never meant for me to play on Broadway."
Although the breakneck speed with which new productions are mounted at The Barn, coupled with working with a company of actors she's only now getting to know, initially may have been daunting for the experienced and capable Potter - her tremendous talents landed her a place on TV's The Voice a few seasons back - looking back on it from her new perspective as a veteran she breathes a sign of relief and concedes she's having the time of her life.
"It's been really fun," she explains. "Since moving to Nashville, I've been focused on being a recording arts and working on new music with my band, so I wasn't aware until now what a great theater community there is here. I've been kind of out of the game, so it's been very heartwarming to find there's a great theater community here.
"My attention has been elsewhere, so I'm feeling very lucky to flex my musical theater muscles again - it's very easy to lose yourself sometimes, so it's good to get back to the basics of theater and to just feel like I'm making art again, establishing relationships with other theater people and making someone in the audience happy with what I'm doing onstage, without an agenda. This is making art just for the sake of art and it's really nice to do that. I feel refreshed."
For Wilkinson, who's been a part of The Barn family since the early 1990s, welcoming new personalities into the fold has become a part of the theater's most beloved traditions. To that end, she and Potter agreed to answer some queries of a more esoteric, less probing, variety...
If producers were casting an actress to play you in the upcoming movie sequel to Mamma Mia!, who would you want to play you?
Martha Wilkinson: Glenn Close.
Rachel Potter: Zoe Deschanel. I love her quirkiness and comic timing.
What's your favorite ABBA song?
Rachel Potter: I have always been a lukewarm ABBA fan, but I absolutely love "Dancing Queen." She explains that when she was living and working in New York City, she and a number of like-minded friends - who all loved country music - would do a slightly less disco, decidedly more bluegrass version of the song.
"ABBA is so iconic and their pop sensibilities spill into so much of music today without people realizing it," she concedes. "I have an eight-month-old baby and every day in the car he's listening to all this great ABBA music. I think he's gonna be a pop music genius!"
Martha Wilkinson: I am old enough to know ABBA when they first came out [Editor's Note: no, she's not}, so I've always enjoyed ABBA. Onne of the things that unifies fans is that everyone has a favorite ABBA song and I think that's what excites people so much about this show.
Potter agrees, adding, "I come home in a good mood every day, because we're having a great time...it's light and really fun. This music transports you and it allows you have fun - it's like we're in a disco every day."
"People are going to leave the theater with smiles on their faces," Wilkinson promises.
Editor's note: Megan Arrington will play the role of Sophie in performances on September 22 and 23 as Potter fulfills other professional obligations on those dates.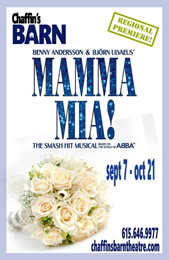 About Mamma Mia! at Chaffin's Barn Dinner Theatre: Broadway vet Rachel Potter stars with the nine-time First Night Award-winning Martha Wilkinson (a 2015 First Night Honoree) in the upcoming Chaffin's Barn Dinner Theatre production of Mamma Mia!, the hit musical set to a score of ABBA's biggest hits. Mamma Mia! runs September 7-October 21 at Nashville's iconic dinner theatre.
Opening on Broadway in October 2001 - just weeks after 9/11 - the musical provided a much-needed dose of escapism to a battered New York City theatre scene still reeling from the attacks of September 11. It went on to run for 14 years on the main stem, with some 5,773 performances to its credit. The North American touring production, which opened in Providence, Rhode Island, in 2002, continued until its final performance in St. Louis on July 30 of this year, racking up in excess of 4,000 performances along the way.
Starring Broadway veteran and former X Factor finalist Rachel Potter as Sophie and Martha Wilkinson as Donna, Mamma Mia! tells the comic story of bride-to-be Sophie and the hilarity surrounding her wedding on a Greek island paradise. The magic of ABBA's timeless songs propels this enchanting tale of love, laughter, and friendship, creating a trip down the aisle audiences will never forget!
Bradley Moore directs, with choreography by Everett Tarlton and music direction by Kelsi Fulton.
Chaffin's Barn's production of Mamma Mia! will include 30 performances, staged on Thursday, Friday, and Saturday evenings, as well as Thursday matinees, with one special Sunday matinee on September 17. Reservations for Mamma Mia! are now available via www.ChaffinsBarnTheatre.com.
In addition to Potter and Wilkinson, the cast include Gracie McGraw, Meggan Utech, Jenny Norris-Light, Cat Arnold, Taylor Novak, Will Pope, Austin Olive, Greg Frey, David Arnold, Geoff Davin, Curtis Reed, Christina Candilora, Brett Cantrell, Anna Carroll, Heather Hershow, Jenna Pryor and Sarah Katherine.
For reservations call (615) 646-9977. Chaffin's Barn Dinner Theatre is located at 8204 Highway 100, Nashville.
Jeffrey Ellis is a Nashville-based writer, editor and critic, who's been covering the performing arts in Tennessee for more than 35 years. In 1989, Ellis (read more...)