LAURI GREGOIRE, A Dancer's Life
Make no mistake about it, to know Lauri Gregoire is to love her - just ask the legions of people lucky enough to know her throughout her life, particularly those who have come to know her in the 20-plus years she's lived in Nashville. She's beautiful, to be certain, but perhaps more to the point, she is bright, clever, intelligent, empathetic, kind and committed to her family and friends, her career and business and to living the kind of life that has created a legacy of creativity and art in her adopted hometown.
Like many theatrical luminaries (Kristin Chenoweth, John Barrowman, Jason Daniely and scores of others), she first came to Tennessee to perform at the late and lamented theme park Opryland USA. Now, as the owner of Bellevue Dance Center, where thousands of budding young dancers have taken their tentative first steps onto the performance stage in pursuit of a career in dance, Lauri Gregoire has motivated aspiring dancers to be their best and to never say never as she provides a stellar role model for them to follow as their own careers develop.
As a dancer, she is perhaps unparalleled in Music City: She's performed with many of the region's finest theater companies, exemplifying the type of musical theater dancer who electrifies audiences with her soaring capabilities. Most recently onstage in Studio Tenn's critically acclaimed production of Evita, starring Eden Espinosa, Ben Crawford and Anthony Crivello, she dazzled audiences with her confidence, commitment and focus. As a choreographer, her work has elevated productions over the years from Boiler Room Theatre, Music City Theatre Collective and Circle Players - and she will next take on My Fair Lady (which I will be directing) at The Larry Keeton Theatre in Donelson, running February 16-March 4, 2017. In addition, she is choreographer/producer of The First Night Honors, the Nashville-based awards program that pays tributes to Tennessee's leading lights in the performing arts.
Today, readers are given the unique opportunity to get to know Lauri Gregoire better, via her interview for our latest rendition of A Dancer's Life:
What was your first introduction to dance as an art form? My grandfather was actually my first teacher. He used to tap dance with me in their kitchen when I was as little as two years old. He along with my nana brought me to my dance classes and both used to say that I was going to grow up and be a dancer. He passed away the summer of 1994 when I started my first professional contract so he was never able to see me dance professionally.
What was your first real job as a dancer? In the summer of 1994 I was hired as a lead dancer in And The Winner Is... at Opryland.
When did you know that you wanted to pursue a career in dance? I never ever remember a time that I wanted to do anything else. I knew I wanted to go to college, but I knew that it had to be to pursue dancing. I remember my parents getting a lot of flak for that from their friends. They would say "don't you want her to have a real job"? But my parents encouraged me to follow my dreams and I am so incredibly thankful to them for allowing me to be who I was created to be.
Who is your dancing idol? Wow that is a hard question. I love all styles of dance. In ballet, I would say Mikail Baryshnikov. For tap, Gregory Hines and Gene Kelly; jazz, Gus Giordano and Bob Fosse; and musical theater, Chita Rivera. I encourage all of my dancers to take all styles of dance and be well rounded.
Why do you pursue your art in Nashville? What are the best parts of working here? Well, Nashville has been extremely good to me and my career. It not only has allowed me to pursue my dreams of performing, but I also get to share my love of the art form as a dance instructor and studio owner. I've taught at the Bellevue Dance Center since January of 1998 and became the owner and director in 2003. I also run the dance program at Father Ryan High School. Both have been such a blessing to me. And I have been so fortunate to meet and work with some of the best and brightest in the business through local theater companies such as The Boiler Room Theater, The Music City Theater Collective, Act Too Pro and Studio Tenn. I absolutely love Nashville and love raising my son here. I can't imagine living anywhere else.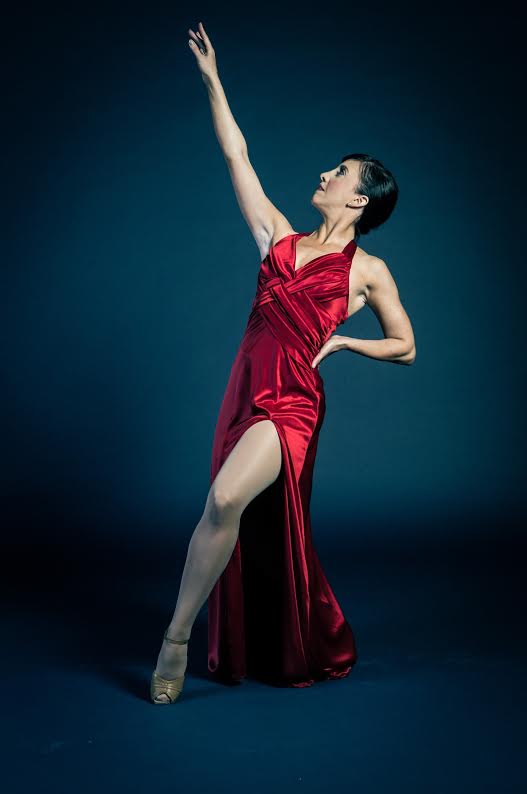 What is your dream role as a dancer? If you could dance any role, what would it be and why? Again I have been blessed to be in some of my dream shows. I always loved West Side Story so being a part of that at the Schermerhorn Symphony Center with Studio Tenn. Was a dream come true. As I become a more mature dancer I would love to tackle the role of Cassie in A Chorus Line. I can relate so well to her story and the difficulty of coming towards the end of your career but not quite knowing how to say goodbye.
What is the brightest spot on your resume? Wow, again a really tough question. In 2001, I played Adelaide in Guys and Dolls at the Boiler Room Theater for which I won a Nashville Scene award for best female performance in a musical. I've always been a little more insecure of my vocal prowess so this really meant a lot to me. Other than that being a mom to my five-year-old son is a role that just can't be beat!
What role/ works is your most favorite? I just finished performing in Evita with Studio Tenn at TPAC as part of their Broadway series. Dancing with one of my dearest friends (and finest male dancer around in my opinion) Billy Ditty was a true honor and joy. It also quickly became one of my favorite shows of all time. I was extremely proud to be a part of this company and perform the beautiful choreography.
What's the biggest misconception people have about dancers? I think it's that we don't have "real jobs." I work so incredibly hard every day. I give of myself mentally, physically, emotionally and spiritually every time I enter the classroom, rehearsal hall or stage. I have parents of my students all the time say that they want their children to have a more secure career, but what job is really secure anymore? I am a woman entrepreneur. I pursue my passion every day and I am smart. I think often times dancers get stereotyped as not being intelligent, but that simply isn't true.
What's your favorite work created for dancers to perform? I'm not sure that I can narrow it down to just one. Again there are so many genres and styles of dance. I love the ballet pieces in An American in Paris, I adore the opening audition number of 42nd Street and Fosse is one of my all-time favorite musicals that truly highlights dancers.
If you could have dinner with any three figures (living or dead, real or fictional) who are part of the world if dance who would you choose and why? 1) Gene Kelly because he is my all-time favorite dancer ever! 2) Patrick Swayze because he was raised by his mom at her dance studio and as a single mom I would want to know what his experience was like. 3) Derek Hough because I think he is one of the finest dancer/ choreographers around and I would love a chance to dance with him...just once. And as a bonus I would have to add Dick Van Dyke because at 90 years old he seems to have found the fountain of youth through dance
Imagine a young person seeing you onstage or seeing a production in which you played a major role coming up to you and asking you for advice in pursuing their own dream...what would you say? I actually do this as part of my job. I work with rising college students getting them ready for their auditions into universities and conservatory programs. First I would tell them that there are no short cuts to success. It takes a lot of hard work, believing in yourself and handling rejection with poise and grace. Then I would tell them something I learned years ago when I was a dance major at Oklahoma City University, "Luck is preparedness meeting opportunity." No matter what you can never give up. There are so many twists and turns on the path of a dancer's life, but the ride is a beautiful one!
Related Articles View More Nashville

Stories

Shows
Jeffrey Ellis is a Nashville-based writer, editor and critic, who's been covering the performing arts in Tennessee for more than 35 years. In 1989, Ellis (read more...)