GOOD MORNING, THEATERATI for May 26, 2017
GOOD MORNING, THEATERATI! Welcome to the start of Memorial Day Weekend: It's Friday, May 26, 2017 and time to live life dramatically! It really sounds like we should be cutting a ribbon somewhere to herald the start of the long weekend that kicks off summer, but instead we sit here in front of a computer screen, remembering and reminiscing, in hopes of providing you with something to read while you sit by the pool, waiting for the SPF37 to kick in! We've been thinking back to 1983, when we were directing the Miss McNairy County Pageant in West Tennessee and afterward the mother of a contestant came up to us and said, "If you weren't wearing those glasses, I'd slap your face for what you did to my daughter!" Nonplussed, we looked at her and removed our spectacles and said, "So slap away." Seems my advice to her amazingly untalented daughter to not have a music stand in front of her during her flute solo that comprised her altogether unimpressive talent competition routine - which the daughter agreed was the right thing to do, in addition to teaching macramé to indigenous peoples and promoting world peace - was met with umbrage and, so, I became the scapegoat in the whole "why Wendy couldn't win the crown" scandal. Luckily, my bff Aurora Daniels was on hand as a judge and stepped in to explain that I had nothing to do with her daughter's loss and that, perhaps, her anger and the energy derived from it might be best directed elsewhere. Just think, if that woman had only been a congressional candidate in Montana, things might have taken a decidedly different turn! In the end, though, she died a few years back of natural causes. So, she got hers, am I right? Revenge is a dish best served cold.
Which brings us to today's musical question: Why do fools fall in love? But, perhaps more importantly, how tacky is it to dump someone with a text message? Yesterday, that fate befell one of our favorite people and actors (funny how that works) and so we are going on record this morning just to state publicly that's a move both cowardly and worthy of derision.
In news decidedly more theatrical, however, we relaunched our Nashville Theater Calendar yesterday under the aegis of our Critic's Choice column in order to offer assistance to the calendar-challenged contingent of gentle readers who follow our missives on Broadway World Nashville and we hope you'll check it out. If you think something should be included and can't find it, simply email us as jeffrey@bwayworld.com and we will be happy to correct the omission. Interestingly enough, our original version of the calendar premiered on BWW Nashville on this date in 2015. Talk about synchronicity.
Here's the link: /nashville/article/Critics-Choice-Whats-Playing-in-Tennessee-THE-NASHVILLE-THEATER-CALENDAR-52617-20170525
Tennessee native and Tony Award-winning actor (for Million Dollar Quartet) Levi Kreis is in Knoxville this weekend for Destination Imagination: Global Finals: Songwriting Master Classes at the University of Tennessee. Sounds like perfect timing to us since MDQ is playing to sold-out crowds at Cumberland County Playhouse and if you so desired, you could see a production of the show that brought him that Tony Award and then go see the real thing, aka Levi, in person. If scheduling isn't right, however, the former Belmont University student returns to his old stomping grounds in Nashville for a September 8 date in concert at Belmont.
We're sending out warm wishes of "break a leg" to the cast and crew of Pull-Tight Players' production of Legally Blonde the Musical which opens tonight in Franklin, starring Cassie Donegan, Barrett Thomas and Jason Bell, among others (but since press releases don't exist in Williamson County, apparently, we have no idea who else they are) and our very favorite, the lovely and talented Tosha Pendergrast choreographs (she'll also be choreographing our production of South Pacific next October at The Larry Keeton Theatre and she is one of our quartet of hosts for Midwinter's First Night 2018, along with her charming and handsome husband Benjamin Pendergrast and the equally lovely and talented, charming and handsome Ashley Wolfe and J. Robert Lindsey) as they embark on their sold-out run. But if you can't bribe your way into the Pull-Tight Playhouse, you could always hold out until June 9, when the same musical opens at Murfreesboro's Center for the Arts. You'll be bending and snapping like all the other cool kids before you know it!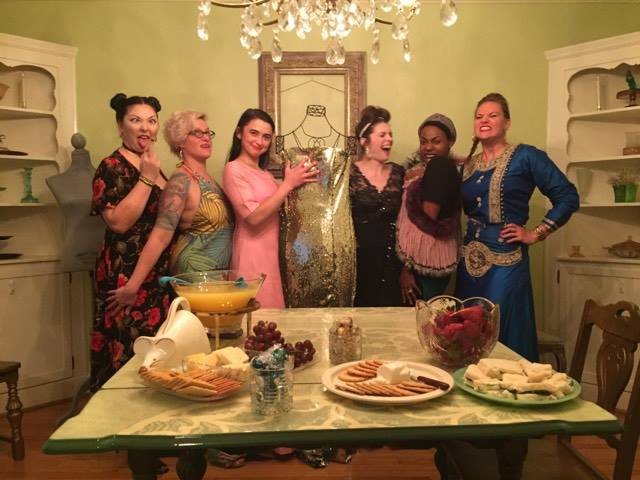 Another thing that will render you immediately, instantaneously cool? A visit Saturday to The Boudoir Rouge for Creative-Cat Collective's Boutique Bazaar, where you can find some great bargains from items culled from the fashion collections of some of Music City's most stylish divas, including Jennifer Richmond, Tamiko Robinson Steele, Rosemary Stewart, Melodie Madden Adams, Cassie Hamilton, Freya West and Hannah Schmidt. They are the women who set the pace, fashion-wise, in Nashville and their collective (and individual) taste levels are impeccable. "There's probably 500 Funky, Vintage, Eclectic and Designer pieces anywhere from $1-$150," so sayeth Mademoiselle Richmond. The time is right from 9 a.m. to 5 p.m., but we suggest you go early for the best selection, naturally, at 716 Florence Circle in Madison. Frankly, we envision this endeavor as a more fun version, perhaps even slightly more frenetic, of that Gilmore Girls episode in when Lorelai finds the hat that belonged to Luke's old girlfriend among a season of clothes donated for the Stars Hollow rummage sale.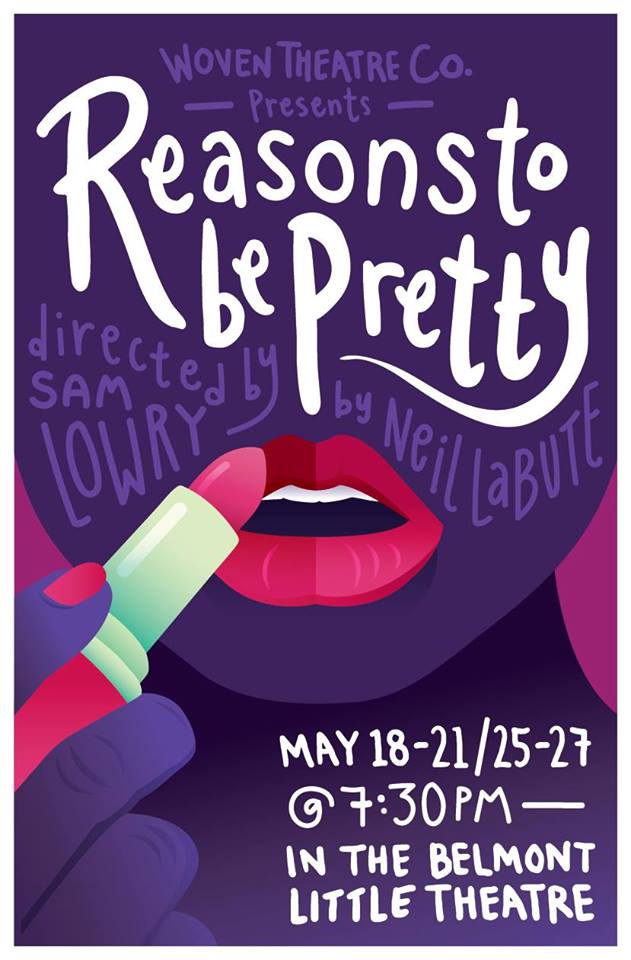 Might we suggest you take your fine selves into a darkened, air conditioned auditorium for some theater this holiday weekend? Beautiful: The Carole King Musical continues at TPAC's Andrew Jackson Hall; Woven Theatre's Reasons to Be Pretty, by Neil LaBute, continues at Belmont Little Theatre; Inebriated Shakespeare gives its final performance of Much Ado About Nothing (or is it As You Like it? We get confused, particularly without coffee so early in the morning) at City Winery on Friday night; Beau Jest is on its last legs at Chaffin's Barn's Dinner Theatre; Million Dollar Quartet and A Second Helping are at Cumberland County Playhouse; Lakewood Theatre hosts its second annual Tennessee Playwrights Festival; and ACT 1 closes up shops and breaks down its amazing revolving set for Nothing On as its final weekend of Noises Off plays out...
Perhaps our reviews will help:
/national-tours/article/BWW-Review-BEAUTIFUL-THE-CAROLE-KING-MUSICAL-Captivates-Nashville-20170524
/nashville/article/BWW-Review-A-SECOND-HELPING-at-Cumberland-County-Playhouse-20170523
/nashville/article/BWW-Review-Cumberland-County-Playhouses-Magnificent-MILLION-DOLLAR-QUARTET-20170522
/nashville/article/BWW-Review-Angels-in-England-or-rather-ACT-1s-NOISES-OFF-20170513
/nashville/article/BWW-Review-BEAU-JEST-is-Back-At-Chaffins-Barn-20170512
Leading the cast of Street Theatre Company's Pippin, running June 9-25 at Nashville's Holy Trinity Community Church, is Ryan Greenawalt (who starred in the company's concert version of Jekyll & Hyde earlier this season). He's joined by David Ridley as the Leading Player, Elliott Winston Robinson as Charlemagne, Amanda Elend as Catherine and Natalie Rankin as Fastrada. STC's Pippin is directed by Jason Tucker, with musical direction by Randy Craft and choreography by Mallory Mundy. Sarah Levis is props designer, with Christen Heilman doing costumes. Jason Tucker designs lighting in consultation with Katie Gant.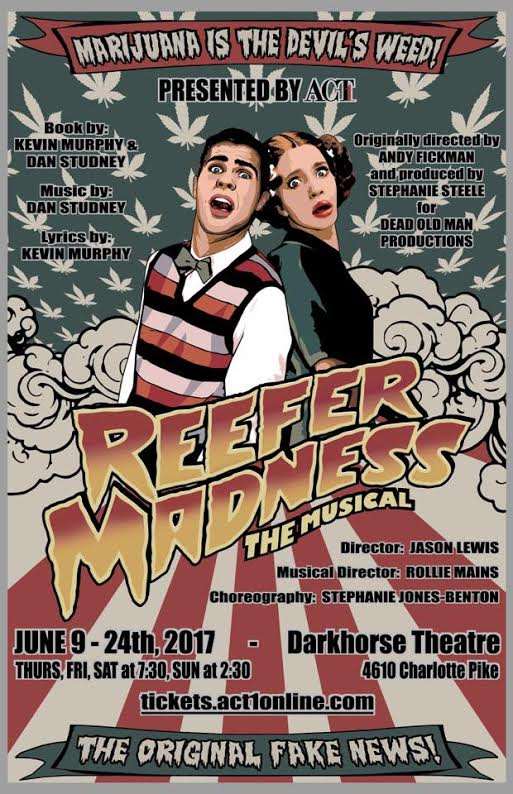 ACT 1 Thursday announced the cast for its upcoming version of Reefer Madness, directed by Jason Lewis, with music direction by Rollie Mains and choreography by Stephanie Jones-Benton. Cameron Gilliam leads the cast as young Jimmy Harper, with Ben Gregory as The Lecturer, MAggie Wood as Mary Lane, Trey Palmer as Jack Stone, LaDarra Jackel as Mae, Andy Riggs as Ralph and Nikki Berra as Sally. Reefer Madness runs June 9-24 at Darkhorse Theater.
Tara Winton directs Arts Center of Cannon County's upcoming production of Peter and the Starcatcher, running June 2-17 in Woodbury. Adam LaPorte returns home from college at Oklahoma City University, to play Boy and Julia Kelley is Molly. The cast also includes Justin Winton, David Cummings, Spree Star, Jeffrey LaPorte, Ted Verbeten, Ric Kinkade, Nolan Ragland, Noah Brady, Matthew Connors and Eli Ragland.
We're sending along practically perfect wishes for a "Happy Birthday" to actress and photographer Monykah Tyson; blogger and theater aficionado Cara Richardson; 2010 First Night Honoree Shannon Wood, the doyenne of Darkhorse Theater; and our theatrical progeny, the spectacularly talented and wonderfully eloquent Emily Faith, who's moving from her current home in Little Rock to her new domicile in Dallas, with a brief soujourn in Maine very soon to kick off her excellent summer adventure for 2017. She is our favorite. Those four ladies share today's special date with the Actors Equity Association, which was formed in 1913, during a meeting of 100 actors or so at the Pabst Grand Circle Hotel near NYC's Columbus Circle; Robert Morley, Peggy Lee, Alec McCowen, Ron Holgate, Teresa Stratas (she starred in the original production of Rags on Broadway, the script for which has undergone some work and is to be presented in a staged reading in the near future) and Margaret Colin (who's been turning in some hilarious work as the host of CBS This Morning on HBO's Veep this season)
From the archives of Broadway World Nashville, come these stories that help amplify our theater history in these parts:
/nashville/article/BWW-Reviews-Nate-Epplers-LONG-WAY-DOWN-from-3PS-Productions-20110508#ixzz1Mx3mV4PN
/nashville/article/BWW-Reviews-I-DO-I-DO-at-Boiler-Rom-Theatre-20110523
/nashville/article/Hey-Jef-Heres-My-Headshot-MATTHEW-HAYES-HUNTER-20120526
/nashville/article/Whittaker-Kraski-Star-in-Chaffins-Barns-FIDDLER-ON-THE-ROOF-Helmed-by-Wilkinson-and-Opening-531-20120526
/nashville/article/Introducing-THE-NASHVILLE-THEATER-CALENDAR-20150526#
/nashville/article/CRITICS-CHOICE-Whats-Happening-This-Week-20150526
/nashville/article/BWW-Review-CFTAs-42nd-STREET-Taps-Your-Troubles-Away-20160526
Among other notable events that took place on May 26: George Gershwin's first full score for a Broadway show was unveiled in 1919's debut of La La Lucille. Victor Herbert (Babes in Arms, Naughty Marietta) died in 1924 in New York. Carol Burnett starred in the Broadway opening of Fade Out - Fade In, an original work based on an event that actually happened to her early in life - Jule Styne, Betty Comden and Adolph Green wrote the show that eventually ran for 271 performances. It was Burnett's last Broadway run until she returned some 30 years later in Ken Ludwig's Moon Over Buffalo. In 1971, Cliff Gorman starred in the Broadway premiere of Julian Barry's Lenny, playing comic Lenny Bruce. Christopher Durang's Beyond Therapy opened in 1982, with John Litgow and Dianne Wiest starring. Durang's latest work - Harriet and Other Horrible People - was given a starry reading in Nashville last weekend as the closing work presented during Nashville Repertory Theatre's Ingram New Works Festival. Sam Shepard's Fool For Love opened off-Broadway in 1983.
That's it for this week, gentle readers! We'll be back on Tuesday with our latest edition of Good Morning, Theaterati (we will be dark on Monday for the holiday) and, until then, we urge you to CELEBRATE THE MAGIC OF LIVE THEATER!
Related Articles View More Nashville

Stories

Shows