BWW Review: BEAU JEST Is Back In Fine Form At Chaffin's Barn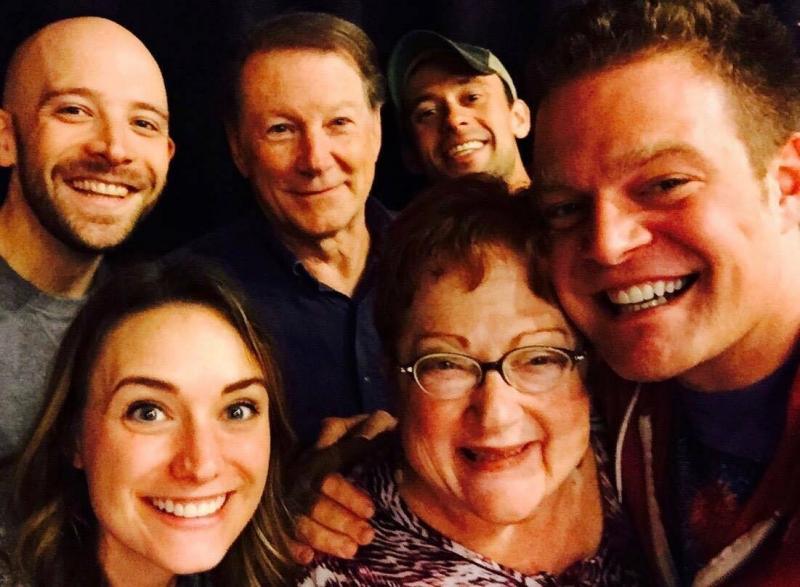 Funny and familiar, James Sherman's Beau Jest might well be considered perfect dinner theater fare: spread across two hours, the comedy is easily digested and the players - this time, the estimable ensemble assembled by director Martha Wilkinson for the latest incarnation at Chaffin's Barn Dinner Theatre - charming and likable. The plot remains relevant, even years after it was first produced, and the dialogue flows at an accessible pace, spoken by characters who are altogether believable. And while Beau Jest likely won't push any envelopes or venture outside anyone's pre-conceived creative box, it nonetheless seems current and up-to-date.
Sherman's plot focuses on Sarah Goldman (played here by Joanna Hackman), an attractive kindergarten teacher who despite all indications to the contrary (she seems fiercely independent and lives in a "grown up" apartment that retains no remnants of college life, as is the case with many singles in their late 20s), still lives to please her hard-to-impress parents, Miriam and Abe (the always watchable Layne Sasser and Charlie Winton). The Goldmans are a contemporary Jewish family with traditional leanings - mom Miriam longs for the day that Sarah will walk down the aisle at temple to wed a perfect Jewish doctor - and they are written by Sherman in such a deft manner that they can teeter dangerously close to the edge of stereotypes, yet somehow never cross the line into caricature. Rather, they are written as very genuine, very real people not so unlike those you know personally, regardless of their religious or ethnic heritage.
In fact, Sherman's characters are so close to people you know and love that the circumstances could be changed - make them hardcore Southern Baptist, or perhaps Latino or African-American - and keep much of the dialogue the same and their story would resonate just as deeply as it does as presented in Beau Jest. What makes the story a continued favorite among Chaffin's Barn audiences (the play has been featured on the venerable venue's slate of offerings several times over the years, including at least one production featuring Wilkinson in the role of Sarah) is that it is, at its very heart, evocative and sometimes even moving despite all the accompanying hilarity, a story of family. What with all their foibles and peccadilloes, the Goldmans (including therapist son Joel, played by Bradley Moore, the man responsible for the "Bradleyfication" of Nashville theater as we know it) are like any family, perhaps even your own.
Luckily, Wilkinson's accomplished directorial hand ensures that the play's action moves at a good pace, telling the tale of Sarah's misguided notion to please her parents once more by inventing the perfect Jewish boyfriend in the person of Dr. David Steinberg, "a heart and brain surgeon" portrayed by an attractive young man (played by Daniel Hackman, the real-life husband of Joanna) she's hired from the state-certified and licensed Heaven Sent Escort Service. Luckily, he's an actor in the business to make some extra cash between onstage gigs by serving as a "walker" to older society matrons bent on a night out at the opera. When he is sent by the agency to service Sarah's needs (quite unlike the modern-day escorts advertising on the back page of the Chicago Reader) the hijinks and hilarity start to spin out of control as the gentile Bob Schroeder improvs his way through dinner as the very Hebraic David Steinberg.
While it's certainly easy to predict what's to come - that Bob will usurp the role of boyfriend currently being played by Sarah's real paramour Chris Kringle (yep, that's his name, and he's played by Barn regular Brett Cantrell) and that the two will likely set off on the road to Loveland - it plays out as a pleasant and entertaining post-dinner diversion. And when enacted by a group of six actors like those assembled onstage by Wilkinson, it's a fait accompli.
Joanna Hackman is thoroughly delightful as Sarah, winning over audiences from the very first moment she sets foot onstage and her chemistry with Daniel Hackman elevates the script's gentle comedy and characterizations far beyond what might be expected. The two work seamlessly together, with a natural closeness that cannot escape notice, imbuing their fictional characters with such honesty and authenticity that it's fairly palpable.
Sasser, quite possibly, has never seemed so self-assured and confident onstage as she does as the family matriarch Miriam, tossing off one liners with ease and giving a comic performance that's ingratiating and filled with warmth. Winton is ideally cast as the taciturn Abe, so it's easy to imagine him as the head of such a family, one that battles and rages at one another then, as if on a dime, turns and expresses their heartfelt affection for one another.
Moore is appropriately neurotic and rather bombastic as Sarah's older brother, who also rails at his parents' meddling in his own life (although there's no doubt why he and his absent wife are divorced, wink wink) and attempting to wield influence over his little sister's life. Cantrell, whose time onstage is relatively short and somewhat sporadic, is able to overcome the script's obstacles in order to create a memorable character in the play's final act, one who surprisingly seems not nearly as off-putting as he might appear in the early going.
Jamie Lynn Scott once again provides the cast with exceptional costuming choices, while Joy Tilley Perryman dresses the set (designed by Wilkinson) with her customary blend of style, flair and sense of whimsy.
Beau Jest. By James Sherman. Directed by Martha Wilkinson. Presented by Chaffin's Barn Dinner Theatre, 8204 Highway 100, Nashville. Through May 27. For reservations, call (615) 646-9677 or go online to www.dinnertheatre.com for further details. Running time: 2 hours, 20 minutes (with two ten-minute intermissions).