Date of Birth: May 26, 1938 (84)
Birth Place: Toronto, ON, CANADA
Latest News on Teresa Stratas
Stage Credits
  [Broadway]
Original Broadway Production, 1986
Rebecca Hershkowitz
  [New York]
Metropolitan Opera Revival, 1979
Performer
Teresa Stratas Movies
The Canadians
[1961]
The White Squaw
The Bartered Bride
[1976]
Marie
La traviata
[1982]
Violetta
Teresa Stratas Awards and Nominations
Tony Awards - 1987 - Best Performance by an Actress in a Leading Role in a Musical
Teresa Stratas , Rags
Teresa Stratas News
New York City Opera to Present Weill & Brecht's THE SEVEN DEADLY SINS & MAHOGONNY SONGSPIEL
by Chloe Rabinowitz - Mar 18, 2022
New York City Opera will present Kurt Weill and Bertolt Brecht's thrilling double bill, The Seven Deadly Sins & Mahagonny Songspiel, for the first time ever told as one story, a tragic fable for today.
Soprano Nadine Sierra Releases MADE FOR OPERA
by Marissa Tomeo - Mar 4, 2022
Nadine Sierra's childhood intuition – that she was born to sing opera – has proved correct in every way and is reflected in the title of her second solo album, Made for Opera, out today on Deutsche Grammophon. The dramatic presence, searing passion and technical brilliance for which the American lyric soprano regularly scores rave reviews are captured in this new album, which trains the spotlight on three of the most demanding roles in the repertoire.
BWW Review: JUDY KUHN Shimmers in LOVE TO ME at The Green Room 42
by Brady Schwind - Feb 16, 2022
The beloved musical theatre star brings songs of love to The Green Room 42
Kat Edmonson Announces 2022 Tour Dates
by Michael Major - Feb 14, 2022
Critically acclaimed jazz vocalist and songwriter Kat Edmonson confirms she'll be hitting the road this spring, with stops in a selected number of U.S. cities including Pittsburgh, Charlotte and more. The shows will be intimate nights of originals and classics drawn from all of Edmonson's previous albums.
BWW Preview: Weill & Brecht's Satirical Ballet Chanté THE SEVEN DEADLY SINS Premieres in Brazil with Musical Direction by Ira Levin
by Claudio Erlichman - Nov 2, 2021
Theatro Sao Pedro premieres the satirical ballet chante The Seven Deadly Sins, the last collaboration between Kurt Weil and Bertolt Brecht. The production will be musically directed by Ira Levin, who will command the Theatro Sao Pedro Orchestra. The Seven Deadly Sins opens on November 5th. In all, there will be 8 recitals until the 14th.
Virtual Theatre This Week: July 19-25, 2021- with First Date, Next on Stage: Dance Edition, and More!
by Nicole Rosky - Jul 19, 2021
This week (July 19-25) in live streaming: First Date airs on Stellar, Next on Stage: Dance Edition Season 2 continues with the Top 15, Laura Bell Bundy teaches a master class, and so much more!
Nightly Met Opera Streams to Come to an End July 25
by Chloe Rabinowitz - Jul 15, 2021
With Opening Night approaching and the return of live opera on the horizon, the Met has announced the end of its Nightly Met Opera Streams, the extremely popular series of encore Live in HD presentations and classic telecasts streamed on its website during the Covid-19 closure.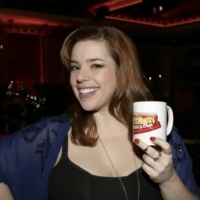 Wake Up With BWW 6/30: PLAZA SUITE Announces Broadway Dates, New MJ Casting, and More!
by Stephi Wild - Jun 30, 2021
Today's top stories: Plaza Suite announces Broadway dates, MJ announces new casting in the title role, first look at photos from Andrew Lloyd Webber's Cinderella, and more!
Virtual Theatre This Week: June 28- July 4, 2021- with Josh Gad, Jenn Colella, and More!
by Nicole Rosky - Jun 28, 2021
This week (June 28- July 4) in live streaming: Emma Kingston and Josh Gad visit Backstage Live, Tovah Feldshuh in Becoming Dr. Ruth, a Jenn Colella Masterclass, and so much more!
BWW Feature: ONLINE VIRTUAL OPERA TOUR at Home Computer Screens
by Maria Nockin - Jun 26, 2021
This is the last week to watch Los Angeles Opera's online Signature Recital Series which gives viewers exclusive online access to fine performances filmed in stunning venues around the world. The series includes unforgettable singing by mezzo-soprano Susan Graham, tenor Russell Thomas, soprano Christine Goerke, mezzo-soprano J'Nai Bridges, and soprano Julia Bullock—a breathtaking showcase of vocal magic. 
Teresa Stratas Frequently Asked Questions
How many Broadway shows has Teresa Stratas been in?
Teresa Stratas has appeared on Broadway in 1 shows.
How many West End shows has Teresa Stratas been in?
Teresa Stratas has not appeared in the West End
What awards has Teresa Stratas been nominated for?
Best Performance by an Actress in a Leading Role in a Musical (Tony Awards) for Rags .