Review: Ashdown, White Lead Compelling HAMLET at Nashville Shakespeare Festival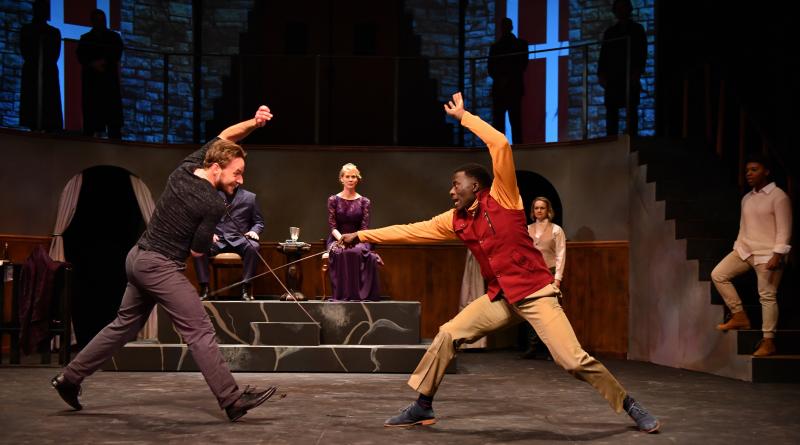 Wonderfully complex - and somehow unexpected and altogether authentic - performances from Sam Ashdown as Hamlet and Cheryl White as his mother Gertrude are enough reason to experience Nashville Shakespeare Festival's production of Hamlet (now onstage at Belmont University's Troutt Theatre through Sunday, followed by January 31-February 3 performances at Middle Tennessee State University's Tucker Theatre). But add to their stellar turns, an ensemble comprised of some of the best actors ever to set foot on a local stage, under the self-assured direction of the esteemed Denice Hicks (the company's artistic director), and it practically becomes a requirement for any theater lover within the sound of my voice.
Dark and brooding, at times, which is prescribed by the very story crafted by Shakespeare at the turn of the 17th century, Hicks' interpretation of the classic tragedy has its fair share of lighter moments which allow audiences of all stripes to be engaged in the tale. Performed with commitment and resolute focus by Hicks' extraordinary assemblage of actors, Hamlet is made all the more compelling with the addition of an original musical score composed by Natalie Bell and Jack Kingsley which lends a sense of import and dramatic resonance to the onstage proceedings.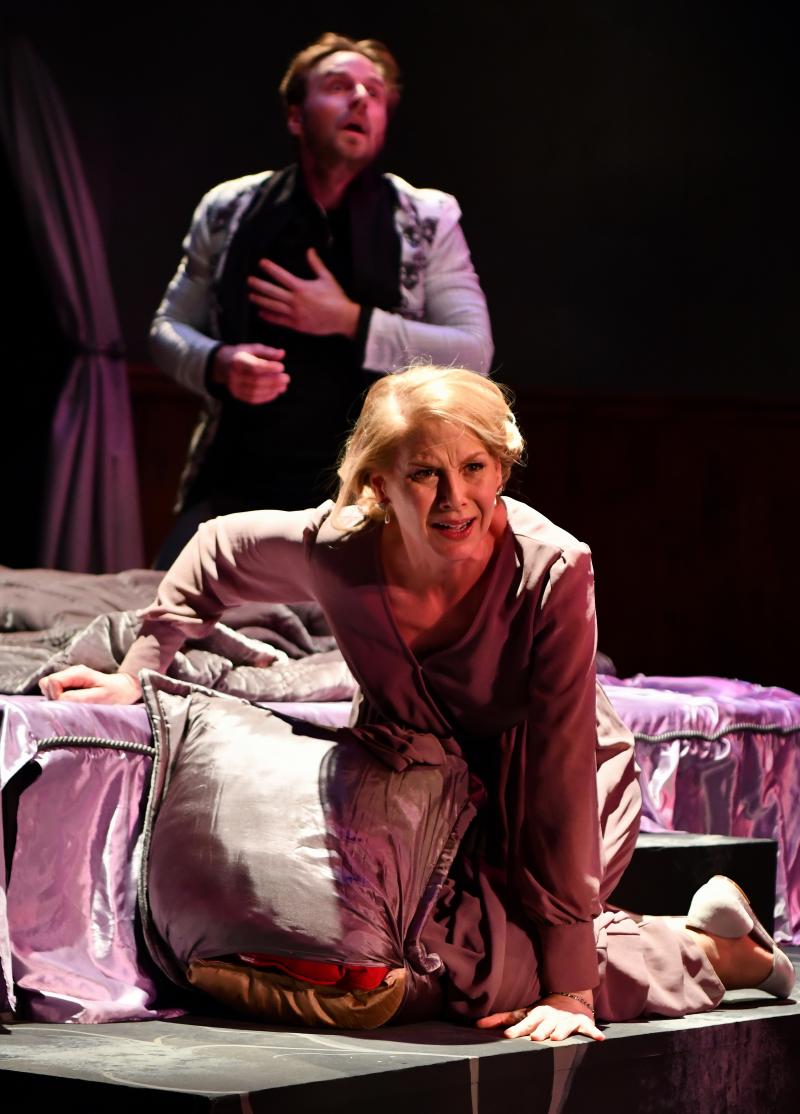 In his starmaking Nashville Shakespeare Festival debut, Ashdown creates a portrait of the prince of Denmark who is mercurial and appealing, adding layers of intrigue and charm to the already compelling character. While Ashdown bounds onto the stage at one moment, perhaps at the next he creeps in silently - all the while making the most of his exceptional presence to ensure every eye is riveted to him.
Ashdown's chemistry with his fellow players is palpable: he's the petulant son to his mother, Gertrude (played with an elegant and haughty regal grace by Cheryl White, who crafts a performance that renders her accessible and refreshingly authentic), the vengeful nephew to his uncle Claudius (Roger Csaki is understated yet dastardly as the usurper to the throne and bedchamber of Hamlet's late, lamented father) and the flirtatious, if somewhat diffident, suitor to the beautiful Ophelia (MTSU alumna Chelsea Bell is mesmerizing in the role).
Director Hicks' approach to the material results in a production that is both visually stunning (thanks to the creative team of artists which includes set and projection designer Sam Lowry, costume designer Jessica Mueller, lighting designer Anne Willingham) and intellectually stimulating. Mueller's contemporary costumes ensure that Hamlet and his cohorts look the very picture of hipster chic, while White, clad in an array of purple, lavender and violet-hued gowns, is every inch the royal trendsetter. Lowry's imaginative scenic design provides the company with a terrific backdrop for the play's tragic events to occur, while Willingham's eye-popping lighting adds intrigue and atmosphere to the production.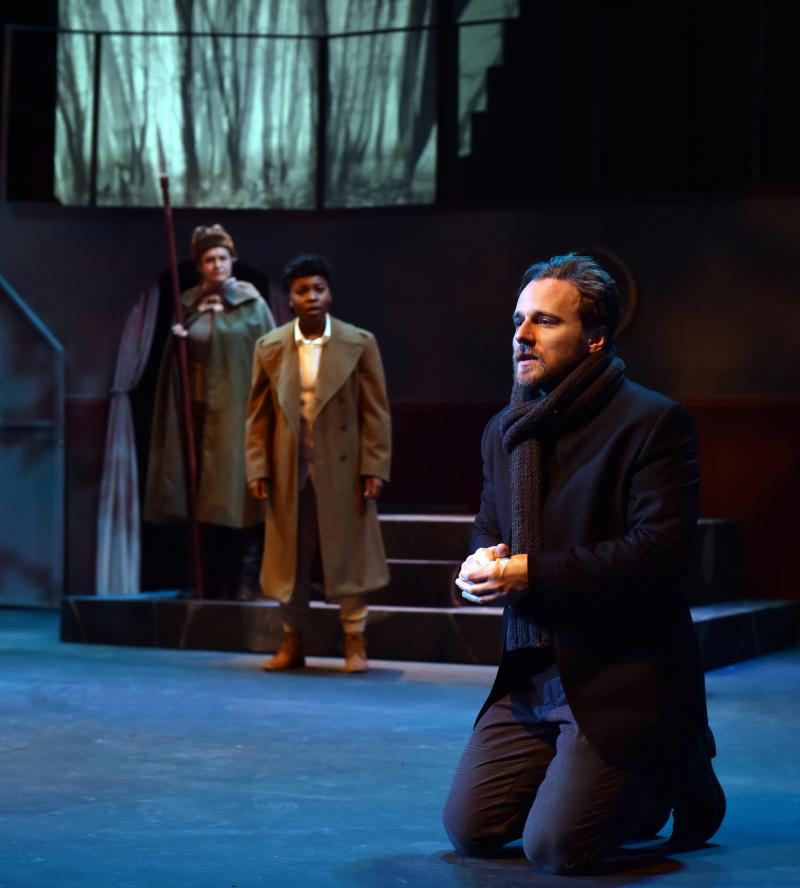 Hicks' inventive staging for Hamlet ensures that the play's action moves along at a cinematic clip, with the tale unfolding at a sprightly pace that commands your attention.
As Polonius, Ethan Jones exudes paternal power and influence in the role of Ophelia's father, while Audrey Tchoukoua's fiery Laertes acquits himself admirably during his swordfight with Ashdown's Hamlet, thanks in part to David Wilkerson's superb fight choreography that manages to like the real thing while making certain no actors were injured in the making of Hamlet.
Melinda Paul is impressive as Horatio in her first NSF appearance, with the scene-stealing antics of Andy Kanies and Santiago Sosa (as Rosencrantz and Guildenstern) providing memorable moments. Stage veteran Brian Webb Russell delivers yet another exemplary performance as the ghost of King Hamlet, as the first player and as a gravedigger. Lauren Berst's Marcellus is convincing, while she displays her ample versatility as the second player and the second gravedigger. Shawn Knight remains eminently watchable in a trio of role, including Bernardo, the third player and Osric.
Hamlet. By William Shakespeare. Directed by Denice Hicks. Presented by Nashville Shakespeare Festival at Troutt Theatre, Belmont University, Nashville (through January 28) and Tucker Theatre, Middle Tennessee State University, Murfreesboro (January 31-February 3). For details, go to www.NashvilleShakes.org. Running time: 2.5 hours, with one 15-minute intermission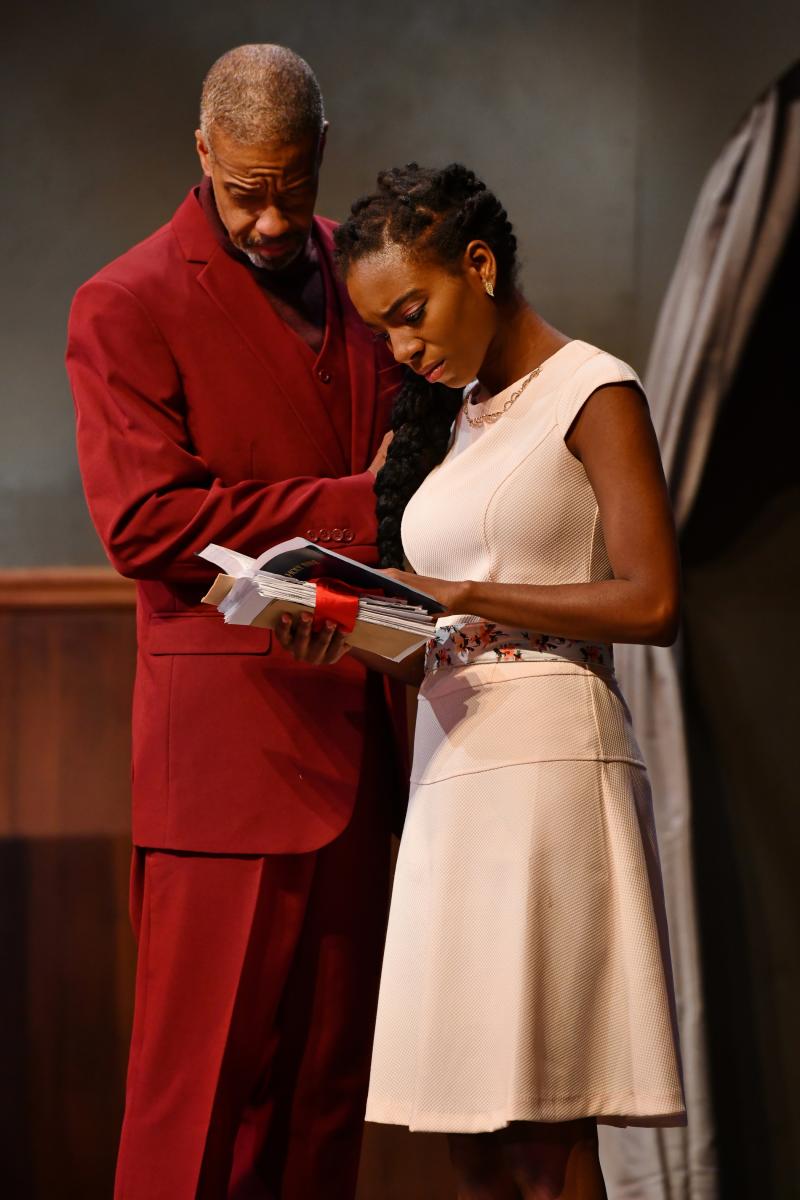 About the production Denice Hicks' intimate production of Hamlet promises to take audiences on a journey into the minds and hearts of the royal family of Denmark in its darkest time. Prince Hamlet is torn between two unbearable situations: either living with his father's murderer or committing murder himself. The show runs January 4-28 at Belmont's Troutt Theater in Nashville and then tours to MTSU's Tucker Theatre in Murfreesboro from January 31- February 3, 2018.
Making his Nashville theatre debut in the title role is Sam Ashdown, who is described as "a magnetic up-and-coming film and stage actor who boasts an impressive resume," having performed with companies across the country. Another stand-out among the cast is Cheryl White (Gertrude), a Los Angeles transplant who has over 60 TV shows under her belt, including Major Crimes and Resurrection, who has garnered critical acclaim for her work with Nashville Repertory Theatre in Sense and Sensibility and Rapture, Blister, Burn. Other cast members include Melinda Paul (Horatio), Chelsea Bell (Ophelia), Roger Csaki (Claudius), Ethan Jones (Polonius), Audrey Tchoukoua (Laertes), Brian Russell (Ghost/Gravedigger 1), Shawn Knight (Bernardo/Osric), Lauren Berst (Marcellus/Gravedigger 2), Andy Kanies (Rosencrantz), and Santiago Sosa (Guildenstern).
Enhancing the story and creating the emotional atmosphere for the play will be an original score composed and played live by Natalie Bell and Jack Kingsley. Emerging artist Sam Lowry is designing the set and projections that will take the audience into each location in Elsinore, from graveyard to castle battlements to the great hall. Costume designer Jessica Mueller will be dressing the court in timeless elegance using a royal jewel tone palette that will contrast with Hamlet's black attire. Lights will be designed by Anne Willingham and fights choreographed by David Wilkerson.
Performances of Hamlet will be at Belmont's Troutt Theater through January 28, with performances Thursday through Saturday at 7:30 p.m., and Sunday matinees at 2:30 p.m. At MTSU's Tucker Theatre (615 Champion Way, Murfreesboro) performances are January 31-February 3, with curtain at 7:30 p.m. each night. Tickets and VIP Royal Packages are available at www.nashvilleshakes.org.
All of NSF's programming is supported in part by Metro Nashville Arts Commission and the Tennessee Arts Commission. Hamlet is supported in part by Shakespeare in American Communities, a program of the National Endowment for the Arts in partnership with Arts Midwest. The Nashville Shakespeare Festival is one of 40 professional theater companies selected to participate in bringing the finest productions of Shakespeare to middle and high school students in communities across the United States.
Photos by Rick Malkin