SHAZAMFEST Presents The BLUE MUSHROOM SIRKUS PSYSHOW In Montreal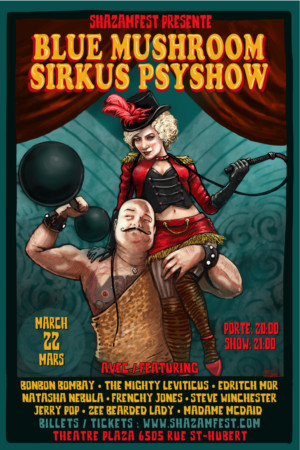 ShazamFest is pleased to present the Blue Mushroom Sirkus Psyshow's darkest production yet, ready to frighten and delight with a vaudevillian vignette of curious clownish antics, supernatural puppetry, pain-defying feats, slapstick escape-artistry, seductive snake charming numbers, sultry dance acts and sullen burlesque performances.
On March 22 (Montreal), March 23 (Sherbrooke) and March 24 (Saint-Jean-sur-Richelieu), audiences will have a unique chance to be transported to the yesteryear world of travelling circus troupes and sideshow freaks. They'll be enticed to take a break from the mundane and suspend their disbelief on this magical and terrifying ride, before the Blue Mushroom Sirkus Psyshow packs its musty trunks and all that's left is peanut sacks and wagon tracks!
THE BLUE MUSHROOM SIRKUS PSYSHOW
Canada's ultimate sideshow troupe showcases alluring acts and strange practices drawn from the rich history of the circus of yore. Conjuring memories of popcorn and candy apples, strongmen and bearded ladies, the Blue Mushroom Sirkus Psyshow's performances are a tongue-in-cheek mix of traditional circus and sideshow acts that marry theatre, comedy, burlesque, puppetry, feats of strength and other oddities.
Not only are the performances an authentic expression of the entertainment of yesteryear, but every prop and article of wardrobe used by the troupe are genuine artifacts or museum-quality artisanal pieces: no plastic, store-bought gizmos or 'Made in China' under this canvas!
Having made its round of dingy bars, underground parties and quirky festivals since 2010 with entertaining, compelling, and surreal performances heavy on audience participation, the Blue Mushroom Sirkus Psyshow has equally graced the stages of Montreal's Segal Centre, Rialto Theatre and Place des Arts, as well as the Théâtre Capitol in Quebec City.
PERFORMERS
Miss BonBon Bombay | Co-Founder, Ring-Mistress, Theatre, Multimedia, Burlesque (Toronto)

The Mighty Leviticus | Co-Founder, Strongman, Freakshow Clown (Montreal)

Natasha Nebula | Human Pin Cushion, Belly Dance, Burlesque (Montreal)

Eldritch Mór | Snake Charming, Broken Glass Dance, Burlesque (Montreal)

Steve Winchester | Mouth of Steel, Escape Artist (Toronto)

Zee Bearded Lady | Comedy, Dance (Eastern Townships)

Frenchy Jones | Burlesque (Montreal)

Eva Von Lips | Burlesque (Sherbrooke)

Jerry Pop | Theatre, Boylesque (Montreal)

Madame McDaid | Tarot Card Reader (Eastern Townships)
INFO
Thursday, March 22 | 8 PM | Theatre Plaza (6505 Saint-Hubert, Montreal, H2S 2M5) | Facebook Event
Friday, March 23 | 8 PM | Granada Theatre (53 Wellington N, Sherbrooke, J1H 5A9) | Facebook Event
Saturday, March 24 | 8 PM | L'Hotel 54 (5 Royal-22e-Régiment, Saint-Jean-sur-Richelieu, J3B 2X9) | Facebook Event