Spaceheater Takes Dance Theater To New Level With World Premiere Of SAINT EX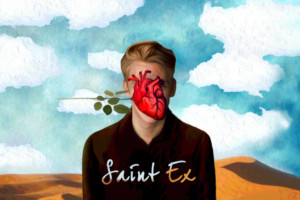 Spaceheater presents the premiere of 'Saint Ex', a physical poem, at the Minnesota Fringe Festival. This wild, fervent, and tender tale unravels the contentious love behind "The Little Prince," confronting the relationship between artist and muse. Featuring Nathan Gebhard, directed by Jeesun Choi, with costumes by Clara Cavins Wolford.
'Saint Ex' plays in the 2018 Minnesota Fringe Festival at the U of M Rarig Center Arena (330 21st Ave S, Minneapolis, MN 55455) from August 5 to 11, 2018. Tickets are $10 each.
Reserve your tickets here! https://www.minnesotafringe.org/2018-show-information/saint-ex
Co-founded in 2016 by Jon Dahl and Nathan Gebhard, Spaceheater is an (a)venue for collaboration in the levees between dance and theatre. Growing from roots in Minnesota, the budding company is currently based between New York and Hamburg, Germany. Spaceheater is a process, a venue to share, an avenue to explore, an arena to greet challenges in, and most vitally an artery to transmit questions from the heart. Creating together across the ocean definitely poses challenges, but they discover the work through the process of art as a collaborative conversation, held together by trust.
'Saint Ex' stems from the curiosity of Nathan, the co-creator and performer of the piece. Intrigued, frustrated, and enlightened by The Muse's relationship to The Artist, he found a poetic analysis in the story of Consuelo de Saint Exupéry (née Suncín), and her book, "The Tale of the Rose," a memoir of her life with aviator, author, and husband, Antoine de Saint-Exupéry. Behind his best selling novella, "The Little Prince," lies a man who yearns to love the world but is incapable of loving his wife, and a woman who gives up everything to love her husband only to find herself alone in his place.
For this project, Nathan and Jon are honored to be working with long-time friend and collaborator, Jeesun Choi. She is a transnational Korean director/playwright with an MFA from Dell'Arte International School of Physical Theater and is currently an Artist in Residence at the University Settlement in New York. She has teamed up with Spaceheater to craft a show that not only tells a compelling story, but does so touchingly and readily through the body.
"Saint Ex embodies what it's like to be human," Choi says, "To love and to love something so much that it breaks. And then to love it back to life and transformation. 'Saint Ex' uses the lives of Consuelo and Antoine as a springboard to show how people want to be inspired and be inspirational. How we want to gift each other with the life-giving energy."
The New York premiere of 'Saint Ex' is in the works for the 2018/19 season.
Show Times:
Sunday 8/5, at 2:30pm
Tuesday 8/7, at 7:00pm
Wednesday 8/8, at 5:30pm
Friday 8/10, at 10:00pm
Saturday 8/11, at 8:30pm