Guthrie Theater's Jennifer Bielstein Elected President of the League of Resident Theatres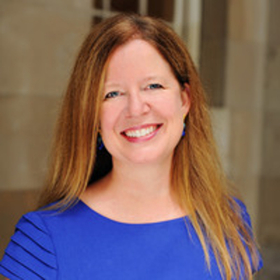 The Guthrie Theater announced that Managing Director Jennifer Bielstein has been elected as president of the League of Resident Theatres (LORT), the largest professional theater association of its kind in the United States, boasting 72 member Theatres in 29 states and the District of Columbia. Bielstein succeeds Timothy J. Shields, the managing director of McCarter Theatre Center, and began her three-year term in May 2017.
Bielstein shared, "I am honored to have the opportunity to serve in the role of LORT president. I look forward to working with colleagues across the country to learn from each other, to strengthen the work we do in our local communities and to increase the impact we have on the national field of theater."
LORT administers the primary national not-for-profit collective bargaining agreements with Actors' Equity Association (AEA), the Stage Directors and Choreographers Society (SDC) and United Scenic Artists (USA), and successfully completed negotiations with all three unions this summer. LORT Theatres collectively issue more Equity contracts to Actors than Broadway and commercial tours combined.
LORT is also a forum for sharing information regarding all aspects of theater. Semi-annual meetings provide opportunities for LORT members to study, discuss, and exchange information on such non-labor management issues as development, marketing, public relations, production, education and technology. Members communicate collectively via LORT Counsel's office in New York. To learn about the principal objectives of LORT, visit their website at www.lort.org.
LORT's upcoming member meeting will be held in Kansas City, MO, October 25-28, 2017. The Guthrie will host the LORT meeting in the spring of 2019, dates TBD. The Guthrie last hosted the LORT meeting in the fall of 2008.
LORT Officers also include: Adam Siegel, Lincoln Center Theater, Vice President; Debby Buchholz, La Jolla Playhouse, Vice President; Maggie Arbogast, The Wilma Theater, Treasurer; and Maggie Boland, Signature Theatre, Secretary.
LORT's Board of Directors includes: Don-Scott Cooper, American Conservatory Theater; Linda DiGabriele, Asolo Repertory Theatre; Kelvin Dinkins, Jr., Yale Repertory Theatre; Angela Lee Gieras, Kansas City Repertory Theatre; Barry Grove, Manhattan Theatre Club; Rebecca Hopkins, Florida Studio Theatre; Michael Maso, Huntington Theatre Company; James McNeel, City Theatre Company; Susan Medak, Berkeley Repertory Theatre; Kevin E. Moore, Actors Theatre of Louisville; Janet Mullet, Northlight Theatre; Roche Schulfer, Goodman Theatre; Timothy J. Shields, McCarter Theatre Center; and Ten Eyck Swackhamer, Alley Theatre.
LORT Counsel is Harry H. Weintraub of Glick and Weintraub, P.C. and is supported by LORT Management Associate Reed Wilkerson.
Jennifer Bielstein has served as LORT vice president, chair of the LORT Equity, Diversity and Inclusion Committee, LORT secretary, and on multiple negotiating teams. Bielstein joined the Guthrie Theater in April 2016. She was most recently managing director of Actors Theatre of Louisville for 10 seasons. In Louisville she served on the boards of Theatre Forward, the Louisville Downtown Development Corporation, Greater Louisville, Inc., the Arts and Cultural Attractions Council, and as a review panelist for the National Endowment for the Arts. Ms. Bielstein was recently named by Twin Cities Business as a Person to Know in 2017. She was recognized with the Pyramid Award of Excellence in Leadership from the Center for Nonprofit Excellence, as one of Business First's 40 Under 40 and was voted Today's Woman magazine's Most Admired Woman in the Arts. In Chicago, Ill., she was the executive director of Writers Theatre and also worked for Steppenwolf Theatre Company, About Face Theatre, Northlight Theatre, Apple Tree Theatre and Lincoln Park Zoo, and served on the board of the League of Chicago Theatres. Ms. Bielstein is a graduate of the University of North Carolina at Chapel Hill with degrees in business administration and theatre, Stanford Graduate School of Business's Executive Program for Non-Profit Leaders in the Arts, and Bellarmine University's Masters in Business Administration program.
THE GUTHRIE THEATER (Joseph Haj, Artistic Director) was founded by Sir Tyrone Guthrie in 1963 and is an American center for theater performance, production, education and professional training, dedicated to producing the great works of dramatic literature and to cultivating the next generation of theater artists. Under Haj's leadership, the Guthrie is guided by four core values: Artistic Excellence; Community; Diversity, Equity and Inclusion; and Fiscal Responsibility. The Guthrie produces a mix of classic and contemporary plays on three stages and continues to set a national standard for excellence in theatrical production and performance, serving nearly 400,000 patrons annually. In 2006, the Guthrie opened a new home, designed by Pritzker Prize-winning architect Jean Nouvel, located on the banks of the Mississippi River in Minneapolis, Minnesota. Open to the public year-round, it houses three state-of-the-art stages, production facilities, classrooms, full-service restaurants and dramatic public lobbies. Visit guthrietheater.org for more information.