BWW Review: Jazz & Peanuts Inspired CHILL in Saint Paul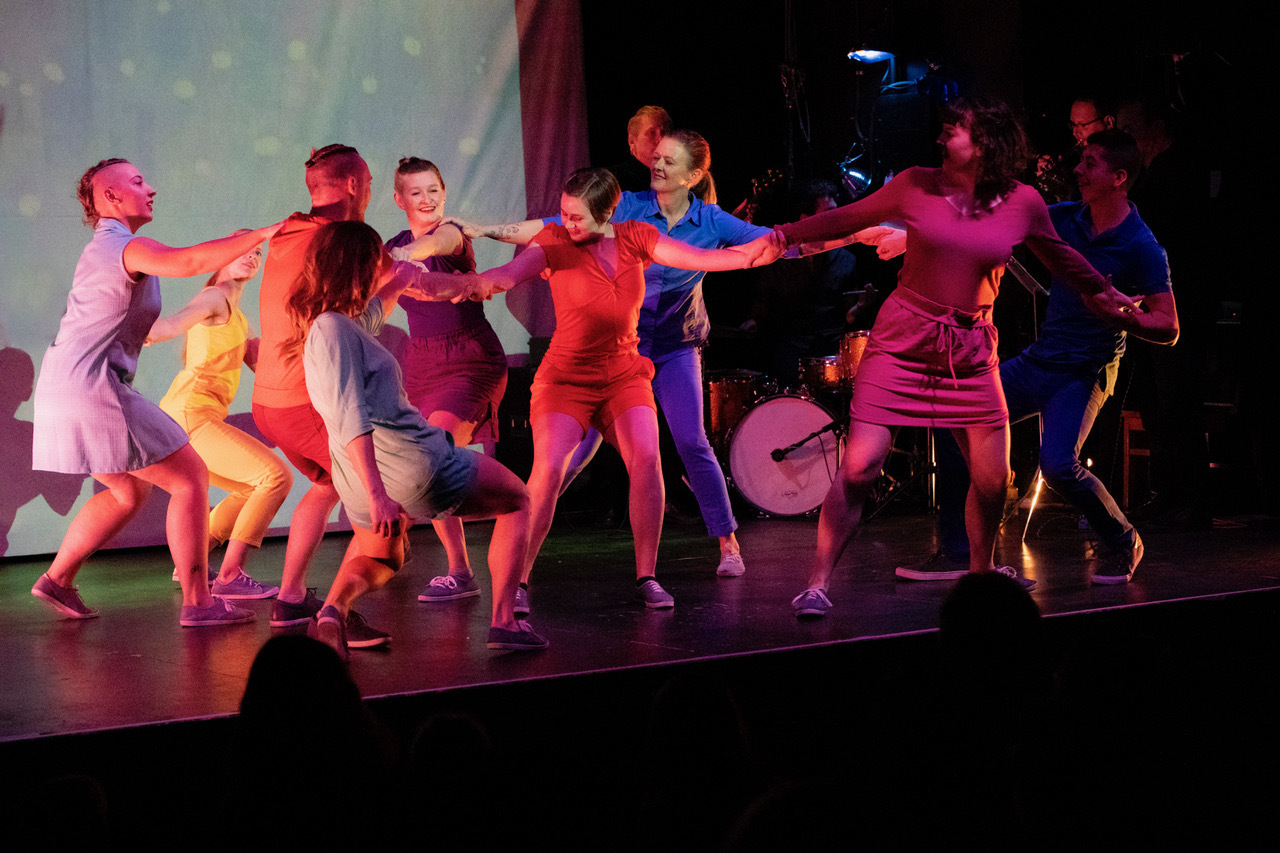 There are lots of holiday offerings in the performance-rich Twin Cities. One of the new ones this year was CHILL, an hour-long danced-through performance to the famous score of the CHARLIE BROWN CHRISTMAS television special, played live by a small jazz combo sharing the stage with the ensemble of 9 dancers. Colorful, infectious, and accessible, the performance played to sell out crowds, including many rapt children, over a recent weekend in a downtown Saint Paul bar.
The creative mind and kinetic body behind this happy endeavor is Erinn LIebhard, a choreographer and dancer based in the Twin Cities. In an interview with BWW, she said she's been haunted by Vince Guaraldi's music for a full decade, and drawn to the themes of "kindness, presence, melancholy, and nostalgia" so palpable in it. Last year at this time, she put up about half the work, but this was the first time CHILL was presented in its entirety.
The cartoonist Charles Schulz who created the Peanuts comic strip lived and worked in Saint Paul. Bulbous sculptures of his famous characters (Charlie Brown, Snoopy, Lucy, Schroeder, etc.) dot a couple of parks and plazas within blocks of the Amsterdam Hall and Bar where the performance happened. Fittingly, CHILL was supported by a Cultural Star matching grant from the City of Saint Paul. Liebhard applied in July, and knew she'd been recommended for funding, but didn't get official confirmation that the money had been disbursed until the day the project debuted. She was able to pay the dancers at industry standard thanks to this grant.
Liebhard's aesthetic centers around improvisation, social interaction, and groove, by which she means "a uniquely human ability to track rhythm and organize movement around a metric pulse." Holder of both undergraduate and master's degrees in dance, her work centers on American vernacular and social dance, including especially the African-American influences. She's trained in many styles, from clogging to capoeira. She prefers performing in social spaces ("where people can drink beer!") to more formal theaters. She comes alive to "syncopation and musicality" and likes the description of jazz as "serious fun." To her, playfulness has artistic value.
Accordingly, about 50% of CHILL was improvised, both on the parts of the dancers and the musicians, though there were strict agreements made in their two joint rehearsals about length of solos and transitions. To my eye, the integration of improvisation with set choreography was quite seamless. In working with the dancers, Liebhard (who also danced in the show) stressed the importance of embracing the moment and celebrating the individuality of each performer. Each dancer was dressed in contemporary clothes, with a different solid color for each person. Not interested in narrative per se, Liebhard crafted a show where the dances did not portray specific characters but instead endeavored to embody the spirit of the music as it unrolled in real time. Spare use of an occasional projected image and voiceover provided just enough linkage to the story told in the iconic TV special.
Onstage live music was provided by the local ensemble GST, who call themselves a "jazz jam band." Trumpeter Bob DeBoer has an exceptionally mellow tone, not at all brassy. Greg Schaefer provided some of the melodic lines on lead guitar, trading off with DeBoer and Tony Watercott on bass guitar, while Danny Sigelman on drums provided the all-important pulse. The four musicians made only sparing use of charts: clearly, they are skilled improvisers and collaborators.
LIebhard has been making original work for a little over a decade; she's the guiding spirit behind Rhythmically Speak!ng Dance, which currently works to mount two full shows a year. The summer show showcases work by a handful of choreographers. Next November, LIebhard will present a new show featuring her own choreography, supported by a Metropolitan Regional Arts Council Next Step grant, a highly competitive honor she secured only on her fourth application. Persistence and longevity matter. I look forward to what she invents.
Photo credit: Jillian Bell
Related Articles View More Minneapolis / St. Paul

Stories

Shows
Karen Bovard has been reviewing theater online, in weekly arts papers, and in scholarly journals for 20 years in New England. In 2016, she relocated (read more...)