Review: THIS PRISON WHERE I LIVE Brings the Brothers Booth to Theater RED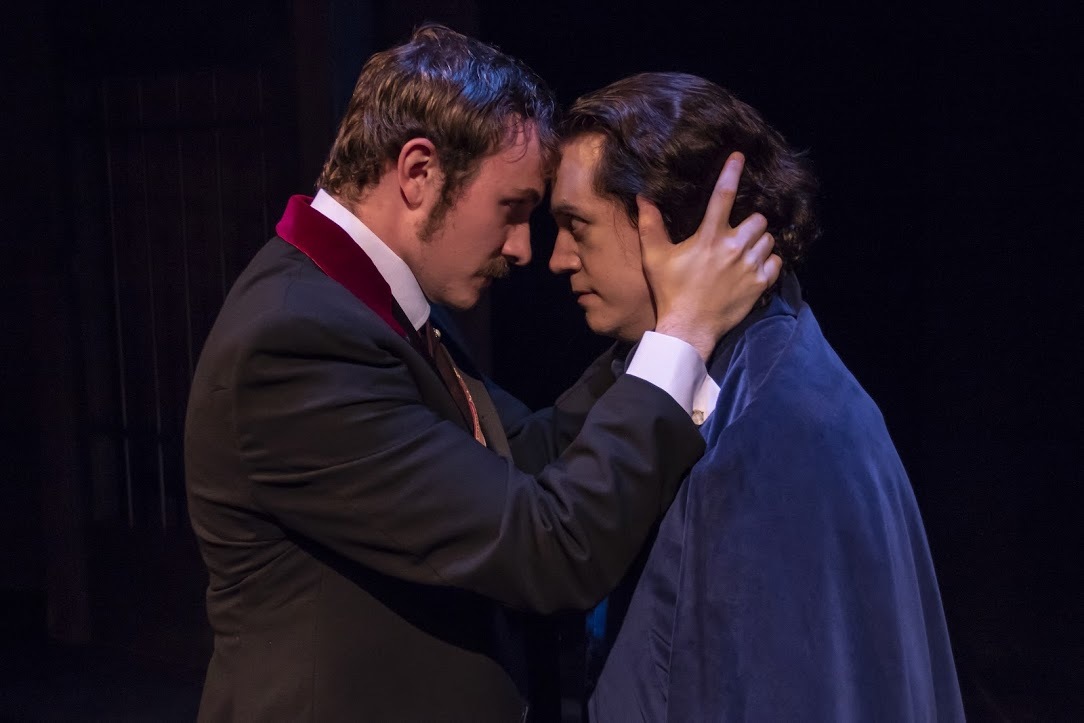 Who is Edwin Booth? If you're a theater fiend or know a thing or two about 19th century American history, you may have some idea. And if not, it comes as little surprise. As the brother of President Lincoln assassin John Wilkes Booth, Edwin falls under a notorious shadow, despite being worthy of remembrance in his own right.
Edwin Booth was arguably the most acclaimed Shakespearean actor of his day, and that's partly why Director and playwright Angela Iannone feels compelled to tell his story. Making its midwest debut at Theater RED, This Prison Where I Live is one in Iannone's four-play Booth Cycle, with two more pieces currently in the works.
How one woman can work behind the scenes to craft such an eloquent and compelling script, while also finding the time to act on stage, is utterly amazing. During a Talk Back, Iannone all but said she felt intrinsically bound to Edwin Booth, as if the universe bestowed upon her the task of bringing him out from behind the eclipse of his evil brother. Edwin, Iannone summed up, was an incredible performer, American, and contributor to the arts; a man deserving of his own place in history, apart from his family ties.
In This Prison Where I Live, we meet Edwin Booth (Jared McDaris) at a Chicago theater in 1879. He's rehearsing lines for Shakespeare's Richard II, when he's repeatedly interrupted by the ghosts of his past - his brother John Wilkes (Cory Jefferson Hagen) and first wife Mollie (Andrea Chastant Burkholder) - and the snares of his present - second wife Mary (Marcee Doherty-Elst) and the uninvited Mark Gray (Brandon Haut, marvelously nerve wracking).
Though Theater RED's tenets include "substantial roles for women," the on-stage female parts in this production are actually quite small - but they're not insignificant. Edwin's wives represent a portion of the titular prison: Mollie grasps him in the guilt of unsaid goodbyes, while Mary's unhinged mental state imprisons his daily existence. Though she has just one line of dialogue, Burkholder's Mollie silently entrances, while Doherty-Elst's Mary is verbose, imperious, and unmistakably mad.
But the ladies must make way for the Booth brothers, without whom this show couldn't be an excellent one. In reality, picking a favorite Booth requires no thought - but picking a favorite in This Prison Where I Live? It's too close to call.
McDaris exudes all the spellbinding conviction of a renowned thespian, while simultaneously crumbling within the confines of Edwin's mental and emotional distress. As for Hagen, he brings such Southern swagger, humor, and charm to John Wilkes, you almost forget how the man's actions shattered America in 1865. The two men play off each other with wonderful ease, capturing a brotherly bond that's believable and complex.
Throughout the cast, there's a certain theatricality to each actor's delivery. Although some moments may come off as a bit over zealous, they nearly always coalesce to serve the mood of the play as a whole. Iannone's articulate, commanding spirit comes through in the characters she's written and the actors she's directed.
Going into Theater RED, I was one of those who knew very little of Edwin Booth, apart from his villainous brother. I left This Prison Where I Live contemplating a life lived in another's history-shattering wake. Iannone's achievement, beyond the work itself and assembling such a stellar group of creatives, lies in encouraging a curiosity for histories both infamous and intimate.
Photo credit: Traveling Lemur Productions