Rosedale Community Theatre Presents STOP KISS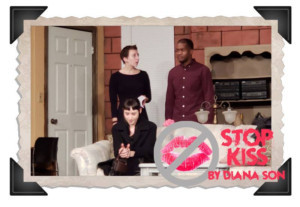 Rosedale Community Players is proud to present Stop Kiss, a play by Diana Son. This production is directed by Eric Goldstein and will run on select dates from January 25 - February 9, 2019.
Stop Kiss is a cutting-edge drama about what happens when two strangers, Callie and Sara, develop a strong bond that surprises them both. The audience watches their friendship grow, eventually leading to a kiss. This act spurs a violent attack by a bystander, changing the course of their story.
The story is told in a non-linear manner, shifting between the growing attraction and the aftermath of the attack, showcasing the growth of the main characters.
"Stop Kiss is one of those rare and special gems portraying how life is lived in the day-to-day cycle occasionally interrupted by big events, like falling in and love and unanticipated trauma," says Goldstein of Southfield. "It weaves all three together seamlessly and believably."
"It's a very real play with real, flawed, wonderful characters," says Kate Martinez of Dearborn, who portrays Callie.
This play was first produced Off-Broadway at The Public Theater in New York City in 1998.
"This is an important play," says Martinez. "It was important when it was written, it's important now. Considering the current political climate I think it's important that people see we're not quite as far as we would like to believe."
"It deals with a lot of issues that need to be spoken about, that need to be given a voice and it does it in a very real manner... that is really able to reach people," says Allison Megroet of Pontiac, who plays Sara.
Rounding out the cast are Robert Hill of Warren, Daniel Croft of Southfield, Maurizio Dominquez of Lincoln Park, Terry Selman of Southfield and Carol Shirley-Brown of Southfield.
Rosedale Community Players performs at Peace Lutheran Church, located at 17029 W. 13 Mile Rd., Southfield. Seating is cabaret style, at tables of 4 or more. Patrons are welcome to bring food and drink to enjoy at the show.
Tickets can be purchased through the online box office at www.rosedalecommunityplayers.com. You can also reserve tickets by e-mailing rcptickets@gmail.com or calling 313-532-4010.
The Rosedale Community Players is a volunteer group who produce a wide variety of plays each and every year and draws members and patrons from the entire Greater Metro Detroit Areas. They been producing quality community theatre since 1969 and are are celebrating their 50th season this year.
Additional cast interview videos are available at on the RCP website: www.rosedalecommunityplayers.com