Riverside Theatre Stages SMOKEY JOE'S CAFE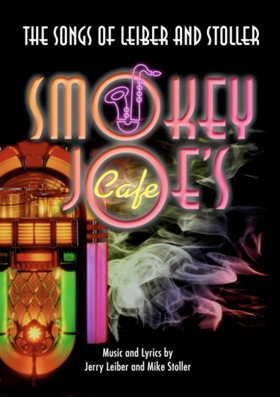 Riverside Theatre presents one of Broadway's longest-running jukebox musicals, Smokey Joe's Cafe. Sponsored by Linda & Mel Teetz and Riverside Theatre's Patron Producers Group, Smokey Joe's Cafe performs on the Stark Stage from October 23 - November 11, 2018.
One of Broadway's longest-running hits, Smokey Joe's Cafe is the rockin' revue that will have your hands clappin' and your toes tappin' listening to the classics "Jailhouse Rock," "Stand By Me," "Yakety Yak," "Hound Dog," "On Broadway," "Spanish Harlem" and many, many more. A celebration of legendary songwriters Jerry Leiber and Mike Stoller, Smokey Joe's Cafe is a fun-filled night of Rock n' Roll that will have you singing and dancing all the way home.
Jerry Leiber and Mike Stoller met in Los Angeles in 1950 at a music store where Leiber worked and Stoller frequented. Surprised to find a shared love of rhythm and blues, they began writing songs and found immediate success with recordings by Charles Brown and Big Mama Thornton. When Elvis Presley heard one of these early records, he decided to record and showcase "Hound Dog" on various television shows. This would link Leiber and Stoller and Elvis forever.
They continued to write more hits for Elvis including the title songs for three of his movies-Loving You, Jailhouse Rock, and King Creole-as well as the rock and roll Christmas song, "Santa Claus Is Back in Town," for his first Christmas album.
In the early sixties, Leiber and Stoller produced a number of hits for The Drifters, The Coasters, Peggy Lee, and others. In a span of 40 years they wrote hundreds of songs with over 75 reaching top-ten status on the music charts.
In 1994, Stephen Helper, Jack Viertel, and Otis Sallid, created a revue showcasing the songs of Leiber and Stoller called Smokey Joe's Café. The format had no dialog and no unifying theme, but presented 39 of their songs sung by members of the cast in various combinations. After its world premiere in Los Angles in November 1994, it opened on Broadway on March 2, 1995 and closed on January 16, 2000, after 2,036 performances.
The Broadway production, directed by Tony Award-winning director Jerry Zaks, would star many special artists throughout its run including: Ben E. King, Pam Tillis, Gladys Knight, Tony Orlando, Lou Rawls, Gloria Gaynor, and Rick Springfield.
A production is currently playing Off-Broadway at Stage 42 in New York City.
Riverside's production of Smokey Joe's Cafe is directed and choreographed by DJ Salisbury and stars Schyler Conaway (Michael), Ian Coulter-Buford (Ken), Alison Cusano (Pattie), André Jordan (Victor), Gabriel Mudd (Adrian), Summerisa Bell Stevens (DeLee), Jayne Trinette (B.J.), Khalifa White (Brenda) and Jamari Johnson Williams (Frederick).
The production crew includes: Anne Shuttlesworth (Music Director), James Dardenne (Scenic Designer), Kurt Alger (Costume Designer), Yael Lubetzky (Lighting Designer), Craig Beyrooti (Sound Designer), and Mark Johnson (Production Stage Manager). Casting was done in New York by Wojcik/Seay Casting.
Smokey Joe's Cafe performs October 23 - November 11, 2018 on the Stark Stage at Riverside Theatre. Tickets start at $35. Tickets can be purchased by calling the Box Office at 772-231-6990 or online at www.riversidetheatre.com.
Performances are Tuesdays, Wednesdays, and Thursdays at 7:30pm; Fridays and Saturdays at 8pm; with matinees on Wednesdays, select Thursdays, Saturdays and Sundays at 2pm.