Photo Flash: Rehearsals Begin For FST Improv's JUST DESSERTS
FST Improv is in rehearsals for its brand new comedy show, JUST DESSERTS, where competition is the name of the game. In JUST DESSERTS, four improv "directors" are duking it out on the Gompertz stage in a full-on showdown complete with short scenes, sketch comedy, and games... Which improv actor will the audience choose as the 'sweetest treat' of the evening?
JUST DESSERTS opens in the Gompertz Theatre on Saturday, October 1 at 8:00pm and will run for five weeks on Saturday nights. Tickets are $12 and can be purchased online at FloridaStudioTheatre.org or by calling the box office at (941) 366-9000.
The cast of the JUST DESSERTS show will include Jeremy Lamb, Adam Ratner, Christine Alexander, Samantha Stern, and Steve Turrisi.
Director Jeremy Lamb had this to say: "Audiences will love the competition aspect of JUST DESSERTS. Actors and directors are all competing against each other in an effort to win the night's big delicious dessert prize. And it's all up to them, so audiences will also love the fact that they are in charge of who gets rewarded and who gets punished. It's improv schadenfreude to the max! Come see who gets their Just Desserts!"
The new show comes with an expansion of the FST Improv program, an expansion that is ripe for the under-taking. Rebecca Hopkins, FST's Managing Director and director of the Improvisation program, has been on the verge of expansion since 3 years ago when the Sarasota Improv Festival was initiated.
"Our FST Improv program has grown and grown, and it seemed right to expand the program to offer year-round shows that are unique and of course, hilarious," said Rebecca Hopkins, FST's resident funny girl [and Managing Director]. "The opportunity to collaborate with Available Cupholders director Jeremy Lamb on this new show is exciting. He brings great ideas to the table, and no doubt the Sarasota audience is ready for new and innovative forms of Improv."
FSt improv is Sarasota's resident Improv troupe at Florida Studio Theatre. Under the direction of Rebecca Hopkins, the Improv program has expanded from its humble beginnings in 2001 to a year-round performance schedule, the Sarasota Improv Festival, and Improv
education classes.
CREATIVE TEAM & CAST:
Rebecca Hopkins (co-creator of JUST DESSERTS) is FST's Managing Director, and as such is the Chief Operations Officer. Mrs. Hopkins is responsible for oversight of FST's overall Administration, including the Business Office, Development, Marketing, Box Office, Front of House, Cabaret Restaurant, budgeting and maintaining the overall quality of FST's internal management functions. She works in concert with the Artistic Director, and the Associate Director in the creation and implementation of FST's long-range plans. Mrs. Hopkins serves as FST's liaison to other arts and theatre industry organizations. In addition, Mrs. Hopkins developed FST's Improvisation
program and is actively involved in new play development for the Cabaret. Jeremy Lamb (co-creator of JUST DESSERTS/Ensemble) joins the Florida Studio Theatre staff for the fall, working in expanding the FST Improv program. Jeremy has been directing, producing, and performing improv for nearly 15 years. He has trained with Second City, iO, and UCB LA, but credits most of his artistic growth to his fellow troupemates in Available Cupholders, who have been there since
the beginning. In addition to being the director of AvCuph, he is also the Executive Producer of Austin's Out of Bounds Comedy Festival, which celebrated its tenth anniversary this past Labor Day Weekend.
Adam Ratner (Ensemble) has been a part of the FST family for nearly 25 years. A graduate of Florida State University's Theatre Program, for the past 10 years he has been a member of the Education Staff as a Teaching Artist, actor, playwright, Coordinator of the Young
Playwrights Festival and director of the KIDS KOMEDY CLUB. He has traveled to several countries teaching playwriting for the WRITE A PLAY PrograM. Adam is also a member of the FST IMPROV Troupe.
Christine Alexander (Ensemble) is an award-winning improv artist and producer. She is an original member of the FST Improv and a founding member of Lazy Fairy Improv. As a comedian, she's known best for her Translation for the Hearing Impaired improv. Christine is
the co-owner and producer of the popular e-newsletter, AnythingArts.com. Also known as "The Bald Chick" selling advertising space on her head. She is well known not only for making other people laugh, but also for her own enthusiastic laughing... or sea-lion imitation,
depending on your opinion. 
Samantha Stern (Ensemble) hails from the tropical island of Staten, New York. She studied improv at Chicago City Limits and has worked professionally with NYC Comedy Sportz, Just the Funny, Walt Disney World, and SAK Comedy Lab. She is a graduate of Cornell University
and holds a Master of Fine Arts in Performance from UCF. After several years working around the world as a singer, actress, and educator, she now divides her time between teaching, performing, and changing her son's poopie diapers.
Steve Turrisi (Ensemble) is FST's Development Associate, as well as a member of the FST Improv troupe. From 1970 to 1994 he was honing his acting career in school and college. Steve then moved to Sarasota in 2001 and took the next three years thinking about life in the big theatre. Then in 2004, he had an epiphany: maybe he should actually try to get on stage. Steve then enrolled in an Improvisation class at FST. In 2005, he graduated form the classroom and joined the professional FST Improv cast and have been doing shows happily ever since. Hey, Rome wasn't built in a day you know.
Known as Sarasota's Contemporary Theatre, Florida Studio Theatre was founded in 1973 by Jon Spelman. Starting out as a small touring company, FST traveled to places such as migrant camps and prisons. The company eventually settled down into a permanent home, acquiring the former
Woman's Club building - now renamed the Keating Theatre. In the years that followed, Florida Studio Theatre established itself as a major force in American Theatre, presenting Contemporary Theatre in its three theatre venues: the Keating Theatre, the Goldstein Cabaret and its newest space, the Gompertz Theatre.
Even with its growth, Florida Studio Theatre remains firmly committed to making the arts accessible and affordable to a broad-based audience.
Under Richard Hopkins, Artistic Director and CEO, FST develops theatre that speaks to our living, evolving, and dynamically changing world. As FST grows and expands, it continues to provide audiences with challenging, contemporary drama and innovative programs.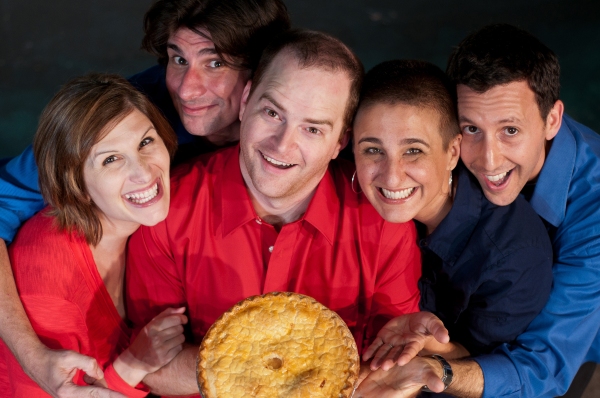 Samantha Stern, Adam Ratner, Jeremy Lamb, Christine Alexander, and Steve Turrisi


Adam Ratner, Samantha Stern, Christine Alexander, Jeremy Lamb and Steve Turrisi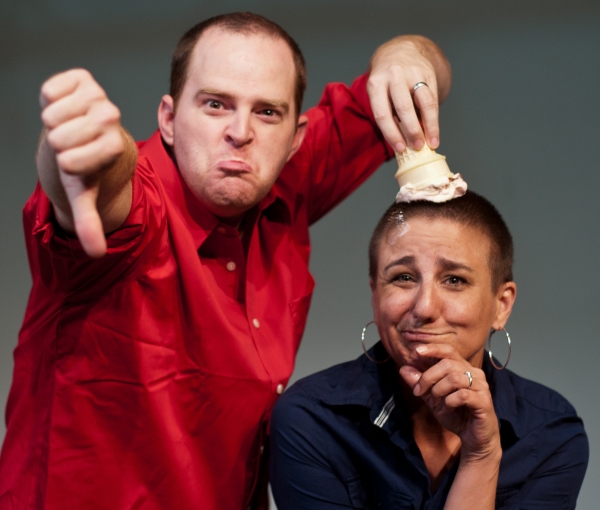 Jeremy Lamb and Christine Alexander