Meet Composer-Lyricist Sam Carner at Sunrise Civic Center (CANCELLED)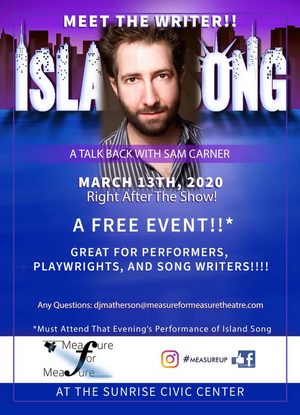 UPDATE (3/12/2020): Due to the coronavirus (COVID-19) outbreak, the following talkback with Sam Carner has been cancelled. Measure for Measure Theatre's production of Island Song will continue to play as scheduled.
SUNRISE, FL - Audiences are invited to attend a special talkback with award-winning musical theater writer Sam Carner on Friday, March 13 at the Sunrise Civic Center. The talkback will take place following that evening's performance of his musical Island Song, staged by Measure for Measure Theatre. This talkback is an ideal opportunity for playwrights, songwriters and performers to learn about working in New York theater.
He and fellow songwriter Derek Gregor form the songwriting team of Carner and Gregor. As collaborators, Carner and Gregor are best known for the musicals Island Song and Unlock'd, along with special material for The Teacher from the Black Lagoon and Other Stories (TheatreWorks USA), Hot Mess in Manhattan, and the web series My Gay Roommate and Redheads Anonymous.
Island Song, which boasts seven MAC Award-nominated songs, has been performed throughout the United States and around the world in theaters and cabarets from New York and London to Paris and Tokyo. The musical's studio cast album features Broadway veterans Jeremy Jordan, Kimiko Glenn, Jackie Burns, Lilly Cooper, Troy Iwata and Natalie Weiss, and can be downloaded for free at www.IslandSongMusical.com.
With a kinetic pop-rock score, Island Song is a poignant, off-beat dramedy that follows five 20- and 30-somethings as they take on New York City over the course of a year. These young hopefuls must work through their own complex relationships with ambition, distraction and the desire to connect.
Measure for Measure Theatre's production of Island Song is the musical's Southeastern Regional Premiere. Island Song will run from Thursday, March 12 through Sunday, March 29.
This production contains sexual content and may not be appropriate for children.
Showtimes are Thursday-Saturday at 8 p.m. and Sunday at 2 p.m. Tickets are $38 with discount tickets available for students, military personnel, industry professionals and City of Sunrise residents. For tickets or more information, please visit measureformeasuretheatre.com or call the Sunrise Civic Center Box Office at (954) 747-4646.
The Sunrise Civic Center is located at 10610 W. Oakland Park Boulevard in Sunrise. The Sunrise Civic Center box office is open during the following hours: Tuesday, Friday and Saturday from 10 a.m. to 3 p.m.; Wednesday and Thursday from 12 p.m.; and one hour before shows.
Be sure to follow Measure for Measure Theatre on Facebook and Instagram at @MeasureForMeasureTheatre and join the conversation with the hashtag #MeasureUp.