Artist Deborah Bigeleisen Welcomes Guests to WPB Opening of Exhibition 'Sublime Chaos'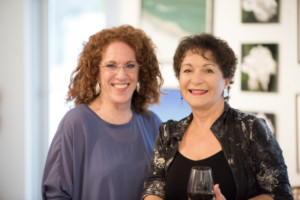 Internationally renowned artist Deborah Bigeleisen welcomed numerous collectors, friends, supporters and art fans at the recent opening of her 25-piece exhibition Sublime Chaos: a journey from realism to abstraction, which was on display August 24-26 at The Gallery at the Wine Scene in downtown West Palm Beach.
The Wine Scene served wine and tapas, with entertainment provided by two extraordinary musicians: pianist Dr. Robin Arrigo and cellist Dr. Claudio Jaffe. A portion of the proceeds from all sales from this exhibition will be donated to Soroptimist International of the Palm Beaches.
"I was very moved at the exhibition opening, not only by the wonderful turn-out but also by the enthusiastic praise I received for my new, bold, multi-color, vibrant abstract paintings, which are a major change from my earlier series of conceptual paintings in analogous tonalities, tones of grays and beiges, and blacks and whites," says Ms. Bigeleisen.
"Certainly, I have found a freedom with the paint that I had never experienced before. It's a whole new creative paradigm for me and I love the newness, the challenge, the unending discoveries, and the unpredictability of what's down the road," she adds.
Note:
About the Artist:
Flowers and nature have been the inspiration for Deborah Bigeleisen's artistic expression since childhood, and are the common thread that weave through both her careers: first as a textile print designer and founder of her own global design company in NYC, and later as a fine artist which she began in 1998 upon moving to West Palm Beach, FL. In the early years of her painting career she was mentored by acclaimed technical master Sam Perry and guided by renowned visionary Gordon Parks. She also completed rigorous training through Master Artist Workshops.
From early on, Ms. Bigeleisen's work gained the attention of fine art dealers across the U.S. from San Francisco and Austin to New York City and Southampton. Her paintings are collected worldwide both privately and publicly, enhancing the corporate collections of American Airlines, Beauté Therapies Inc., Hilton International, The Koury Corporation and more. Her paintings have been accepted into numerous museum exhibitions including the Society of the Four Arts, the Boca Raton Museum of Art, and the Williamsburg [Brooklyn, NY] Art and Historical Center; have received awards in international competitions; and have graced the covers and interior pages of publications including Michael K. Corbin's three part series "A Collector's Journal," Florida Design, New Art International, and Art & Antiques. In addition, her conceptual work in fractals has been published in the prestigious journal Science Creative Quarterly.
Ms. Bigeleisen's paintings are sold through fine art dealers, and have been prominently exhibited in international Contemporary and Fine Art fairs including the Architectural Digest Home Design Show, ArtHamptons, the Chicago International Art Show, the LA Art Show, the Palm Beach Jewelry, Art and Antique Show and the Shanghai Art Fair. For more information, please visit www.deborahbigeleisen.com.
Photo Credit: Matthew Bueno / MB Photostyles