BWW Interview: Risks, Adventures, and Second Chances: Exploring the Meaning of HELLO, DOLLY!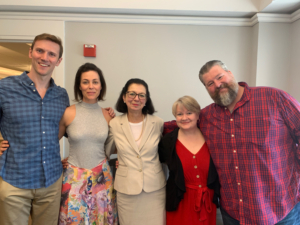 "HELLO, DOLLY! is the classic American musical," affirms its star Charis Leos.And her colleagues and cast mates on the panel, Lauren Blackman, Matt Gibson, and Jason E. Simon, enthusiastically concur. Not only does it have a perfect score, a heartwarming book, colorful characters, and a healthy dose of irresistible comedy, but it is also infused with some messages of lasting significance. It is these takeaway meanings that these cast members are eager to discuss with BWW's Maine editor Carla Maria Verdino-Süllwoldat MSMT's PEEK BEHIND THE CURTAIN on July 24 at Curtis Memorial Library in Brunswick.
The discussion begins with praise for the Jerry Herman score and Michael Stewart book, as well as for this new production's direction by Donna Drake and choreography by Rhonda Miller. Simon, who plays the Head Waiter Rudolph, has an excellent opportunity to observe (and be part of) one of the most complex dance sequences in the show, the Harmonia Gardens scene with its "Waiters' Gallop, "Hello, Dolly," and final scramble, says "Rhonda was able to find moments where each of these amazing dancers is featured at what he does best. The choreography looks hard, and it is even harder than it looks."
Leos seconds that noting, "You know it's good when all the other dancers are watching and saying 'Wow!'"
"Wow!" is what audiences have been saying about Charis Leos' role debut as Dolly and about her stellar castmates. Despite the fact that the role fits her like a glove, Leos confides that "I never really saw myself as Dolly. It was Stephanie [Dupal, Managing Director] and Curt [Dale Clark, Artistic Director] who thankfully envisioned me in the part. Thirty years ago I had played Minnie Faye, but when Curt first asked me, I had my doubts. As I began toi get into the role, though, I thought, 'I get her!' The beautiful things about the part is that she is the person you make her. The personalities of the various women who have played her over the years are very different, but all of them work. You have to bring yourself to the role, and that's where the joy comes in."
Known for her talents as a comedienne, Leos and the entire DOLLY cast demonstrate impeccable comic timing throughout the show, playing off each other with a naturalness and ease that is pure delight. Leos talks a bit about one of her funniest moments, the hilarious eating scene in the second act. She affirms that she is eating real food, but demurs - not wanting to spoil the surprise for those who have not yet seen the show -when asked the details. "Donna gave me a road map for the scene, telling me where to start and end, and then we played with it. It's my favorite scene in the play, though some nights I think about the entire cast frozen behind me watching for four minutes, and I say to myself 'Oh, sorry.'"
Her cast mates, however, even though they are required to keep straight faces, are enjoying the action as well. Says Gibson, "Charis reads the house, and as Curt [Dale Clark] said the other night, sometimes she smells blood with an audience and she just goes for that laugh!"
But it is so much more than laughs that endears HELLO, DOLLY! to these actors. "DOLLY is one of the most perfect musicals ever written," enthuses Blackman. "The whole play is about a matchmaker and falling in love, but at the end, Dolly's monologue talks about taking your money and spreading it around. To me that's such a genuine moment. In this lighthearted, beautiful, loving musical, the writers make the point that we have to care for those around us."
Blackman also revels in some special moments that belong to her character, Irene Malloy. "I have tears in my eyes and I get to say my favorite line in all the musical canon to my dear friend Charis: 'Oh, Dolly, there are wonderful things in the world!' I think now that I am revisiting this part five years later [after playing it on national tour], I am not as afraid to bring myself into the role. I think you are seeing a lot of Charis and my friendship on stage."
Gibson echoes these sentiments: "Cornelius is such a nice, well-rounded, sweet part. I just try to bring my whole heart to it." Gibson, who gets to have that disarmingly touching moment toward the end of the play when he waxes eloquent in monologue and song about the meaning of life and love, believes that this speech and song ("It Only Takes a Moment") speak to the heart of his character. "Cornelius is posing a challenge in direct address to the audience; he is asking them [based on his experience] to live a little more. Cornelius says in the original MATCHMAKER that 'We are bound to be successful, so we might as well have a night on the town and enjoy ourselves.' He wants to say he has lived a little before he settles down and becomes Vandergelder. And in taking that chance, he and Barnaby get much more than they bargained for; they get a whole new life. I love the opportunity HELLO, DOLLY! gives me as an actor to offer up to the audience this little gift - this thought they can put into their own lives."
Gibson believes the message of taking risks is very central to the meaning of the musical. And he says that message resonates with him in real life. "As an actor, much of what I do is about risk-taking. Every time a job ends, I hope the next one comes along. It's always a gamble."
Simon riffs on that theme, noting the ephemerality of an actor's profession and process. "As an actor, the characters you play are like crayons in your crayon box. On stage as an artist, you pick a crayon out of the box and color with it for this show. It's like being a visual artist, except that the visual artist works alone and the actor is on stage with all these other wonderful artists, creating something collaboratively. We make sure we give the other person a chance to draw as well. The wonderful thing about theatre is that a bunch of different artists come together to present one big picture to the audience. Theatre is a community that includes us and the audience, and each day the energy happens differently - in a particular moment in time like no other ever."
So it is the wonder of discovery that illuminates these performances and especially this show. Leos explains the psychological and emotional journey of her character, Dolly Gallagher Levi. "I think Dolly sets out to get Horace; she has been on her own for a while finding other people mates. Initially, she set her sights on him for practical reasons. She is a smart lady who knows she can take care of what he needs and make him happy. There is a lot of playfulness between them, and, in the course of the journey, it becomes true affection. He comes around at the end, and when they dance together, it is such a tender moment. It won't be a marriage like the one she had with Ephraim. The way she talks about him [her first husband], he was an amazing man and they enjoyed life to the fullest. But she will be happy with Horace. Her manipulating him [into marriage] brings out that sense of adventure in Dolly once again. I think it's sweet that this can happen the second time around."
Blackman echoes these thoughts as they pertain to her character, Irene Malloy: "Irene and Dolly are going through the same thing, but their agendas are different. Irene's is [initially] to have a wild night on the town. She has already had the love of her life in Peter Malloy, and while she knows Cornelius will fall for her, she doesn't realize she will fall for him. She takes a risk to rejoin life. She is given a second chance when she is not expecting it, and she finds that a second love can be as strong as the first."
Leos nods and sums up what she and her colleagues have been saying about the show's beautiful message: "I think HELLO, DOLLY! tells you that when you are open to things, they will come to you. But," she adds with quiet emphasis, "you have to be open."
Photo by Olivia Wenner
MSMT's PEEK BEHIND THE CURTAIN takes place the first Wednesday after the show's opening at noon at the Curtis Memorial Library in Brunswick. The final panel will be held on August 14thwith cast abd creative from THE WIZARD OF OZ. www.msmt.org
Related Articles View More Maine

Stories

Shows
Born and raised in the metropolitan New York area, Carla Maria Verdino-Süllwold took her degrees at Sarah Lawrence College and Fairleigh Dickinson University. She began (read more...)