BWW Interview: A Woman Standing Up in a Man's World: Kate Fahrner in NEWSIES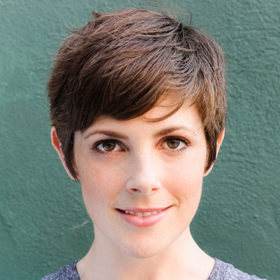 "She a woman standing up in a man's world, and she won't take no for an answer," Kate Fahrner says admiringly of her current role in Maine State Music Theatre's new production of Disney's Newsies. "Katherine is one of the principal storytellers in the show, and [as a writer], she is unique because she is a woman modeling herself after a man."
The actress who created a sensation last season as Eva Peron returns to the Pickard Theater to work once again with director/choreographer Marc Robin and her Evita co-star Matt Farcher. Fahrner recounts how she came to be cast as the young journalist, Katherine Plumber, who becomes involved with strike leader, Jack Kelly, and helps the newsboys win their objectives. "I had gone in to audition for Sarah Brown in Guys and Dolls, and Marc Robin asked me if I knew Katherine's song "Watch What Happens." I didn't, but I prepared it and sang it for them at the callback. When Matt walked in, I knew this was going to be a dream to play this part. We didn't get to interact much in Evita, but we do as Katherine and Jack, and there is a little more of ourselves in these roles."
Like Farcher, Fahrner has had a very busy year since last summer at MSMT. Not only did she make her Newsies role debut at the Fulton in July, but she played Nellie Forbush in South Pacific at Philadelphia's Walnut Theatre, and also performed in a provocative new work by Lucas Hnath, The Christians, at the Gulfshore Playhouse in Naples, FL. Of the Hnath play she says, "It was exciting to be part of something where people could really get into deep discussions about what they had seen."
All this Fahrner accomplished while caring for her two-and-a-half-year-old daughter, who accompanied her to Philadelphia and Lancaster and now to Maine. "She's now at an age where she remembers people and places, and she can watch a bit of rehearsal. It's so much fun to watch her! My husband and I are very lucky because she is such a good little girl who is always happy. She enjoys visiting new theatres and handles meeting new people very well."
Fahrner admits to having been one of the original "fansies" who was obsessed with the 1992 Newsies movie, so getting to play such a strong and idealistic character as Katherine Plumber is a delight for her. The stage version conflates two characters from the movie, Davey's sister Sarah and the reporter Bryan Denman, into the character of Katherine. "Combining characters and making the journalist a woman makes the plot far more interesting, dramatic, and contemporary," Fahrner feels.
Asked what this educated young woman sees in the ragtag Jack Kelly, Fahrner replies: "They are different, but they are both strong willed. He is willing to stand up to people with money and power whom he will never understand, and so does she. They are two young people who refuse to back down. I think for Katherine this is the first time she understands love and that makes her a little less sure of herself. She knows how to be assertive, but not girly." Fahrner says that she feels "so much joy and fun on stage" playing those scenes with Farcher. We are completely in tune with each other as human beings, and our characters are close to who we are in life. As actors, we are leaning on each other all the time. Matt makes me feel I can do it, and hopefully I do the same for him. We are each other's rock."
Like Farcher, Fahrner loves Newsies' score and choreography. "My big vocal number is a giant patter song. There's not much time for breathing or for thinking, so you have to know the words cold. I review them for every show. The part sits well within my range, and I don't always have to be on pitch - I can go off a little or add optional high notes for effect. And there are wonderful duets with fascinating harmonies."
As has everyone who has seen the production in Lancaster and now here in rehearsal, Fahrner is in awe of Marc Robin's choreography and of the dance ensemble. "Marc 's choreography and these boys are so amazingly brilliant." But Fahrner says what impresses her most about Robin's vision of the show is "the way he cares about the story. When you are known for being a major choreographer, it would be easy to wile the audience only with the dazzling dance numbers. But Marc wants to make sure that every single person on stage has a character, that each knows who he is and each tells the story with heart. It was so wonderful at the Fulton to see audiences deeply moved by the show."
And what is it that grabs them? What makes audiences fall in love with Newsies? Fahrner replies immediately: " This is a show that tells the story about what youth has done and what our youth now has the potential to do. It's uplifting to watch the underdogs stand up, seize the day, and win."
Photos courtesy MSMT and Walnut Street Theatre
Kate Fahrner plays Katherine Plumber in Disney's Newsies at MSMT's Pickard Theater from August 9-26, 2017. www.msmt.org
Born and raised in the metropolitan New York area, Carla Maria Verdino-Süllwold took her degrees at Sarah Lawrence College and Fairleigh Dickinson University. She began (read more about this author...)