WINK Survival Story Comes to The Zephyr Theatre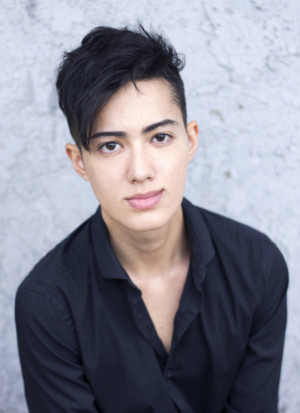 Taking over the title role in Neil Koenigsberg's play WINK, Andrik Ochoa begins rehearsals this week after replacing Javen Marquise Smith. A non-binary actor, Ochoa is based in Los Angeles and was recently seen in the film "Morir de Amor."
It's easy to lose your way in Hollywood. The story features a homeless gender questioning teenager and Dario Villanova, a former A-list actor who is now doing B movies. They are both down on their luck in Los Angeles. When a synchronistic meeting connects these two souls, they quickly bond over music, art, and life's unexpected misfortunes. Sometimes the best way forward is to stop fighting the past.
"Volunteering at a New York LGBTQ center for homeless youth was a transformative experience for me. It became the inspiration for WINK. I wanted to tell a story about a non-binary kid, about the unexpected connections that happen in life and how it can forever change us," says Neil Koenigsberg; Playwright
Playwright Neil Koenigsberg wrote On A Bench and Fit, produced at 59E59 Theater in New York. His play Off the King's Road was produced in New York at Theater for the New City where Wink made its debut. Off the King's Road went on to have successful runs at the Odyssey Theatre in Los Angeles and at the Jermyn Street Theater in London. One of Neil's early works, Change Beds and Dance, was presented at the Secret Rose Theater, North Hollywood.
Michael Allen Angel directed Blake Warner in his autobiographical play After Hours; the gender-bending illusionist duo IMAJICK in their Adventures Of Priscilla and Trixie; as well as Cathy Lind Hayes in her award-winning solo show The Beauty, The Banshee & Me. He helmed The Fortune Teller and Barrage From The Garage "Festival Directors' Pick" for the 2017 Short + Sweet Festival. His award-winning short film "Broken Hart" was shortlisted for the Iris Prize and was seen at festivals in Wales, Mumbai, Brussels, Indianapolis, and Santa Barbara. Michael was a contributing writer on Seraph Film's popular YouTube horror anthology Horror Haiku with the episode entitled "Til Death Do Us Part." He is a graduate of the UCLA Department of Theatre, Film, and Television.
Directed by Michael Allen Angel, the cast includes Amy Argyle as Valerie (The Blank Theatre's Peter Pan The Boy Who Hated Mothers and Young Playwright's Festival; film short "A Funny Thing Happened to Kelly and Ted" starring opposite Dominic West), Adam Cardon as Peter (Hulu's series "Ark," the film, "Ringer" - Best Actor, Bali International Film Festival), Euriamis Losada as Manuel (Romeo & Juliet - Best Actor, Miami New Times; Long Day's Journey Into Night - Best Supporting Actor nomination, Curtain Up Award; Bat Boy, and Jekyll & Hyde - Best Actor in a Musical, Carbonell Award, Carbonell Award; Ricky Ricardo on the National Tour of I Love Lucy Live on Stage), David Mingrino as Dario (title role World Premiere The Man Who Saved Everything Theatre West, Room Service - 6 Ovation nominations including best ensemble cast), features "The Haunted Maze" Amazon Prime), Andrik Ochoa (The Vagina Monologues and the film "Morir de Amor" 2017).
The creative team includes Racquel Lehrman; Theatre Planners (Producer), Pete Hickok (Set Design), Matt Richter (Lighting Design), Jesse Mandapat (Sound Design), Wendell C. Carmichael (Costume Design), Katrina Pagsolingan (Projection Design), Michael Donovan (Casting), Danny Crisp (Production Stage Manager).
Wink opens at 8pm on Saturday, December 8th and runs Saturdays and Mondays at 8pm, Sundays at 3pm through January 13, 2019 (no performance on Monday December 24 & 31, 2018). Zephyr Theatre is at 7456 Melrose Ave., Los Angeles, CA 90046. Tickets $15 - $45. Reservation and information at www.Plays411.com/Wink and 323-960-1055. Wheelchair access and ample street parking.
Related Articles View More Los Angeles

Stories

Shows
More Hot Stories For You