Son Of Semele Ensemble Presents OF GOVERNMENT Opening 3/10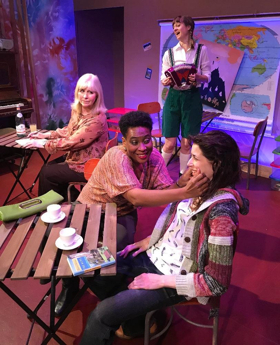 Award-winning Son of Semele Ensemble opens its 2018 season with Alexander Borinsky's Of Government. Presented as a DIY pageant illuminating the often unsung "feminine" labor that binds our communities, this West Coast premiere runs March 10 to April 1, 2018 at the Son of Semele Theater, 3301 Beverly Boulevard.

New for 2018: Son of Semele Ensemble offers a limited number of pay-what-you-can tickets through the first two weekends of performances (March 10-18). General admission tickets are $25, with a $5 discount available to patrons 25 and under. Tickets for all performances are available at www.sonofsemele.org. "This play feels like an antidote for political burnout, which I know a lot of us are struggling against," says director Kate Motzenbacker, a Son of Semele Ensemble member. "We may wonder if any action we take makes a difference, but Of Government maintains that we have to keep taking action anyway. It shows people responding to failures of government by taking care of each other, both in concrete ways like running for office and in more subtle ways, like just providing a place for someone to crash when they need it." Alexander Borinsky is a playwright and performer, originally from Baltimore, and an alumnus of Mac Wellman and Erin Courtney's playwriting program at Brooklyn College. The Of Government world premiere at New York's Clubbed Thumb was selected as one of the 10 best theatrical productions of 2017 by Vulture.com. Borinsky's plays have been produced and developed by Clubbed Thumb, Playwrights Horizons, Target Margin, Page 73, Ensemble Studio Theatre, SPACE at Ryder Farm, Masrah Ensemble in Beirut, Upstream Theater in St. Louis, and the Lower Manhattan Cultural Council, and his writing has appeared in n+1, The Brooklyn Rail, and HowlRound.

Of Government features Son of Semele Ensemble members Melina Bielefelt, Liesel Euler and Brenda Varda (also the musical director), plus guest artists Christine Avila, Lauren Flans, Olivia J. Fox, Hazel Lozano, Jessica Salans and K. Butterfly Smith. The design team comprises Son of Semele Ensemble member Barbara Kallir (lights), Dorothy Hoover (set), John Ruml (sound) and Suzanne Scott (costumes). Mary Losurdo is the stage manager; Ensemble member Flor San Roman is the production dramaturg.
PERFORMANCES MARCH 10 - APRIL 1, 2018
Fridays and Saturdays @ 8pm
Sundays @ 5pm
Tuesdays 3/13 & 3/20 @ 7pm

TICKETS $25
$5 discount for patrons 25 and under (must show photo ID at the door)
A limited number of pay-what-you can tickets are available for performances through March 18. Purchase tickets in advance at sonofsemele.org. The Son of Semele box office is open on performance days only, 30 minutes prior to curtain.

LOCATION/PARKING:
Son of Semele Theater
3301 Beverly Blvd. (@ Hoover), Los Angeles CA 90004
There is free street parking in the surrounding neighborhood; patrons should leave ample time to find a spot. Son of Semele offers a complimentary beverage with taxi, Uber or Lyft receipt/proof of ride. ABOUT SON OF SEMELE ENSEMBLE: Son of Semele Ensemble is a Los Angeles-based ensemble theatre company comprised of 30+ actors, directors, designers, dramaturgs and producers. Since 2001, Son of Semele Ensemble productions have been honored with two LA Stage Alliance Ovation Awards (nine nominations), five LA Weekly Theatre Awards (eleven nominations), four Los Angeles Drama Critics Circle Awards, two SAGE Awards, and an NAACP Theatre Award (four nominations). The company was also nominated in six categories at the inaugural Stage Raw Awards.

SON OF SEMELE ENSEMBLE MISSION: We believe the impact of a theatrical experience should resonate beyond the theater door. As an ensemble of artists, we integrate complex design and performance, producing theatre that embraces the friction between emotion and intellect. Through a process of discovery, collaboration and creative risk-taking, we illuminate and amplify universal questions. To that end, we make an earnest commitment to the artistic sustainability of the greater community. Copyright © 2017 Son of Semele Ensemble, All rights reserved.