Sacred Fools' THE VALUE OF MOSCOW Makes World Premiere on Friday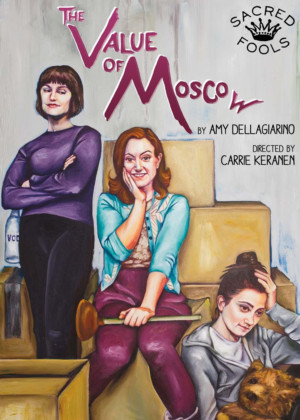 "There's no place like home... to make you wanna kill somebody." Season 22 at the Sacred Fools Theater Company continues with the world premiere comedy The Value of Moscow by Amy Dellagiarino and directed by Carrie Keranen. The show opens Friday, November 9 at 8:00 pm and runs through Saturday, December 8, 2018 in the Second Stage at The Broadwater Theater Complex.
Three grown "adult" sisters are thrust back into living together as a last resort after their various lives have fallen apart. This trio can't even agree on how to unpack their stuff much less their relationships and pasts. And before they can finish the bottle of vodka they found in the kitchen, everything goes from bad to worse, to a lot, LOT worse. Can they set aside their grievances long enough to work together and save themselves? Probably not. But with acerbic wit and an encounter with the pizza man, these three sisters aim to find out.
After receiving her BFA from NYU's Tisch School of the Arts, Playwright Amy Dellagiarino returned to her native Chicago before eventually making her way to Los Angeles. Other plays by Dellagiarino include The Misfit Mantra at 2Cents Theatre Group (winner of Best Comedy at this year's INK Fest), Break In from the 2016 Hollywood Fringe Festival and Inhale and Exhale, which was produced in 2015 by Chicago's Something Marvelous Theatre Company as part of the Festival of Magical Realism.
Director Carrie Keranen is a Sacred Fools member whose Fools credits include Resa Fantastiskt Mystisk, Watson and the Dark Art of Harry Houdini, countless Serial Killers appearances and is the company representative on the Sacred Fools Board of Directors. She is also a voice actor and director with dozens of credits voicing anime, cartoons, and games. The Value of Moscow is her mainstage directorial debut at Sacred Fools.
The design team consists of Fools veteran designers Aaron Francis (Scenic Design), Matthew Richter (Light and Sound Design) and Linda Muggeridge (Costumes and Props).
The cast of The Value of Moscow stars Julie Bersani, Madeleine Heil, and Devin Sidell with Gregory Guy Gordon and Andres Paul Ramacho. The understudy cast features Tiffany Cole, Heather Klinke, and Nikki Mejia with Brendan Broms and Ryan Gowland.
There's always something happening at Sacred Fools, including Serial Killers, The Joe and Joshua Show, Ten Tops and We The People. For more information on these and other upcoming performances, please visit www.sacredfools.org.