Review: World Premiere Comedy SPECIAL Commemorates the 40th Anniversary of the Worst Variety Show in TV History
The World Premiere comedy SPECIAL commemorates the 40th Anniversary of the worst variety show in television history with a behind-the-scenes imagined look of how The Star Wars Holiday Special came to be. And from the outrageous imagination of playwright Andrew Osborne and a hard-working multi-role cast directed by Kerr Seth Lordygan (who also appears as a Special Guest Star in the production), laughs abound from start to finish as we witness how the ridiculous nature of the script, backstage politics and out-of-control spending doomed it to go down in history as being the most horrible Holiday Special that nobody talks about, notoriously known for its extremely negative reception by Star Wars fans, the general public, and critics.
But how could it miss since it was riding the coattails of what was at that point the most popular movie of all time and featured appearances by cast members including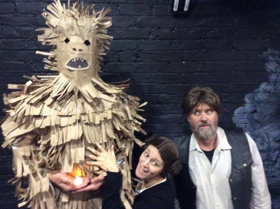 Harrison Ford and Carrie Fisher? It had great guest stars like Bea Arthur, Harvey Korman, Art Carney and (in holographic form) Jefferson Starship and Diahann Carroll. There was even a cartoon sequence featuring the first appearance of Boba Fett, a fictional character and bounty hunter in the future Star Wars franchise Episode V: The Empire Strikes Back in which he is hired by Darth Vader to capture Han Solo. The play points fingers at everyone involved in the SPECIAL, beginning with creator George Lucas being consulted on the project. And it just gets more outrageous from that moment on!
You see, while outlining the original Star Wars film and planning its potential sequels, Lucas (Rich Lehman) imagined a "film just about Wookiees, nothing else."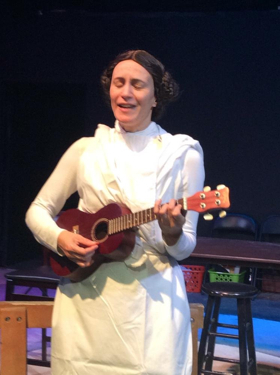 And the success of the original film was creating opportunities for its cast to make appearances on the popular TV variety shows of the time, giving them opportunities to sell Star Wars toys. According to Charles Lippincott (Lance Guest, who also puts on his macho, wig and fedora to portray Harrison Ford), who was head of marketing of the Star Wars Corporation, CBS brought the idea of doing a TV special to him and Lucas, and although there is some internal dispute about this claim, it certainly made for a great opening plot line in SPECIAL
For though everyone agreed that a television special was a good idea, at the time of its production, Lucas was busy moving his Production Company to a new location and not heavily involved in the special. Though uncredited on the actual TV show when it aired, it was Lucas' idea to build the narrative around Chewbacca's family celebrating the Wookiee holiday "Life Day" (because there's no Christmas in Space), and Chewie's family wants to celebrate it despite the intrusion of Imperial Storm Troopers.
What could possibly go wrong? As it turned out - everything!
As the fast-paced play proceeds, six cast members play 45 characters, changing costume pieces and personas onstage in full view of the audience, adding tons of humor to every scene. Most notable are dialogues in which Marty Yu plays both executives in somewhat tense, back-and-forth discussions during he portrays both characters so thoroughly individualized before our eyes that it seems possible this imaginary conversation really did occur.
Alex Elliott-Funk pops in and out of scenes as a page-boy media darling Bruce Vilanch,
as well as Star Wars uber-fan Hot Rod (in a wheelchair with nose-bridge bandaged glasses) along with Yu as his best friend and fellow fanatic Bobby. Their enthusiasm for all things Star Wars is shattered when watching the SPECIAL, just as I am sure I will be when I Google it and watch it in the near future - especially the first half hour which I am told is only spoken in the Wookiee language. There is no doubt how bad the show was simply by watching the pained expressions and falling jaws of the two fans.
Jennifer Hugus is a character whiz as Lucas' wife Marcia (who often advises her husband into making poor decisions), and Mitzie who signs on the co-produce the TV show with her husband,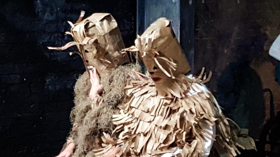 although she is much more interested in her own media image and attending Hollywood "A List" parties than keeping track of how much is being spent on one of the sets, which ultimately bankrupts the production. Just wait until you see what the Wookiee costumes are made of when the money runs out! Paris Benjamin is a riot as Carrie Fisher, letting us see her quick decline into drug abuse after being type-cast as Leia and its resulting physical effects on her personality.
Director Lordygan wisely keeps the action moving quickly as scenes and characters change at breakneck speed. But the cast, often running around and going through more props and costumes pieces than I can remember, rises to the occasion and makes the imaginary scenario real enough to believe what we are seeing is factual. Oh quiet, Bruce. Just let the believers believe what we want!
The World Premiere comedy SPECIAL, written by Andrew Osborne and directed by Kerr Lordygan, is being presented by Ol' Bait Shop Productions as a guest production at Theatre of NOTE, 1517 N. Cahuenga Blvd., Hollywood, CA 90028 through Sunday, January 13, 2019 on Thurs.-Sat. at 8:00, Sun. at 5:00. Also, New Year's Eve, Monday Dec. 31 at 8:00. Prices range from $20-35, with tickets available at (800) 838-3006 or online at https://specialtheplay.com/tickets May the Force Bea Arthur!
Photo credit: Andrew Osborne and Kerr Seth Lordygan