Review: JOSEPH Proves to be Musical of Biblical Proportions Performed in Fabulous Broadway Style by 5-STAR THEATRICALS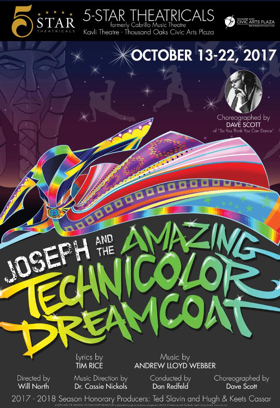 5-STAR THEATRICALS (formerly Cabrillo Music Theatre) has again created a wonderful homage to big Broadway musicals, opening its 2017-2018 season with a fresh new look at an all-time family favorite, JOSEPH AND THE AMAZING TECHNICOLOR DREAMCOAT, with music by Andrew Lloyd Webber, lyrics by Tim Rice, musical direction by Dr. Cassie Nickols, choreography by Dave Scott and directed with a real flair for musical spectacle by 5-Star Theatricals Managing Director Will North at the 1,800-seat Kavli Theatre at the Thousand Oaks Civic Arts Plaza through October 22. 2017.
The incredibly popular musical for all ages about the Biblical character of Joseph
put the
Andrew Lloyd Webber
&
Tim Rice
team on the map. At the core is a story of forgiveness, redemption and reconciliation involving a family torn apart by tragedy, trespass, and evil intentions between 12 brothers who allow jealousy over their father's favoritism of Joseph, the next to youngest, to influence their treatment of him. You see, Joseph is a dreamer, and when he shares his vision of all 11 of this brothers kneeling down to him, his brothers sell him into slavery to level the playing field at home. Thanks to the magnificent performance of handsome and
muscular
Adam Hollick
, there is an overwhelming Spiritual Presence that shines within Joseph, a power that allows him to overcome every obstacle in his way. He rises above being separated from his loved ones, sold to nomads traveling through the harsh desert, being thrown into a pit, sent to prison, and then elevated by a hard-rocking Elvis-impersonator Pharaoh (
Patrick Cassidy
living it up to the hilt in blue suede shoes and sequins) to a position of respect and authority after one of his visions proves to save the people of Egypt. Director
Will North
has wisely chosen to update the staging in many ways to appeal to a younger, modern audience with song titles being revealed overhead as if a much-liked tweet or You Tube hit.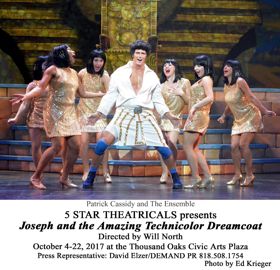 I found it helpful as the posts clarified who was singing for me, as it was somewhat difficult for me being able to connect the 11 names with each of the brothers until must later in the story. With no spoken dialogue, world-class choreographer
Dave Scott
incorporates not only contemporary hip-hop dancing but also krumping, breaking, country-western, disco, reggae, and other forms of urban dance, all performed exceeding well by many in the ensemble (including the wives of Pharaoh dancing up a storm ala
Tina Turner
in her best "Proud Mary" moves). As the story plays out, it is sung by the honey-voiced angelic presence of
Laura Dickinson
as the Narrator, her every moment onstage a joy to behold,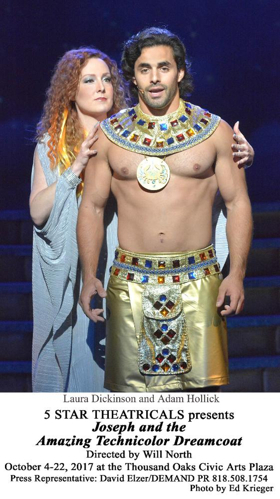 with thanks going to costumer Beth Glasner for creating her billowing yet form-fitting gown that accentuated the omniscience and omnipresence of the character. And with such a large cast made up of all ages, Glasner's contemporary and traditional costuming assisted with the choreography while alluding to the Biblical nature of the story, with style and color defining the relationships between particular characters and/or groups. Others performers of note include
David Gilchrist
as Jacob/Potiphar,
Tyler Stouffer
as the Baker,
Michael Mittman
as the Butler,
Marc Ginsburg
as oldest brother Reuben whose shining stage presence will pull you into his "Those Canaan Days" number, Mitchell Johnson as Judah (who "Benjamin Calypso" reggae solo made me want to jump on a plane to beach in Jamaica), and
James Olivas
as Levi who shines with his country-western presence in "One More Angel in Heaven/Hoedown." And I cannot offer enough thanks to the remarkably talented orchestra led by conductors
Dan Redfeld
and Darryl Tanikawa for their stirring renditions of all styles of music.
It is always a joy to be entertained by a full, live orchestra, which always seems to motivate the cast to perform at their highest levels. Kudos go to all onstage, in the orchestra pit, backstage, and on the production team for this magnificent, family-friendly production, which also features local children's choirs, directed by
Laura Leininger
, as members of the ensemble. I know this spectacular theatrical experience will motivate many to follow their own dreams of stardom, believing no dream is too big when you believe in yourself. JOSEPH AND THE AMAZING TECHNICOLOR DREAMCOAT runs through Sunday, October 22, 2017, with performances on Thursdays at 7:30pm,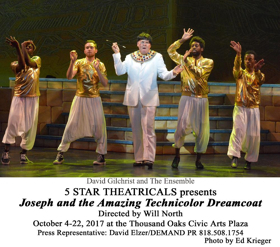 Fridays and Saturdays at 8:00pm, and Saturdays and Sunday at 2:00pm. There will also be a special early performance at 1pm on Sunday, October 22. Tickets range from $36-$84 and may be purchased at the Thousand Oaks Civic Arts Plaza Box Office located at 2100 Thousand Oaks Blvd. in Thousand Oaks, or through
www.5startheatricals.com
, or by phone at (800) 745-3000. For groups of 10 or more, please call Group Sales at (805) 497-8613 x 6.
Photos by Ed Krieger