Review: FOR THE LOVE OF (OR, THE ROLLER DERBY PLAY) Opens Block Party 2019 in Winning Style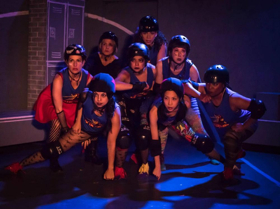 Theatre of NOTE's production of FOR THE LOVE OF (OR, THE ROLLER DERBY PLAY) written by Gina Femia, which Center Theatre Group has remounted at the Kirk Douglas Theatre as part of their third annual Block Party: Celebrating Los Angeles Theatre, blasted into Culver City with a barrage of brilliant direction, choreography, artistic style and acting. And after seeing the original production in its super-small space, I can tell you the new production soars by encompassing ever possible inch of space, thanks to scenic designer Eli Smith, with enough impressive roller derby action to make you forget not one pair of skates ever touches the floor!
That marvel of perfect direction
and choreography can be credited to Rhonda Kohl who has created almost constant roller derby action utilizing the movement and acting skills of her talented cast including Crystal Diaz, Elinor Gunn, Liesel Hanson, Faith Imafidon, Cindy Lin, Nadia Marina, Lynn Odell, Alina Phelan, Briana Price, Nicole Gabriella Scipione, Yolanda Snowball, Jenny Soo, Nancy Stone and Tania Verafield, all of whom except one appeared in the original production.
FOR THE LOVE OF follows Joy (Brianna Price, who commands the stage)
and Michelle (Elinor Gunn), long-term partners who find their lives turned upside down when Joy achieves her dream job and joins a roller derby team called the Brooklyn Scallywags. But just a short time later, Michelle loses her job and must decide how to convince Joy to follow her across the country where she has accepted her only lucrative job offer.
But since joining the team, rookie skater Joy has become close with the star of the team, Lizzie Lightning (attention-grabbing Tania Verafield), and now must decide how much she's willing to sacrifice to follow her heart. Just where does true love live in her heart?
Along the way, the audience is treated to astonishing visuals while getting to know the rest of the team with names like Squeaky Mouse (Liesel Hanson, who turns out to be anything BUT a mouse), Hot Flash (Lynn Odell), Ruther Bader Getsit (Nicole Gabriella Scipione), Trauma Queen (Faith Imafidon),
Prosecute-Her (Jenny Soo), Jammy From the Block (Cindy Lin), and Anna-Stecia (Yolanda Snowball) as they hang out in the locker room and rumble on the track. Divided into two competing teams for the league title, with color-coded costumes designed by Vicky Conrad, these heroes of the rink slide and dance their way around each other, perfectly highlighted to focus your attention by lighting designer Rose Malone with realistic sound design by Gilly Moon.
No doubt the magnificence of this production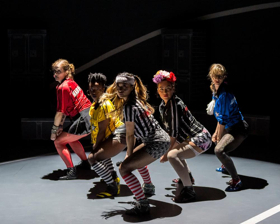 bodes well for Block Party 2019 two other remounts: Skylight Theatre Company's production of Jon Brittain's "Rotterdam" (from March 28 through April 7) and Antaeus Theatre Company's production of Nambi E. Kelley's "Native Son" (from April 18 through 28). The three visiting companies each receive the full support of Center Theatre Group and its staff in order to fund, stage and market each production.
Tickets for Block Party are available online at www.CenterTheatreGroup.org, by calling (213) 628-2772, or at the Center Theatre Group Box Office at the Ahmanson Theatre or at the Kirk Douglas Theatre Box Office two hours prior to performance.
Tickets for each individual production range from $25 - $77 (ticket prices are subject to change). A Block Party "Party Pass" is available for $75, which includes a ticket to all three productions as well as a complimentary cocktail (or non-alcoholic beverage) at each performance. The Party Pass is available by phone or in-person through March 17, which is the closing date of FOR THE LOVE OF (OR, THE ROLLER DERBY PLAY.
Tickets for the pay-what-you-want performances on the first Friday of each Block Party production are available in person only at the Center Theatre Group Box Office at the Ahmanson Theatre or at the Kirk Douglas Theatre Box Office, located at 9820 Washington Blvd. in Culver City, CA 90232.
Free three hour covered parking at City Hall with validation (available in the Kirk Douglas Theatre lobby).
With Block Party, Center Theatre Group continues to strengthen its relationships within the Los Angeles theatre community by creating additional avenues for the organization to work with local playwrights, actors, directors and designers, helping to foster relationships between Center Theatre Group staff and the staff of theatre companies throughout Los Angeles. Truly Block Party is a celebration of the great love and support existing throughout our city's theater scene.
Photos by Craig Schwartz
Related Articles View More Los Angeles

Stories

Shows