Review: AMERYKA Offers an Epic Exploration of Humanity's Longing for Freedom and Justice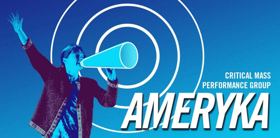 As it did last year with its first Block Party, Center Theatre Group continues to strengthen its relationships within the Los Angeles theatre community by creating additional avenues for the organization to work with local playwrights, actors, directors and designers to gain more exposure for their work in greater Los Angeles. This year, Center Theatre Group received 53 submissions for Block Party 2018 from intimate theatre companies in the greater Los Angeles area who each submitted one production that opened at their location between January 1, 2016, and May 30, 2017.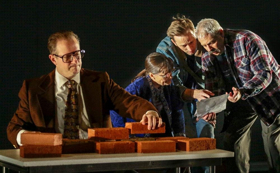 The second play in this year's Block Party is AMERYKA, written and directed by Critical Mass Performance Group Artistic Director Nancy Keystone, which continues through April 29, 2018 at the Kirk Douglas Theatre in Culver City. Plan to arrive early so you can take advantage reading all the information posted in several areas of the lobby (as well as in the two main theater entrances) about Tadeusz Kosciuszko, a Polish freedom fighter who assisted Thomas Jefferson in the formation of our country, as his remarkable life and beliefs are central to the plot of this play.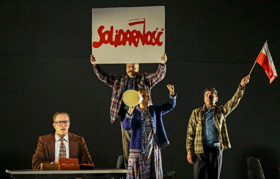 From the American Revolution to the global war on terror, from the struggle for civil rights to the fight against communism and the struggle for political freedom in Poland, AMERYKA shines a light on the promises and pitfalls of democracy. This ensemble-created piece developed over six years showcases Critical Mass Performance Group's kaleidoscopic style of found texts, continuous movement, original music and exuberant spectacle, performed on what first appears to be an empty stage with piles of bricks, lit candles, and steel shelves containing props, designed by playwright and director Keystone.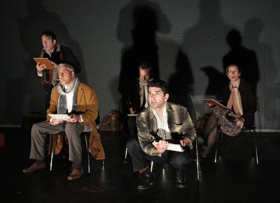 But make no mistake, it soon becomes incredibly clear through historical projections designed by Hsuan-Kuang Hsieh, costume design by Lena Sands, sound design and original music by Randall Robert Tico, and brilliant attention-focusing lighting designed by Adam J. Frank, that this is no ordinary adventure through history. In fact, I found the non-chronological jumping between scenes for the sake of subject comparison a bit bewildering at times, but thoroughly fascinating to watch and artistically admire.
The cast includes, in alphabetical order, Curt Bonnem (as Thomas Jefferson), Russell Edge (as William J. Casey),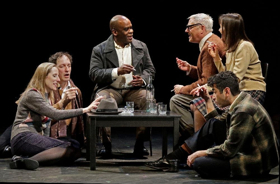 Ray Ford (as jazz musician Gene Jefferson), Richard Gallegos (as Chief Little Turtle), Lorne Green (as Curtis Brown), Jeff Lorch (outstanding as Tadeusz Ko?ciuszko), Nick Santoro (as Agent Weller), Liza Seneca (as Ewa, a Polish freedom fighter) and Valerie Spencer (a stand-out as Polish freedom fighter Anna Walentynowicz). But over the course of the almost three-hour production, actors take on other ensemble roles as needed to support the historical scene being featured at that moment.
While I found each of the four main stories incredibly interesting to follow and all character portrayals to be top-notch,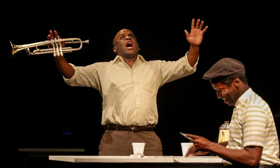 Ray Ford and Lorne Green were stand-outs for me as a jazz musician and his friend/manager as they attempted to walk the fine line between racial prejudice and injustice faced in America as opposed to the freedom given to them as artists living in Paris. It's a strange relationship that has been going on between our country and France, right down to events in the news this week.
Also brought to light are the comparisons between the 1968 Civil Rights marches in our country, the freedom marches in Poland supporting Solidarity in 1980,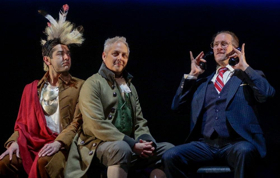 and the Boston Tea Party in 1773 represented by the smashing of tea cups with a brick. But perhaps no other character in the play represented those displaced by others desiring their land more than Richard Gallegos as Chief Little Turtle. This was most evident during his symbolic walk across the stage with his Mohawk soaring over the crowd of Polish rebels fighting for their freedom against those who would soon swallow up Poland and wipe it off the map. But his other appearances in decision-making scenes serve to remind us that freedom for all is sometimes put aside during the pursuit of power.
And for those in New York, the name Tadeusz Kosciuszko is perhaps more familiar as it is the name given to the bridge which crosses between Brooklyn and Queens, newly remodeled and re-opened in 2017.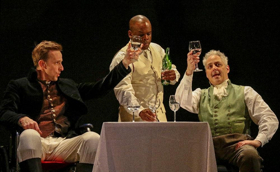 Named for the Polish patriot who became a general in the American Revolutionary Army, his life and influential friendship with Thomas Jefferson takes center stage in the political examination that inhabits AMERYKA. Fantastic portrayals by Jeff Lorch and Curt Bonnem infuse these two men with many modern sensibilities, from their appreciation of great wine to their innate knowledge that slavery was wrong, even predicting its inevitable end would lead to the downfall of many Southern businesses in the future.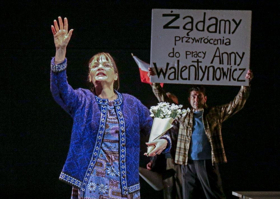 I encourage you to open your mind to new possibilities of historical truth on this theatrical thrill ride through 250 years of history presented by Critical Mass Performance Group Artistic Director Nancy Keystone and her talented cast and crew thanks to the support of Center Theatre Group.
Tickets for Block Party are available by calling (213) 628-2772, online at www.CenterTheatreGroup.org, at the Center Theatre Group Box Office at the Ahmanson Theatre or at the Kirk Douglas Theatre Box Office two hours prior to performance. Tickets range from $25 - $70.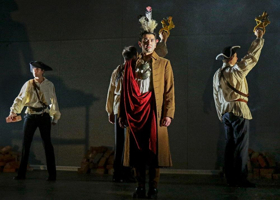 The Kirk Douglas Theatre is located at 9820 Washington Blvd. in Culver City, CA 90232. Free three hour covered parking at City Hall with validation (available in the Kirk Douglas Theatre lobby).
Photos by Lawrence K. Ho