Review: 3-D Theatricals SPAMALOT Brings Stunning Broadway Caliber Production to Local Audiences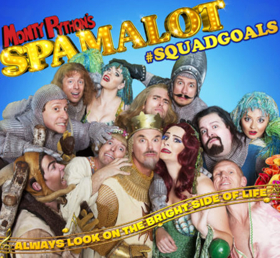 When Monty Python's Flying Circus first premiered on television in 1969, few could have imagined how influential the program would become thanks to the inventive minds of its six main collaborators Graham Chapman, John Cleese, Terry Gilliam, Eric Idle, Terry Jones, and Michael Palin. Known for their surreal slapstick humor which satirized the over-politeness perceived to be the epitome of British culture, the series spawned multiple films, some stage performances, and the outrageously hysterical musical SPAMALOT, mostly based off the 1975 film Monty Python and the Holy Grail, and some of the television show's more memorable skits.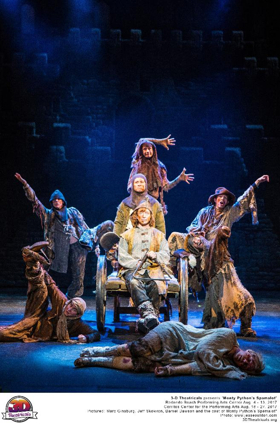 The original 2005 Broadway production was nominated for 14 Tony Awards, including the scenery and costumes currently being used in the thoroughly entertaining 3-D Theatricals musical comedy extravaganza from August 4 - 13 at the Redondo Beach Performing Arts Center and August 18 - 27, 2017 at the Cerritos Center for the Performing Arts. This world-wide sensation features rude Frenchmen, cancan dancers, the Lady of the Lake and her Laker Girls, killer rabbits, catapulting cows, and the somewhat odd Knights who say "ni" - all of whom take part in the adventures and dangers awaiting King Arthur and his Knights of the Round Table in their quest for the holy grail, while some of Broadway's most famous musicals are skewered along the way including Fiddler on the Roof, West Side Story, Man of La Mancha, Les Miserables, and The Producers.
While the Broadway scenic design and costumes seem so perfectly matched to the
show, it is the thoroughly talented cast of mostly local triple-threat performers who lift the production to bouts of uncontrollable laughter, especially when an unsuspecting audience member is called up onstage to participate in a skit once the Holy Grail is found. Be prepared to play along and improv your way through the madness should you be the lucky person selected and pulled up onstage!
Leading the quest with his Knights of the Round Table is Martin Kildare as a very regal King Arthur, supported by his right-hand man Patsy, played with "coconut shells for hooves" in hand by Erik Scott Romney.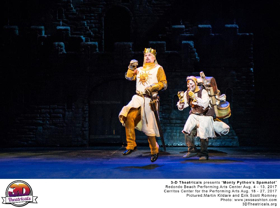 The two men display real camaraderie every moment they appear together onstage, especially during their featured musical numbers "King Arthur's Song," "All for One," and "Always Look on the Bright Side of Life" during which many audience members, including me, sang and whistled along at the appropriate moments. The energetic duo set the standard for the rest of the cast who seem to constantly be running, jumping, pushing or pulling props, and of course singing and dancing while commanding your attention to enjoy belly laughs throughout the show thanks to the show's brilliant writing and score, performed to perfection under the musical direction of David Lamoureaux who conducts an enthusiastic orchestra from the Los Angeles Musicians Collective.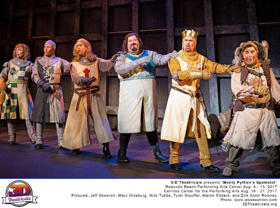 Playing Arthur's gallant "Knights of the Round Table" - and a broad assortment of other characters - are a fun-loving assortment of men including Marc Ginsburg as Sir Lancelot, the French Taunter, Knight of Ni, and Tim the Enchanter. Jeff Skowron steals his every scene as Sir Robin (especially during his solos "Brave Sir Robin" and "You Won't Succeed on Broadway" during which he and his minstrels - Joe Stein, Rile Reavis, Soleil Garcia - poke fun at all things Jewish), Guard 1 and Brother Maynard; Nick Tubbs embodies Sir Dennis Galahad, the Black Knight and Prince Herbert's father. Erik Scott Romney appears as King Arthur's trusty servant Patsy, the Mayor and Guard 2. Daniel Dawson tackles Prince Herbert, the Historian, Not Dead Fred (his "I'm not dead yet" line is one of the show's classics, guaranteed to always bring on laughs), a French Guard and a Minstrel; Tyler Stouffer steps into the characters of Sir Bedevere, Dennis's mother, and Concorde.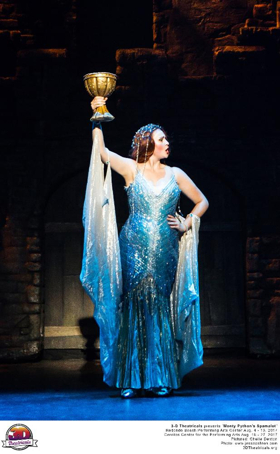 And what would a quest be without a lovely maiden to impress with her ingenuity and charm? Chelle Denton portrays the Lady of the Lake with spunk and great pipes, not to mention an arm of steel which she keeps in the air for the entire rendition of "Find Your Grail." Her "The Diva's Lament" during which she wonders what happened to her part after being out of the show for so long, showcased her amazing belt ability and "The Song That Goes Like This," which she first sings with the handsome Sir Galahad as the show's love duet was later reprised with comic passion as King Arthur finally allows himself to admit she is his perfect love match.
Ensemble members Michelle Benton, Soleil Garcia, Leslie Miller, Adrian Mustain, Jane Papageorge, Dylan Pass, Rile Reavis, Mark C. Reis, Eric Schroeder, Jean Schroeder, Joe Stein and Paul Stine
are to be commended for their incredibly comical additions to the show, performed with high energy and more costume changes than I could count. I especially enjoyed the very modern Laker Girls during their numbers supporting the Lady of the Lake and Sir Galahad!
SPAMALOT's original Broadway choreography by Casey Nicholaw paints a glorious picture onstage thanks to associate director/choreographer Billy Sprague, Jr. with original director/choreography recreated by Carol Bentley. Lighting designer Jean-Yves Tessier creates a mystical, fog-filled display which perfectly fits into the imaginary regal environment.
It is really true that Broadway is closer than you think thanks to this marvelous 3-D Theatricals production. So don't miss your chance to see SPAMALOT, an incredibly humorous and totally irrelevant musical comedy, while it's in town at the following two locations:
REDONDO BEACH PERFORMING ARTS CENTER from August 4 - 13, 2017: 1935 E. Manhattan Blvd., Redondo Beach, CA 90278. Parking: Complimentary parking located directly in front of the theatre. 3-D Theatricals Remote Box Office: 714 589-2770, Ext. 1. Hours: Monday - Friday 11:00 am - 5:00 pm. 12:00 - 4:00 pm Saturday.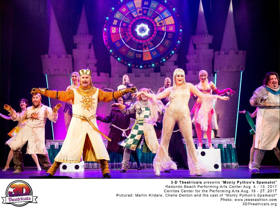 Box Office at Theatre Opens: Two hours prior to performances. Tickets are on sale now for $25.00 - $105.00. Ticket Handling Fee: $3 per ticket. Online Ticketing: www.3dtshows.org - Group and Student discounts are available. $20 "Rush" tickets are available one hour prior to "select performances." Remaining Performance Dates and Times: Friday, August 11 at 8:00 pm Saturday, August 12 at 2:00 pm and 8:00 pm Sunday, August 13 at 2:00 pm
CERRITOS CENTER FOR THE PERFORMING ARTS August 18 - 27, 2017: 12700 Center Court Drive, Cerritos, CA 90703.
Parking: Complimentary parking adjacent to the theatre. Theatre Box Office: 562-916-8500. Hours: 10:00 am - 6:00 pm Tuesday - Friday; 12:00 - 4:00 pm Saturday. Box Office at Theatre Opens: Two hours prior to weekday and Saturday performances; and one hour prior to Sunday performances. Tickets are on sale now for $40.00 - $85.00. Online Ticketing:
www.Cerritoscenter.com
OR
www.3dtshows.org
- Group and Student discounts are available. Performance Dates and Times: Friday, August 18 at 8:00 pm Saturday, August 19 at 2:00 pm and 8:00 pm Sunday, August 20 at 2:00 pm Thursday, August 24 at 7:30 pm Friday, August 25 at 8:00 pm Saturday, August 26 at 2:00 pm and 8:00 pm Sunday, August 27 at 2:00 pm.
Please note: SPAMALOT pokes fun at almost everyone and everything, even Broadway musicals, with a wink and a nod to great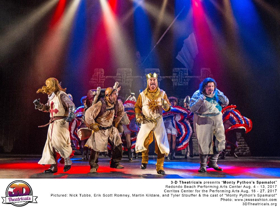 vaudeville performers such as the Marx Brothers. It is most appropriate for children 12 and older who can appreciate the unique Pythonesque sense of humor that - without apology - can appear cheeky, impertinent, irreverent, disrespectful, and sometimes just plain rude...but to the sophisticated and discerning eye, it is silliness raised to an art form and all in good fun.
But, please, if you are easily offended, take King Arthur's advice and "Run away!"