Review: 26 PEBBLES Shares True Tales from Sandy Hook's Accidental Activists Working Together to Heal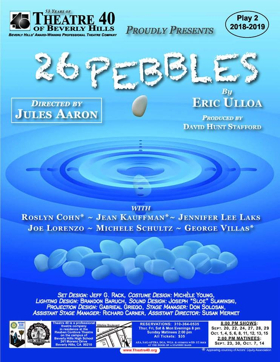 26 PEBBLES by playwright Eric Ulloa is set in Newtown, Connecticut in June 2013, six months after the deadliest mass shooting at either a high school or grade school in U.S. when 20 children and six school staff were murdered at Sandy Hook Elementary School. These twenty-six innocent deaths, like pebbles thrown into a pond, created ripples and vibrations that were felt not only in a town considered to be a perfect example of small-town America, but in the rest of the world which continue to this day.
Written in much the same style as The Laramie Project by Moisés Kaufman where a small group of actors portray several characters sharing their experience of living through a tragic local event and its aftermath on the town, Ulloa's 26 PEBBLES does not just recount what happened on December 14, 2012, but is more about how the people of the Newtown community reached out to their neighbors to bond, cope and heal from that devastating tragedy in order to move forward with their lives to a more hopeful future.
Learning to deal with the media frenzy that descended on the town within minutes after it happened,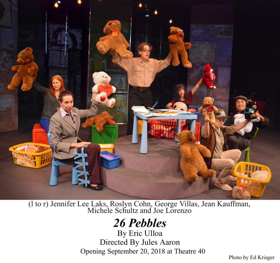 the locals soon found themselves not only dealing with PTSD suffered by parents and children alike but dealing with being inundated with more than 63,700 Teddy Bears sent to the town's children from around the world thanks to a suggestion made on Facebook. The dazed citizens, with nowhere to store so many new toys, made the decision to share the bears with those in need of comfort at women's shelters, children's hospitals, and with patrolling policemen across the country to share with children in need of something to hug as a way to feel safe and not totally alone. And all that work was done by Newtown citizen volunteers as a way to give back to strangers, just as the world had done for them. Pay it forward, indeed, as a way to heal.
Directed by Jules Aaron with utmost skill and dedication to guiding his six-person cast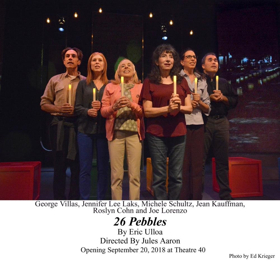 (in alphabetical order: Roslyn Cohn, Jean Kauffman, Jennifer Laks, Joe Lorenzo, Michele Schultz and George Villas) to present each character so succinctly that as we meet parents, teachers, local witnesses, emergency responders, as well as the town's Catholic priest and Jewish rabbi among many others, each emerges with the addition of a costume piece, change of accent, as well as each actor's distinct physical mannerisms for each character being presented. These six character actors make it seem so easy to switch roles so swiftly, even as sad stories are being told and tears flow both onstage and in the audience.
From the beginning when local residents wearing name tags emerge from the audience to share their stories six months later,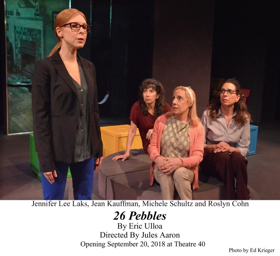 each then sits on an assortment of rainbow-colored boxes, rising often as different people to share what living in Newtown was like before that fateful December day, while one creates a map of its small downtown on a chalkboard, noting where a large American flag flew at its center, the Edmund Town Hall, the local creamery where the best homemade ice cream was made, to the annual Labor Day Parade down Main Street. When some share how the decision to move to the small community of Sandy Hook to the northeast of downtown was made based upon its reputation as the best area with the best schools, the irony of how everything changed in the blink of an eye will remind all of us that there really isn't a safe place to hide from the gun violence which seems to be exploding all around us today.
But make no mistake, this play is not only about the horrific tragedy
but the ensuing creation of a tight-knit community who learned to set aside their differences and work together to heal. As Newtown's local rabbi says, "Newtown doesn't want to be remembered as the town of tragedy. We want to be remembered as a bridge to a new and kinder world. It's not about the suburbs or the urban areas. It's about the red blood that flows out of all of our veins. It's about the clear tears that flow out of our eyes. We are all the same...."
Technical credits at Theatre 40, a professional company on the campus of Beverly Hills High School, are always top notch, with Jeff G. Rack's set design suggesting an elementary school classroom, Michele Young's costume design allowing for incredibly quick character changes, lighting design by Brandon Baruch which often keeps the audience lit as if we are part of the town meetings going on, sound/original music design by Joseph "Sloe" Slawinski to set the mood as it transitions from the cold of Winter to the warmth of Spring while column projections of local headlines and scenes around town take us to the town where the story is being told.
While the Sandy Hook shooting prompted renewed debate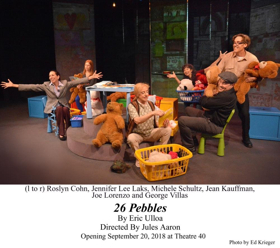 about gun control in the United States by the town's self-described accidental activists, this type of violence against innocent people still persists with more than 32,000 deaths by guns occurring yearly. Just how many more times will we hear about another mass shooting, or young children suffering from PTSD after witnessing their friends shot down in front of their eyes, before any real change takes place? Your guess is as good as mine, unfortunately, as to when the ripples created at Sandy Hook will reach those who have the power to affect real change.
And I can only hope that another group of parents never receives a call that their child's school is under lockdown due to a shooting on campus, or has to sit in a room as so many in Sandy Hook did while waiting to hear if their child was ever coming home again.
Performances of 26 PEBBLES continue through October 14, 2018 on Thurs.- Fri.-Sat. at 8:00pm, Sun. at 2:00pm, Monday at 8:00pm at Theatre 40, in the Reuben Cordova Theatre, 241 S. Moreno Drive, Beverly Hills, CA 90212. There is ample free parking in the parking lot adjacent to the theatre.
ADMISSION: $35.
RESERVATIONS: (310) 364-0535.
ONLINE TICKETING: www.theatre40.org
Photo credit: Ed Krieger