REVOCABLE TRUST Comes to Theatre Row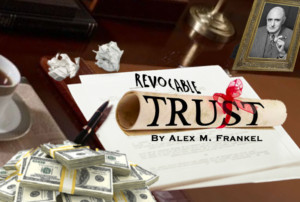 Alex M. Frankel returns to Theater Row with his new two-act play, Revocable Trust, a melodrama set in the America of 1953. A gentle young teacher, expecting a generous bequest from her deceased father, suddenly finds out she's been disinherited. All the money she was counting on will now go to a vicious gold digger who swooped down and captivated her father in his last illness. Who'll come to the rescue? A fairy godmother? A Prince Charming? What will our heroine resort to? Opens September 22 running through October 14 in Studio C - 6448 Santa Monica Blvd., Los Angeles, CA 90038.
Starring: Anthony Backman, Emily Button, Michael Edelstein, Monica Martin, Michael Moret, and Lauren Simon. Directed by John Coppola. Produced by Alex Frankel, Matthew Quinn and Bertha Rodriguez.
TICKETS: $20 if purchased online; $25 at the door
http://revocabletrust.brownpapertickets.com

Alex M. Frankel (Writer/Executive Producer) is a poet, memoirist, playwright, critic, blogger, short-story writer, essayist, as well as a poetry editor at the Antioch Review, one of the oldest literary magazines in the country. Originally from San Francisco, he attended Columbia University in New York and then spent ten years in Spain teaching English as foreign language before making his home in Los Angeles in the mid '90s. His work has appeared in literary magazines throughout the country, and his first full-length poetry collection, Birth Mother Mercy (Lummox Press) came out in 2013. His essay "Limitless," published online by Under the Sun, was nominated for a Pushcart Prize. His play Nights in Squirt City, Phukenburg--one of the first stage works to deal with webcam porn--appeared at the Hollywood Fringe Festival in 2018, directed by Jed Alexander.
John Coppola (Director) Born into a filmmaking family and a native of Brooklyn, New York, John Coppola is a multi-talented director, producer, teacher and actor whose career has taken him from the footlights of Broadway to the soundstages of Hollywood. John began his acting career over twenty years ago, attending Yale's prestigious Dramat Purple Crayon. He first appeared on Broadway in Neil Simon's Brighton Beach Memoirs, followed by Biloxi Blues, A Midsummer Night's Dream, American Buffalo, and the European revival tours of Hair and West Side Story. John currently lives in Los Angeles, where he is in demand as one of Hollywood's top acting coaches. As one of the co-founders of the Studio C Artists Institute, he offers his unique style of teaching and private coaching to a thriving group of students, established actors, and movie stars.
Matthew Quinn (Producer) has been involved in theater production and venue management for well over 20 years in San Francisco and Los Angeles. He created Combined Artform, as a Production Company in 1998 with Producer Bertha Rodriguez. He opened Off Market Theatre in San Francisco in 2003 and Theatre Asylum in Los Angeles in 2007. In 2017, he and his partner, Bertha Rodriguez, started managing Studio C in Hollywood. During the 2018 Hollywood Fringe Festival they hosted over 80 shows, workshops and events in 7 different spaces. Also, in 2010, Matthew started the Encore Awards, for "best of" Hollywood Fringe and in 2016 Beyond Encores. In 2018, he was asked to be the West Coast Scout for the NYC Fringe Encore Series.

Bertha Rodriguez (Producer) has been involved in theater production for over 20 years in San Francisco and Los Angeles. She is one of the co-founders of Combined Artform. Recent productions include: Campfire Stories directed by John Coppola, Letters From Young Gay Men directed by John Coppola, Yes, Virginia directed by Stan Zimmerman and Tolstoy In Suffolk directed by Robert Ackerman. Tolstoy In Suffolk was picked by Huffington Post as one of the Los Angeles 2017 Top Ten Theater Productions.
Related Articles View More Los Angeles

Stories

Shows
More Hot Stories For You