Photo Flash: Vioski and John Wolf Fine Art's While You Weren't Looking
Los Angeles' premier modern furniture store, Vioski, became host Thursday night to "While You Weren't Looking," an exclusive reception celebrating art, fashion and design, presented by Vioski and John Wolf Fine Art. A staggering 300 guests, including various stars of stage and screen, and some of the city's leading interior designers, came out to the event.
The night's attendees got a special opportunity to peruse walls of new artwork by California painters and mixed media artists, such as Sara Abbott and Sarah Stockstill, who were on hand to talk about their visual treasures. Guests were also treated to the latest in furniture designs from Jeff Vioski and a fashion installation of new luxury wear by leading designer Alexis Monsanto, as they enjoyed the finest in gastronomic delights from The Misfit Restaurant, colorful cupcakes from Swirls Desserts, and complimentary drinks from Peroni, Vuqo Vodka and Jarritos.
In one not to be missed, and certainly not to be forgotten point in the night, guests were hilariously taken aback by and entertained when actor Vic Cohen of FOX's hit primetime show, "Mobbed," removed all of his clothing and climbed underneath the sheets of one of Vioski's sleek new beds, in a piece of humorous and strange performance art not to be outdone.
In addition to Cohen, other stars that attended the event included American rock musician and Madonna guitarist Monte Pittman; two-time Emmy nominated television producer and actor Steven Wishnoff ("OZ"), handsome actor Jay Huguley ("Brothers & Sisters"), leading actress Eileen Grubba ("Hung"), singer-songwriter and Liza Minnelli live performer Cortes Alexander, sex specialist Chris Donaghue (LOGO TV's "Bad Sex"), Project Runway alum Kit Scarbo, and actors David Pevsner ("Role/Play") and Vincent De Paul ("As The World Turns").
"Everyone at Vioski was thrilled to host an event celebrating all the wonderful, creative work being done in Los Angeles," said Jeff Vioski, owner and chief designer of Vioski. "Art and design are in LA's DNA and we're proud to be a part of the community."
"The work of Sara Abbott and Sarah Stockstill evoke an awe-inspiring mood," said John Wolf, founder of John Wolf Fine Art. "At the opening I overheard members of the art and design community utter, 'Stunning, exceptional, and stupendous.'"
Other sponsors for the event included Cadillac, LGO Hospitality, The Luggage Room, La Grande Orange Café, PHYTO, Lierac Skin Care, Shoes for the Stars, Van GO Cleaners and Mariana's Designer Jewelry.
For more information on Vioski, visit www.vioski.com, or call (323) 937-7741.
Photo credit: Kelly Osterholt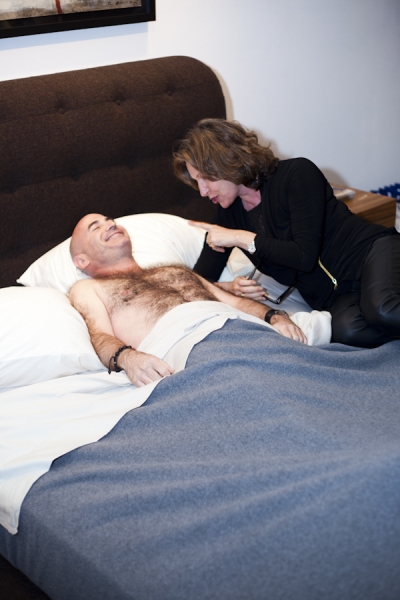 Star of FOX's "Mobbed," Vic Cohen (left) surprises onlookers as he gets into Vioski bed.

Singer/songwriter and Liza Minnelli performer Cortes Alexander (center) and his Swell Girls, Melissa Bailey (left) and Jennifer Rappo (right).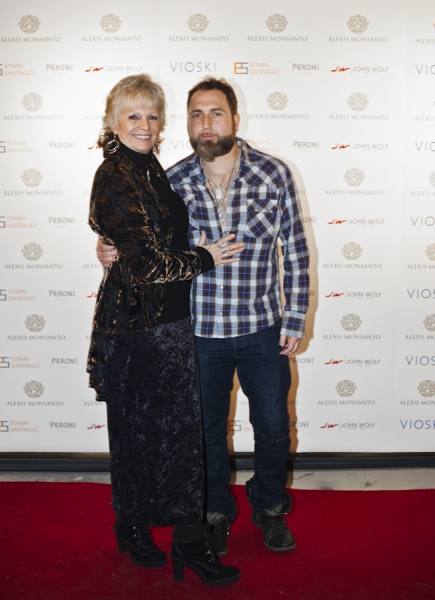 American Rock Musician and Madonna guitarist Monte Pittman (left) with Starship Artist Management President Anita Hyde (right)