Photo Flash: The Legacy Of Screen And Stage Star Theo Bikel Lives On
"All children are my children, I cry for them with same tears" wrote actor, singer and peace activist Theo Bikel a year before he died. Some 200 people gathered at a magnificent Beverly Hills estate on Sun Jan 28 to celebrate his life and memory, while raising funds for Project Rozana: Building Bridges to Peace through the medical treatment of wounded and ill Syrian children in Ziv hospital in Israel.
The evening, organized by the
Theodore Bikel
Legacy Project, saw a coming together of Jewish and Syrian, Palestinian, Lebanese and Pakistani Muslim guests, politicians, and Hollywood ---. Writer and journalist Aimee Ginsburg Bikel,
Theodore Bikel
's widow and the director of the
Theodore Bikel
Legacy Project, organized the evening and served as the master of ceremonies. Ginsburg Bikel spoke lovelingly of jer late husband, who was not only a movie, stage and TV star and a multi best selling recording artist and tireless activist for peace and social justice, who mourned deeply for all of the children of the middle east suffering from the many year long violence and conflict. "This is how Theo would want to be remembered," she said, "With people coming together to listen to wonderful music, with peace in their heart, with the goal of making the world a better place, while changing the world and building peace not only in places of conflict and war but right here in our own backyard." Israeli Superstar musician and multi-platinum album recording artist
David Broza
, named by the Guardian as the Israeli
Bruce Springsteen
, was there to give the attendees a full private concert. A Palestinian and an Israeli Doctor working with Project Rozan, to get Syrian and Palestinian children treated in Israeli Hospitals, spoke to the transfixed audience about their work. Rabbi Neil commess Daniels and Interfaith activist Mahommed Khan blessed the crowd with Jewish and Muslim prayers for peace. A tirlelss peace activist and multi platinum recording Artist,
David Broza
, was rewarded by the crowd with long standing ovation for his music and flamenco guitar. Congressman Brad Sherman's office awarded Broza a special flag, which had flown over the US congress, "...in appreciation of all he has done to bring peace to the world, following in the footsteps of the great
Theodore Bikel
by using his music to make the world a better place." The fundraiser took place in the gorgeous estate of Joshua and Lisa Greer and was attended by CA state Treasurer John Chaing (=governor candidate); state ASM Richard Bloom and his wife Robbie Black, State Senator
Ben Allen
,
Consul General of
Austria Mr Andreas Launer, Israeli Consul Karin Pery, Actor Ayelet Zurer (Angels and Demons, Munich, Superman, Daredevil), Jac Hotzman (founder of Elektra Records) TV writers/producres Raphael Matthew Bob-Waksberg (BoJack Horesman), Dahvi Waller (Mad Men), and Wendy Stanzler (Sex in the City), Syrian Peace Activist Dalal Hanoun, star Urdu singer Shakila Levy, among others The Ziv hospital in Tfat has opened its doors to wounded and ill Syrian children in a remarkable gesture of neighborly caring, and despite the obsticles standing between the two countires. Dr Hadia Al ABdulla from Syria spoe of the fact that there are really no viable options for adquate healthcare in Syria any more, and parents, desperate for treatment for their children, endure a dangerous journey to the Israeli border, where the Israeli soldiers hekp them cross the border- and then they are sent to Ziv Hospital. Project Rozana is funding these treatments. More than 2000 Syrian kids have now been treated at Ziv Hospital. The
Theodore Bikel
Legacy Project was founded by Aimee Ginsburg Bikel after the passing of
Theo Bikel
in July of 2015. The project has been very busy organizing events, producing media, hosting converations and screenings, and organizing Mr Bikel;s extensive archives which were recently aquired by UCLA. For more infomration, please visit
www.theodorebikel.org
Images courtesy of The
Theo Bikel
Legacy Project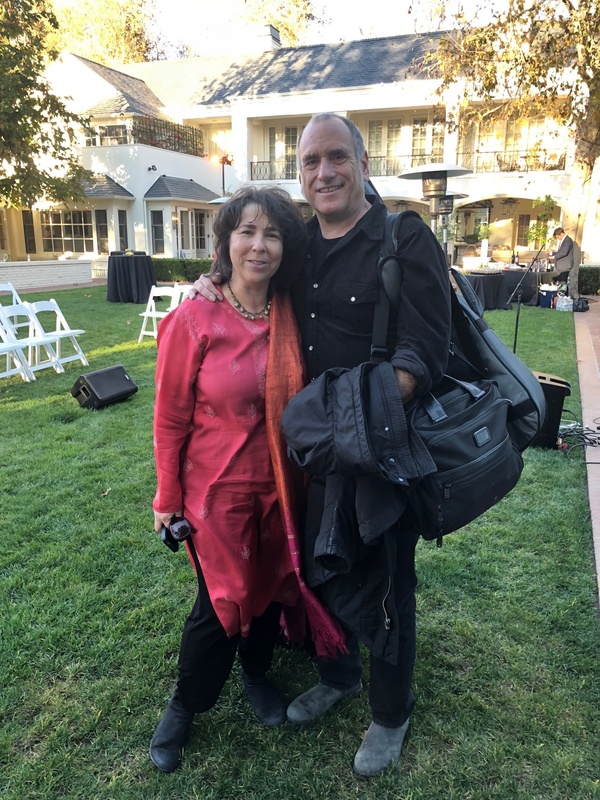 Aimee Ginsburg Bikel and David Broza

Mahommed Khan (leading interfaith activist CEO S.T.O.P.P,), David Broza, John Chaing (CA state treasurer).

Mahommed Khan, Aimee Ginsburg Bikel. John Chiang, Dr Khadra Ali Salami and Dr Raffi Waldman and Ruth Broyd
Related Articles View More Los Angeles

Stories

Shows
More Hot Stories For You