Photo Flash: Pierce Brosnan, Anjelica Huston, Michael Feinstein and More Celebrate Dame Edna's GLORIOUS GOODBYE Opening in L.A.
The Center Theatre Group engagement of "Dame Edna's Glorious Goodbye -- The Farewell Tour" opened last night, January 28 at the Ahmanson Theatre. The production continues through March 15, 2015. BroadwayWorld has photos from the opening night festivities below!
The title role of Dame Edna Everage is played by Barry Humphries with an ensemble that includes Ralph Coppola, Brooke Pascoe, Eve Prideaux and Armando Yearwood, Jr. The production is directed by Simon Phillips with Jonathan Tessero serving as musical director and onstage accompanist and Andrew Ross serving as the musical supervisor.
In a side-splitting, historic finale, Barry Humphries, with his beloved creation -- Dame Edna Everage, is capping a spectacular career spanning 50 years of bravura showmanship in this farewell to celebratory, sold-out performances across the world. Surrounded by spectacular sets and gorgeous, talented dancers, Dame Edna keeps her audience enthralled and 'in stitches' with her sparkling wit, mischievous wisdom and razor-sharp banter. With her take-no-prisoners comedy and hijinks, Dame Edna is not going out with a whimper: No one is safe from the Dame's wicked tongue.
"Dame Edna's Glorious Goodbye - The Farewell Tour" features scenic design by Brian Thomson, choreography by Eve Prideaux, lighting design by Aaron Spivey, songwriting for "You Will Have to Do Without Me Somehow" and "Me Time" by Wayne Barker and costume design by Stephen Adnitt. James W. Gibbs is the resident director, Douglas Grekin is the technical supervisor and Phillip Aleman is responsible for tour marketing and public relations.
"Dame Edna's Glorious Goodbye - The Farewell Tour" is produced by The Dainty Group. Tickets for "Dame Edna" are available by calling (213) 972-4400, visiting www.CenterTheatreGroup.org, or in person at the Center Theatre Groupbox office at the Ahmanson Theatre. Tickets range from $25-$115 (ticket prices subject to change). The Ahmanson Theatre is located at the Music Center, 135 N. Grand Avenue in Downtown L.A. 90012.
Photo Credit: Ryan Miller/Capture Imaging


Actor Pierce Brosnan and Dame Edna creator and performer Barry Humphries

Actor Pierce Brosnan and Dame Edna creator and performer Barry Humphries

Dame Edna creator and performer Barry Humphries celebrates with actress Anjelica Huston

Actress Anjelica Huston and Dame Edna creator and performer Barry Humphries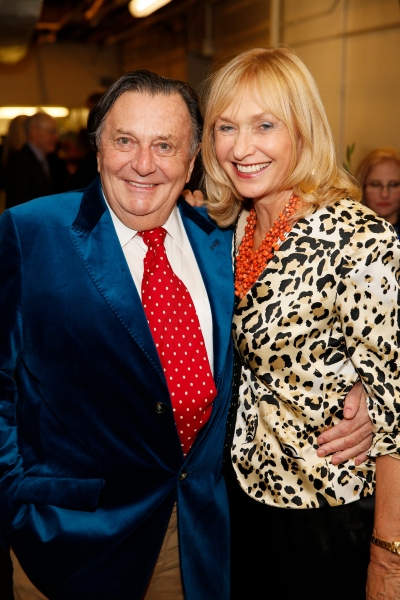 Dame Edna creator and performer Barry Humphries and wife Lizzie Spender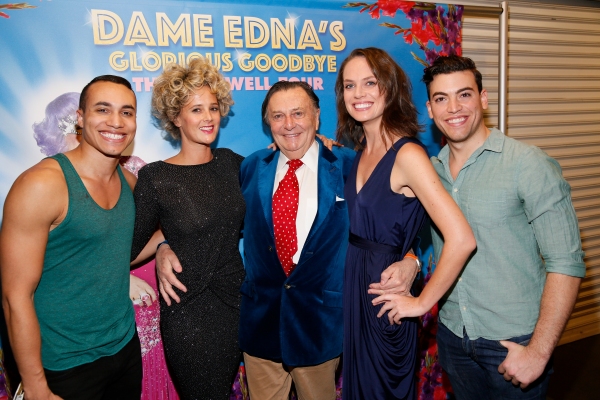 Cast members Armando Yearwood, Jr., Eve Prideaux, Barry Humphries, Brooke Pascoe and Ralph Coppola

Cast members Eve Prideaux and Brooke Pascoe kiss Dame Edna creator and performer Barry Humphries

Michael Feinstein and Dame Edna creator and performer Barry Humphries

Michael Feinstein and Dame Edna creator and performer Barry Humphries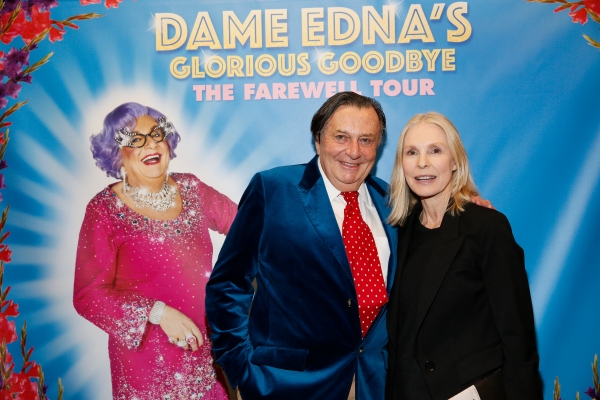 Dame Edna creator and performer Barry Humphries and actress Victoria Tennant

Photographer Greg Gorman and Dame Edna creator and performer Barry Humphries

Wardrobe and makeup artist Leigh Evans and actor Pierce Brosnan

Actress Anne Jeffreys, Dame Edna creator and performer Barry Humphries and wife Lizzie Spender

Composer Leslie Bricusse, Dame Edna creator and performer Barry Humphries and Yvonne Bricusse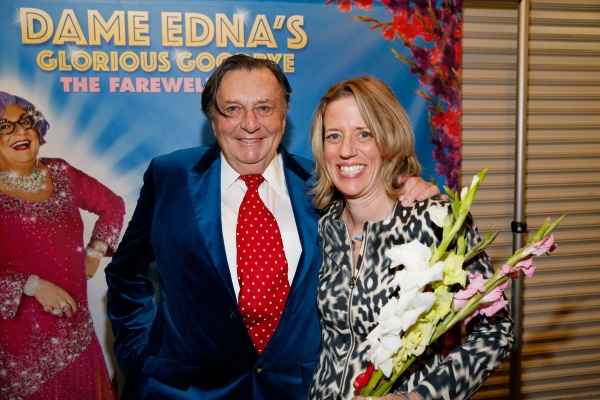 Dame Edna creator and performer Barry Humphries and Mary Melton, Los Angeles Magazine Editor-in-Chief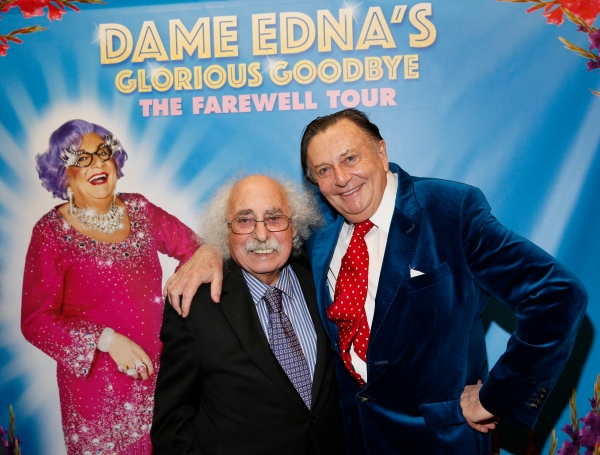 Comedian Ray Jessel and Dame Edna creator and performer Barry Humphries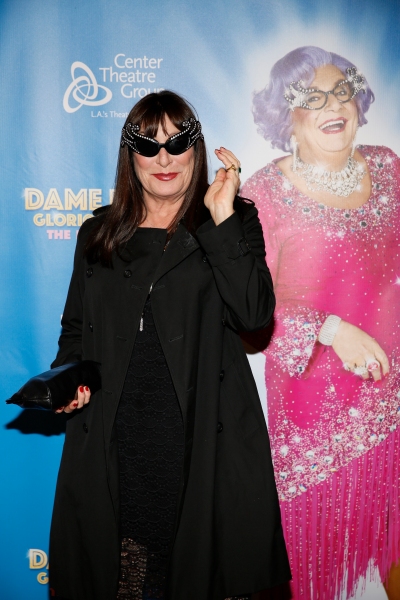 Actress Anjelica Huston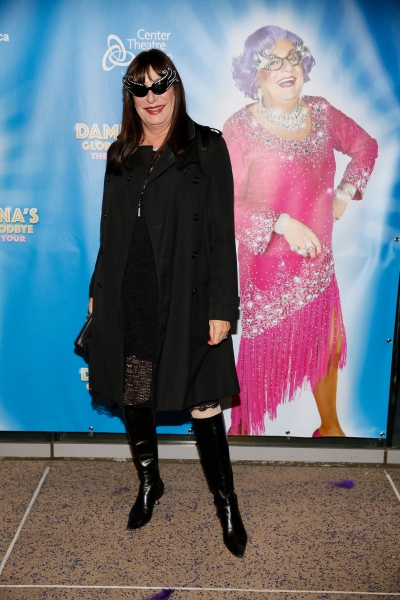 Actress Anjelica Huston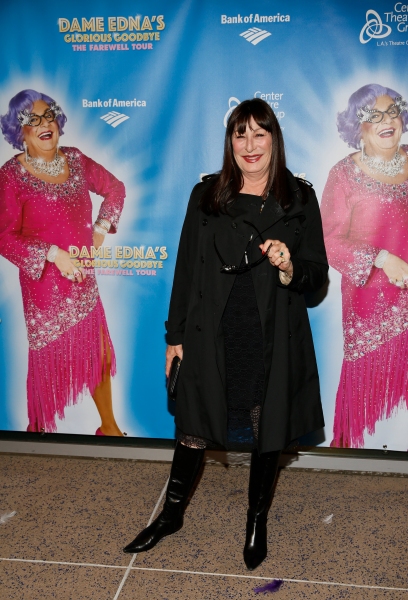 Actress Anjelica Huston

Actors Liam McIntyre and Erin Hasan McIntyre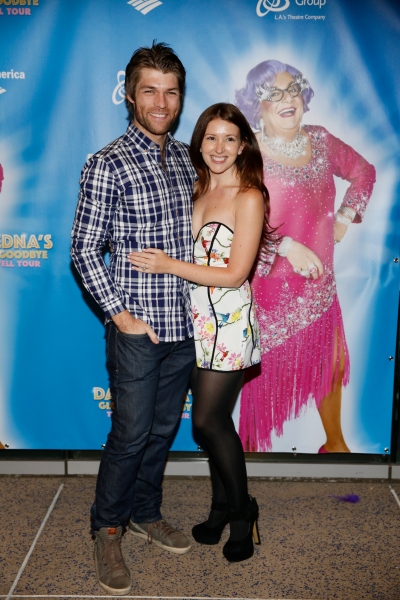 Actors Liam McIntyre and Erin Hasan McIntyre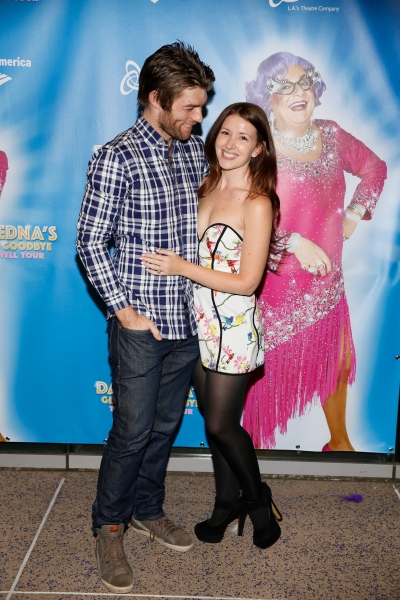 Actors Liam McIntyre and Erin Hasan McIntyre

Actors Liam McIntyre and Erin Hasan McIntyre

Composer Michael Feinstein and Patricia Ward Kelly

Composer Michael Feinstein and Patricia Ward Kelly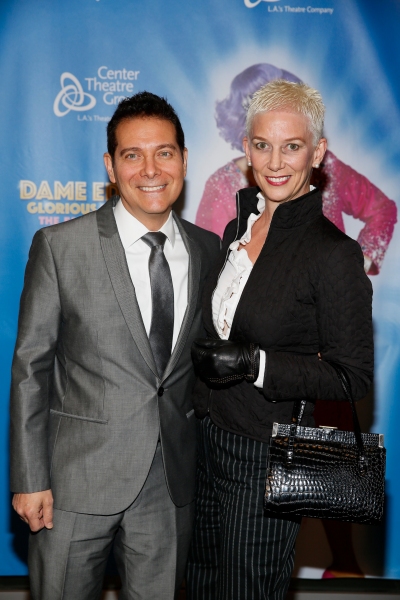 Composer Michael Feinstein and Patricia Ward Kelly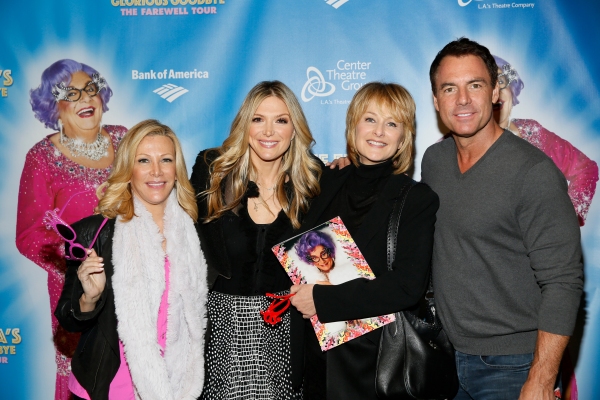 Television personalities Kym Douglas, Debbie Matenopoulos, Cristina Ferrare and Mark Steines

Television personalities Kym Douglas, Debbie Matenopoulos, Cristina Ferrare and Mark Steines

Television personalities Cristina Ferrare, Kym Douglas, Debbie Matenopoulos and Mark Steines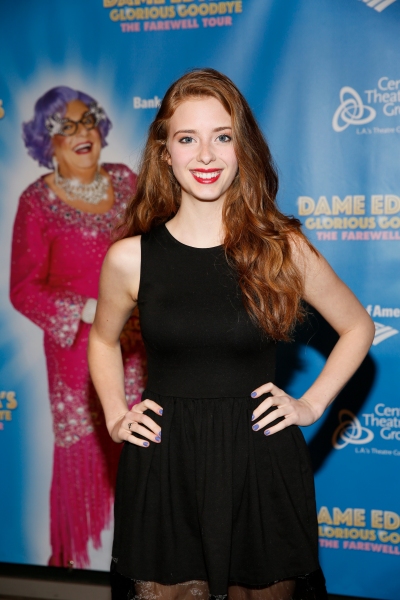 Actress Ashlyn Pearce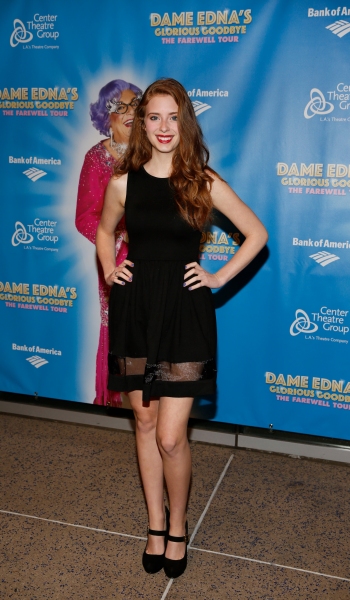 Actress Ashlyn Pearce

Actor Juan Pablo Di Pace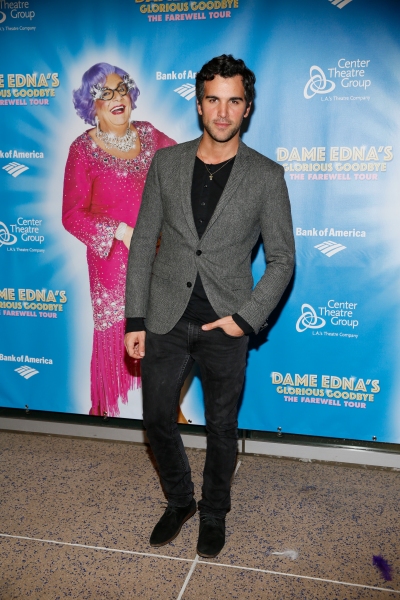 Actor Juan Pablo Di Pace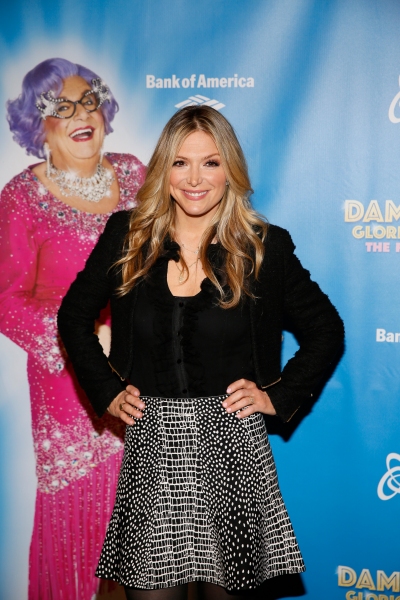 Television personality Debbie Matenopoulos

Television personality Debbie Matenopoulos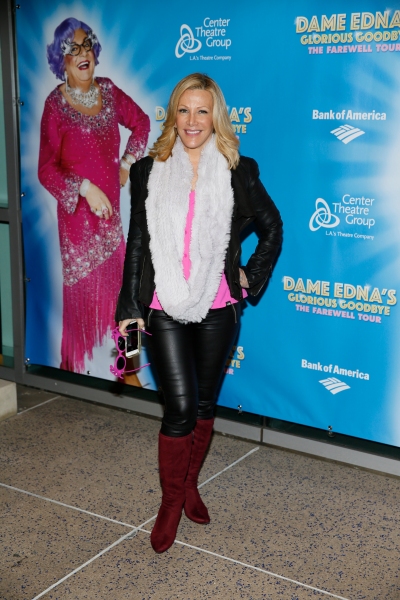 Television personality Kym Douglas

Television personality Cristina Ferrare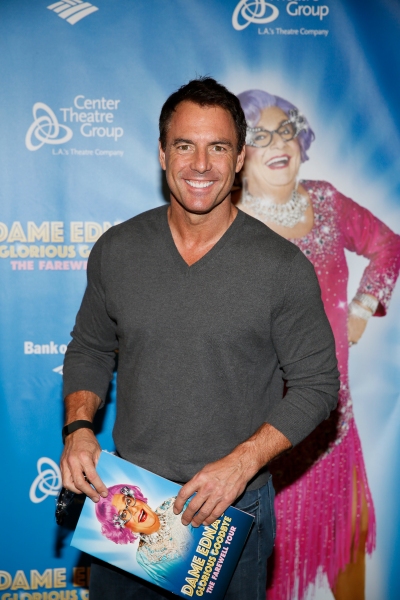 Television personality Mark Steines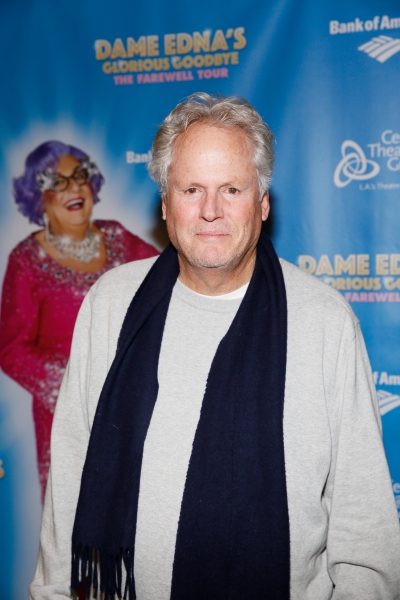 Actor Cliff De Young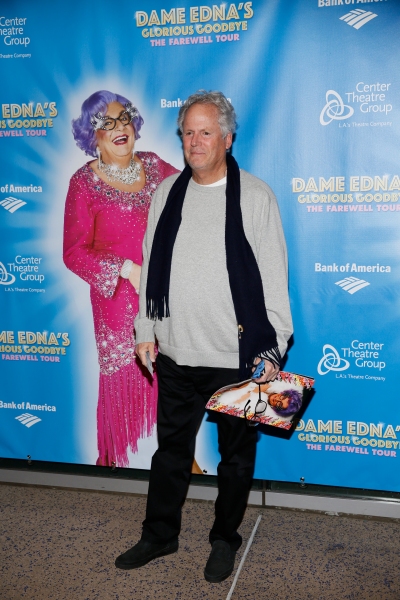 Actor Cliff De Young

Actor Jim Piddock and Margaret Oberman

Actor Robbie McIntosh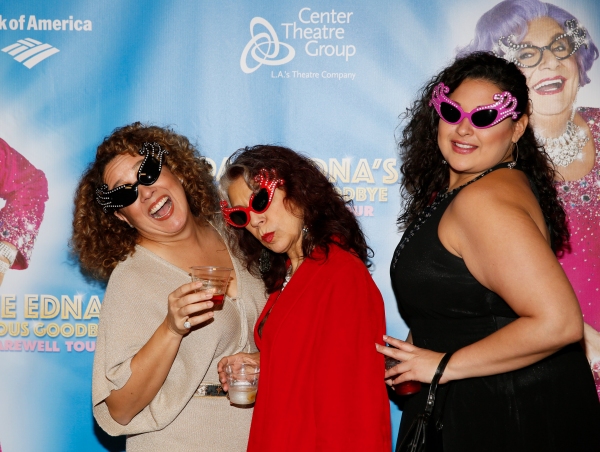 Actresses Eileen Galindo and Rose Portillo arrive with Heather Richardson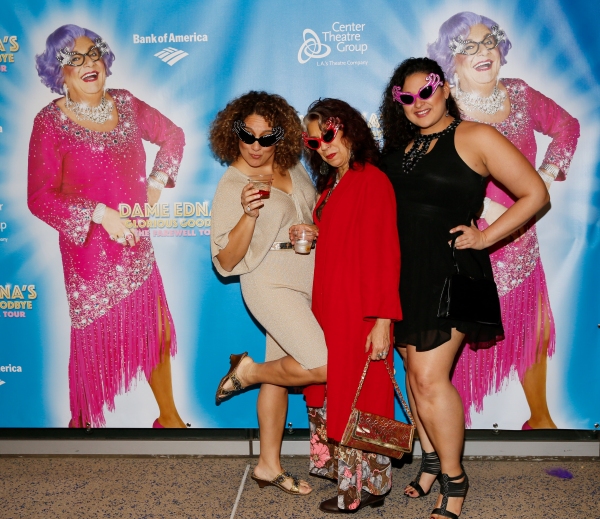 Actresses Eileen Galindo and Rose Portillo arrive with Heather Richardson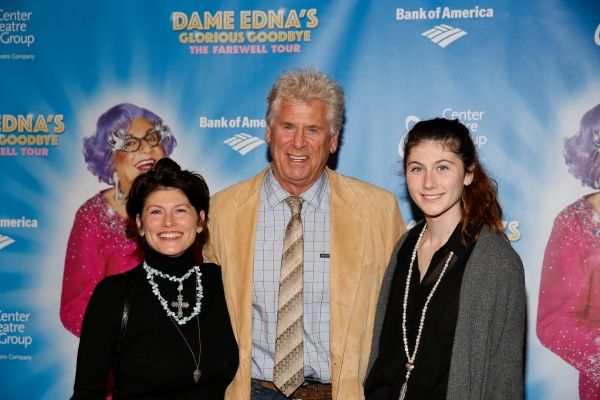 Sherri Jensen, actor Barry Bostwick and daughter Chelsea Bostwick

Sherri Jensen, actor Barry Bostwick and daughter Chelsea Bostwick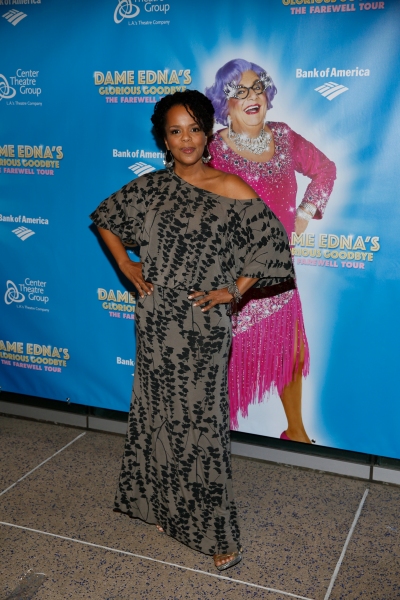 Actress Paula Newsome

Actor Aaron Takahashi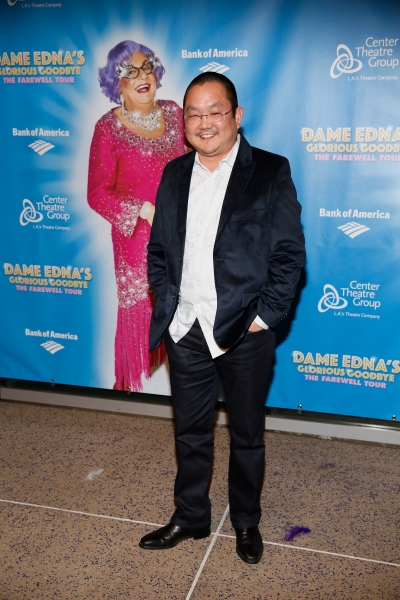 Actor Aaron Takahashi

Photographer Greg Gorman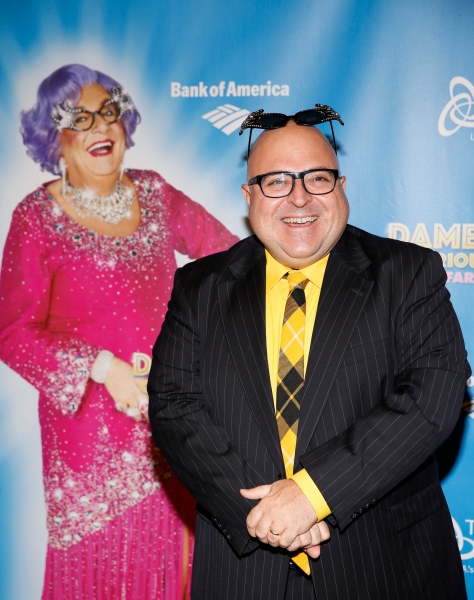 Radio personality Frank DeCaro

Comedian Ray Jessel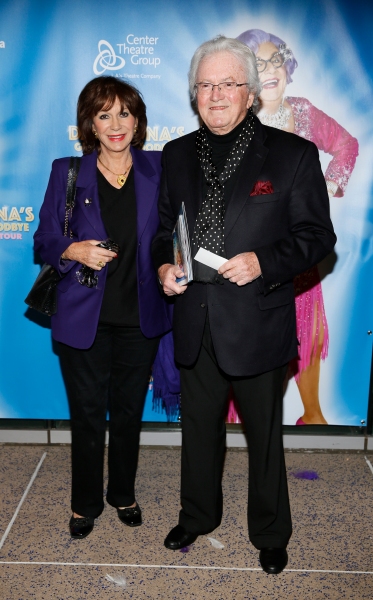 Yvonne Bricusse and composer Leslie Bricusse

Dame Edna and the cast throw gladiolas to the audience

Dame Edna and the cast throw gladiolas to the audience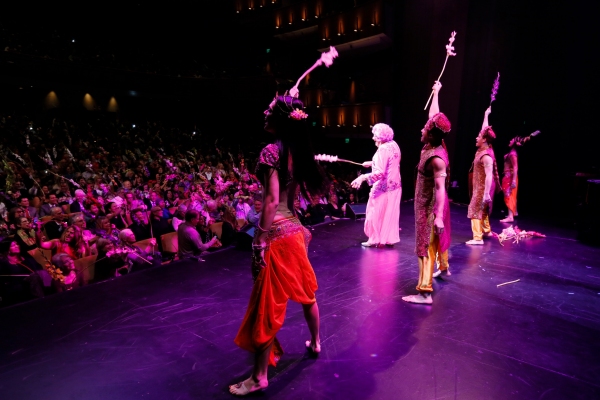 Dame Edna and the cast throw gladiolas to the audience

Dame Edna and the cast throw gladiolas to the audience

Dame Edna and the cast throw gladiolas to the audience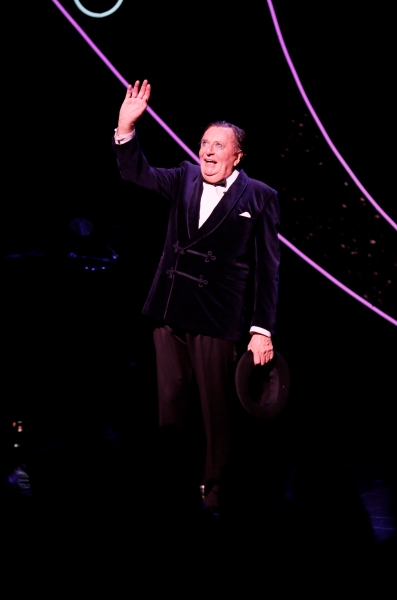 Dame Edna creator and performer Barry Humphries takes his curtain call after the opening night performance of 'Dame Edna's Glorious Goodbye - The Farewell Tour' in LA

(Center) Michael Feinstein and the audience wave gladiolas
More Hot Stories For You