Photo Flash: LIFE COULD BE A DREAM Opens Tonight at ICT
SH-BOOM! Meet fledgling doo-wop singing group Denny and the Dreamers as they prepare to enter the Big Whopper Radio contest and realize their dreams of making it to the big time,International City Theatre opens its 34th season with the delightful, award-winning jukebox musical Life Could Be A Dream, written and created by Roger Bean. Directed by Jamie Torcellini and with musical direction by Bill Wolfe,performances take place Feb. 22 throughMarch 10 at ICT's home in the Long Beach Performing Arts Center. Two low-priced previews are set for Feb. 20 and Feb. 21.

Hunter Berecochea (Next to Normal at Costa Mesa Playhouse), J. Thomas Miller(touring production of Game of Thrones parody Musical Thrones), Josey Montana McCoy(Disney's Frozen - Live at the Hyperion) and Trevor Shor (The Hunchback of Notre Damefor 5-Star Theatricals) make up the singing foursome. Trouble comes in the form of Lois, played by Marisa Matthews (The Threepenny Opera at A Noise Within), who arrives to put some polish on the boys. Denny and Wally fall in love, Eugene falls apart, and along comes handsome heartthrob Skip to send the whole situation spinning. The '60s doo-wop songs say it all: "Fools Fall in Love," "Tears on My Pillow," "Runaround Sue," "Earth Angel," "Stay," "Unchained Melody," "Lonely Teardrops," and "The Glory of Love."
Life Could Be A Dream runs Thursdays, Fridays and Saturdays at 8 p.m. and Sundaysat 2 p.m., Feb. 22 through March 10. A talk back with the cast will follow the matinee performance on Sunday, March 3. Two preview performances take place on Wednesday, Feb. 20 and Thursday, Feb. 21, both at 8 p.m. Tickets are $47 on Thursdays and Fridays, and $49 on Saturdays and Sundays, except for Feb. 23 (opening night) for which tickets are$55 (includes a post show reception) or $125 (includes a pre-performance dinner in addition to the post-show reception). Low-priced tickets to previews are $35. International City Theatre is located in the Long Beach Performing Arts Center at 330 East Seaside Wayin Long Beach, CA 90802. For reservations and information, call 562-436-4610 or go to InternationalCityTheatre.org.
Check out photos of the company below.
Photo credit: Tracey Roman

Hunter Berecochea, Josey Montana McCoy Trevor Shor and J. Thomas Miller

Hunter Berecochea, J. Thomas Miller, Josey Montana McCoy, Marisa Matthews, Trevor Shor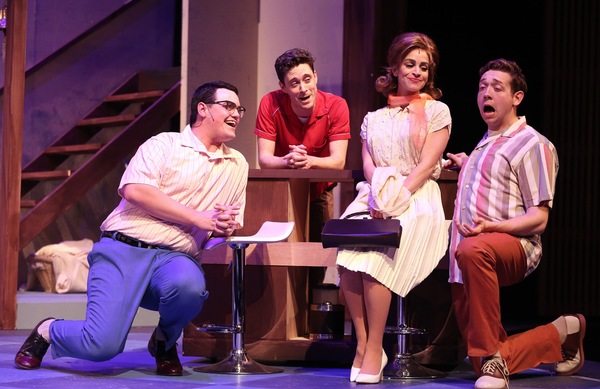 Hunter Berecochea, Josey Montana McCoy, Marisa Matthews and J. Thomas Miller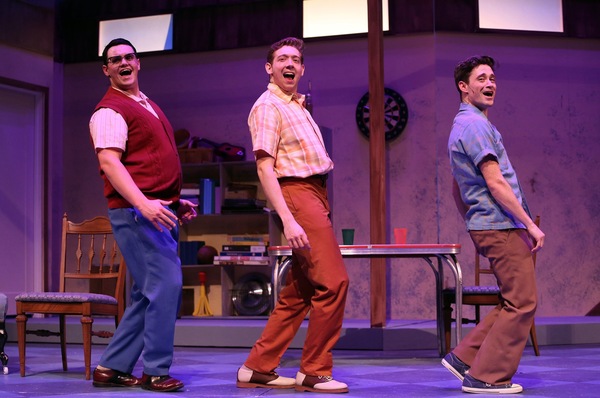 Hunter Berecochea, J. Thomas Miller and Josey Montana McCoy

J. Thomas Miller, Marisa Matthews, Josey Montana McCoy, Hunter Berecochea

Hunter Berecochea, J. Thomas Miller, Marisa Matthews, Josey Montana McCoy

Hunter Berecochea, Josey Montana McCoy, Trevor Shor and J. Thomas Miller

Hunter Berecochea, Josey Montana McCoy, Trevor Shor and J. Thomas Miller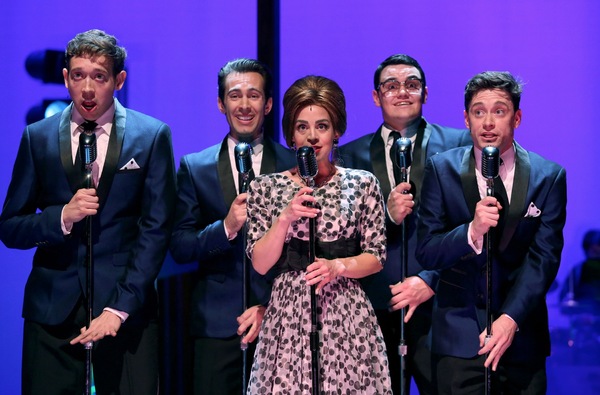 J. Thomas Miller, Trevor Shor, Marisa Matthews, Hunter Berecochea and Josey Montana McCoy