Photo Flash: Kentwood Players Presents CANDIDE 9/16-10/22
Kentwood Players presents the musical "Candide" featuring a legendary score by Leonard Bernstein, with book adapted from the beloved Voltaire classic by Hugh Wheeler, lyrics by Richard Wilbur, with additional lyrics by Stephen Sondheim and John Latouche, from September 16 to October 22, 2011, with performances on Friday and Saturdays at 8pm and Sundays at 2pm at the Westchester Playhouse located at 8301 Hindry Avenue in Los Angeles, CA 90045. The production is directed by Catherine Rahm, produced by Lori A. Marple-Pereslete and Tony Pereslete by special arrangement with Music Theatre International, and was produced on Broadway by The Chelsea Theatre Center of Brooklyn in conjunction with Harold Prince and Ruth Mitchell. The Broadway production was conceived and directed by Harold Prince. 
Part sophisticated musical, part wacky screwball comedy with shades of Monty Python, this funny, irreverent satire is the perfect musical expression of Voltaire's tongue-in-cheek send-up of optimistic philosophies. In a lightning-paced romp, Candide is expelled from home, drafted into the Bulgarian army, brought before the Spanish Inquisition, swindled out of a fortune, shipwrecked on a desert isle, and separated time and again from his true love Cunegonde, who bears with remarkable dignity a variety of carnal besmirchments by almosteverybody. Through it all, Candide remembers the lesson of his dear master Dr. Pangloss: that "everything is for the best in this best of all possible worlds."
Featured in the "Candide" cast are Matthew Artson, Patricia Butler, Jacqueline Crist- Franzen, Harold Dershimer, Zoe Johnson, Ben Lupejkis, Susie McCarthy, Rachael Meyers, Rocky Miller, Aaron Norman, Fiona Okida, Roy T. Okida, Cassandra Ristaino, Jonas Sills, Francesca Sola, Frank Weidner, and Brittney Wheeler.
Tickets are $23.00 with a $2.00 discount for seniors, students, and servicemen. To purchase tickets, please call (310) 645-5156 during box office hours, Tuesday through Saturday from 4-7 PM. Visa, MasterCard, and American Express accepted, with a $1.50 convenience fee added per ticket charged to a credit card. . For group ticket sales, please call the box office. You may also purchase tickets online at www.kentwoodplayers.org
For more information about Kentwood Players including our current production, upcoming auditions, and our Kentwood Kids Children's Theatre Classes, please visit the Kentwood Players website at www.kentwoodplayers.org. And you can also sign up and be a Kentwood Players friend on Facebook.
To meet the "Candide" production team and learn more about Kentwood Players and what goes on at the Westchester Playhouse, the public is invited to attend our general membership meetings, which are free and held on the third Wednesday of each month at 8pm at the Westchester Playhouse located two blocks west of the San Diego Freeway and two blocks north of Manchester at 8301 Hindry Avenue in Westchester, CA 90045.
Photo Credit:Shari Barrett


Cunegonde and Candide plan their life together in "Oh, Happy We" (Zoe Johnson, Jonas Sills)

The Old Lady reminds Voltaire that she is important to this tale. (Ben Lupejkis, Patricia Butler)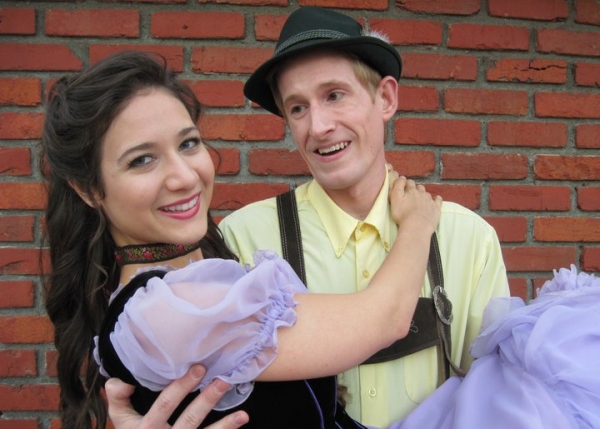 After many trials and near death experiences, Candide is reunited with his love, Cunegonde. (Francesca Sola, Frank Weidner)

Dr. Pangloss teaches Candide and Cunegonde that this is the "Best of All Possible Worlds." (left to right: Rocky Miller, Frank Weidner, Francesca Sola)

Candide bravely attempts to ward off Pirates as he sails to the new world with Cunegonde and the Old Lady. (left to right: Jonas Sills, Susie McCarthy, Zoe Johnson)