Photo Flash: Jason Alexander, Richard Kind, Tyne Daly, Ed Asner and More at Skylight Theatre's SALUTE to Terrence McNally
The Skylight Theatre Company honored multi-award winning playwright Terrence McNally with four days of star-studded events. Scroll down for new photos from the festivities!
Celebrity guests included
Lisa Kudrow
(Web Therapy, Friends),
Leslie Odom
Jr. (Smash, Broadway:Leap of Faith),
Mary McDonnell
(Major Crimes),
Jason Alexander
(Seinfeld),
Sharon Lawrence
(Rizzoli & Isles),
Richard Kind
(Broadway: Big Knife),
Ed Asner
(Lou Grant),
Jeff Perry
(Scandel),
Shoshana Bean
(Broadway: Wicked),
Tim Cummings
(Rogue Machine, New Electric Ballroom; LADCC and LA Weekly Awards),
Tyne Daly
(Broadway: Master Class),
Mary McCormack
(In Plain Sight; Welcome To The Family),
Barrett Foa
(NCIS Los Angeles),
Jorge Garcia
(Lost),
John Benjamin Hickey
(The Big C),
Michael Arden
(Broadway: Big River; Off Bway: Swimming In The Shallows),
Christopher Hanke
(Broadway: Rent; In My Life),
Stacy Keach
(Frost/Nixon),
Doris Roberts
(Everybody Loves Raymond),
Steven Weber
(Studio 60),
Cheyenne Jackson
(30 Rock),
Josh Radnor
(How I Met Your Mother),
Peter Jason
(Arrested Development),
James Wolk
(Mad Men), and many more...
As the first of an annual series honoring America's great playwrights, the 2013 Skylight Salute included the following events. On Sept. 27th at 8pm, Terrence McNally was part of an industry panel of writers and show creators discussing creating LGBT characters. The event was held at Skylight Theatre (located at 1816 1/2 N. Vermont, LA, 90027) and moderated by Dan Bucatinsky (Executive Producer of Web Therapy). On Sept. 28th at 3pm and 8pm, packed the Skylight Theatre for the Premiere reading of Terrence's updated comedy classic, It's Only A Play. On Sunday morning Sept. 29th, Terrence taught a master class on writing, and later that night he was honored at the Saban Theatre in Beverly Hills with an All-Star celebration directed by Tony Award nominee Sheryl Kaller and featuring celebrities from stage, television, and screen. Performances included excerpts from Terrence's wide body of work, including the musicalsRagtime, The Full Monty, and Kiss of the Spider Woman as well as his Tony Award winning plays Master Class, Love! Valor! Compassion! and others. The evening was produced by Andrew Carlberg, Suzi Dietz and Gary Grossman.
Photo Credit: Ryan Miller/Capture Imaging

Barrett Foa, Jason Alexander, Sharon Lawrence and Tim Cummings

Harrison White, Christopher Hanke, Jorge Garcia and James Wolk stand behind Skylight Theatre Company's Producing Artistic Director Gary Grossman and his company's commitment to develop writers and new plays.

Richard Kind and Sharon Lawrence at the party following their performance.

Norman Lear speaks of the positive impact from the works of Terrence McNally.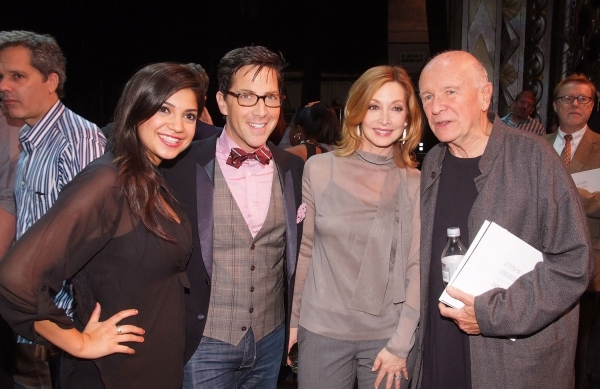 Raquael Torres, Dan Bucantinsky, Sharon Lawrence and honoree Terrence McNally

Andy Mientus, Barrett Foa, Dan Bucatinsky, Michael Arden and Don Roos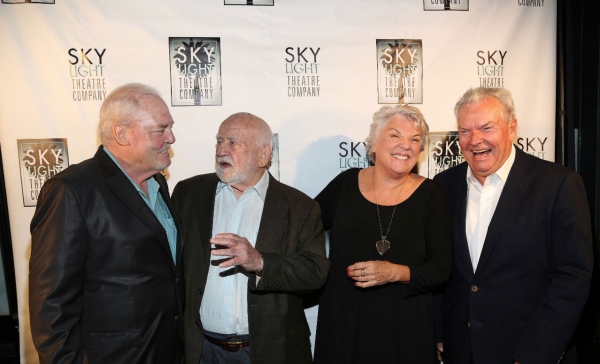 Stacy Keach, Ed Asner, Tyne Daly and Peter Jason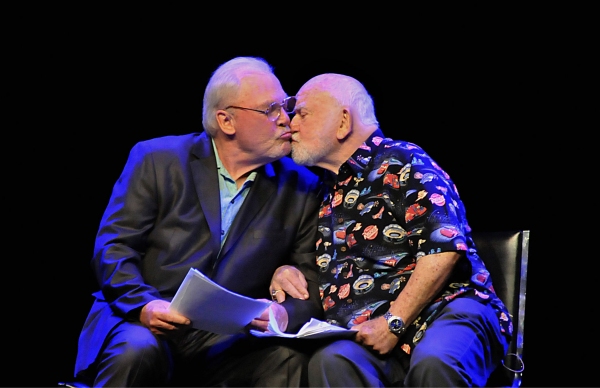 Stacy Keach and Ed Asner share a Terrence McNally moment.