Photo Flash: First Look at The Antaeus Company's Double-Cast CRUCIBLE
The Antaeus Company, L.A.'s multiple award-winning classical theater company, presents an untraditional staging of
Arthur Miller
's The Crucible.
Armin Shimerman
and
Geoffrey Wade
co-direct the fully partner-cast production now through July 7, 2013. BroadwayWorld has a first look at the double-cast production below!
Set in 1692 and written in reaction to the McCarthyism that gripped America in the 1950s, Miller's parable of mass hysteria offers a frightening depiction of what can happen when fear clouds fact and reason is replaced by blame. The Antaeus production aims to highlight the play's universal and timeless themes, so it will not be performed in period dress or on a naturalistic set. The concept originated in a ClassicsFest reading last summer.
Unique among 99-seat theater companies in L.A., Antaeus is known for "partner casting." In all Antaeus productions, two equally talented actors collaborate on every role, working together throughout the rehearsal process and enriching the creative experience.
Members of The Crucible ensemble include Bo Foxworth and Christopher Guilmet sharing the role of John Proctor; Kimiko Gelman and Devon Sorvari as Elizabeth Proctor; Ann Noble and John Prosky doubling as Reverend Hale; John Allee and Joe Delafield as Reverend Parris; Eva Beebe and Ranya Jaber as Betty Parris; Marcia Battise and Saundra McClain as Tituba and Judge Hathorne; Rhonda Aldrich and Lily Knight as Ann Putnam; Stephen Mendel and Stoney Westmoreland as Thomas Putnam; Fran Bennett and Dawn Didawick as Rebecca Nurse; William C. Mitchell and Joseph Ruskin as Francis Nurse; Steve Hofvendahl and Philip Proctor as Giles Corey; James Sutorius and Reba Waters Thomas as Deputy Governor Danforth; Nicole Erb and Kate Maher as Abigail Williams; Shannon Lee Clair and Alexandra Goodman as Mary Warren; Morgan Marcell and Rachel Berney Needleman as Mercy Lewis; Jim Kane and R. Scott Thompson as Ezekiel Cheever; and Daniel Dorr and Aaron Lyons aS Marshall Herrick.
Scenic design for The Crucible is by Stephen Gifford; lighting design is by Bosco Flanagan; costume design is by E.B. Brooks; sound design is by Jeff Gardner; and the production stage manager is Kimberly Weber.
Antaeus is a cooperative theater ensemble founded to empower the actor and to bring classical theater to Los Angeles. The company exists to create a family of artists and audiences and is dedicated to exploring stories with enduring themes. Taking their company name from the Titan who gained strength by touching the Earth, Antaeus members - many of whom are familiar to film and television audiences - regain their creative strength by returning to the wellspring of their craft: live theater. Members of the company span a wide range of age, ethnicity and experience; they have performed on Broadway, at major regional theaters across the country, in film, television and on local stages, and are the recipients of numerous accolades including Tony, Los Angeles and New York Drama Critics Circle, Ovation, LA Weekly, and Back Stage Garland nominations and awards. Audiences, who never see an understudy due to Antaeus's trademark "partner casting," frequently return to see the same play in the hands of an equally excellent but very different set of actors.
Performances of The Crucible take place May 16 through July 7 on Thursdays and Fridays @ 8 pm; Saturdays @ 2 pm and 8 pm (no matinee performance on Saturday, May 18); and Sundays @ 2 pm. There will be six previews, May 9-15: Thursday, Friday, Saturday, Tuesday and Wednesday, all at @ 8 pm, and Sunday @ 2 pm. Tickets to the Opening Night performances on May 16 and 17 are $34, after which all tickets are $30 on Thursdays and Fridays and $34 on Saturdays and Sundays; previews are $15. The Antaeus Company is located at 5112 Lankershim Blvd in North Hollywood, Calif. Parking is available for $7 in the lot at 5125 Lankershim Blvd. (west side of the street), just south of Magnolia. The theater is air-conditioned and wheelchair accessible. For reservations and information, call 818-506-1983 or go to www.antaeus.org.
Photo Credits: Karianne Flaathen and Geoffrey Wade



Devon Sorvari, Christopher Guilmet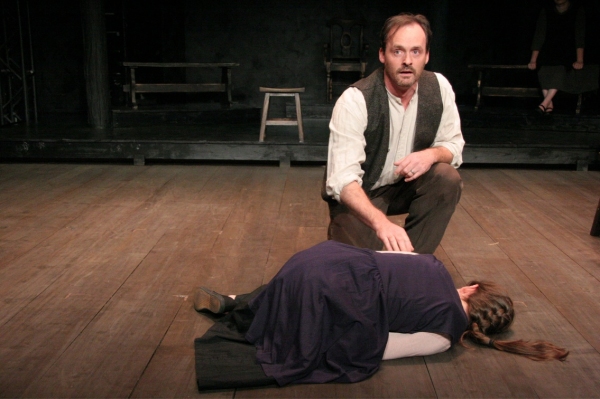 Shannon Lee Clair, Christopher Guilmet

John Prosky, Steve Hofvendahl, Aaron Lyons

Kate Maher, Rachel Berney Needleman, Eva Beebe

Eva Beebe, Kate Maher, Shannon Lee Clair, Rachel Berney Needleman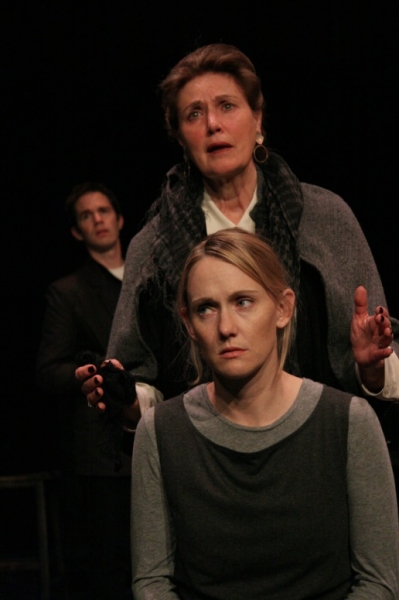 Joe Delafield, Reba Thomas, Devon Sorvari

John Allee, Ranya Jaber, Ann Noble, Nicole Erb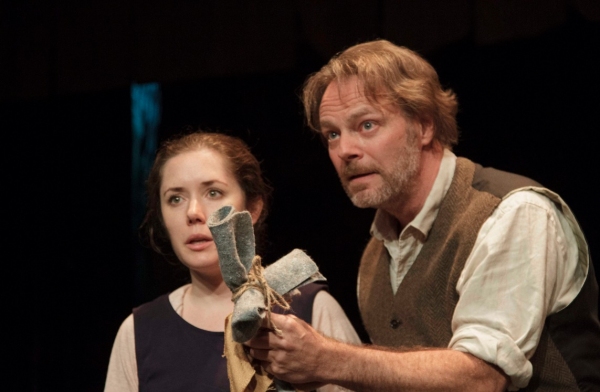 Alexandra Goodman, Bo Foxworth

Kimiko Gelman, Daniel Dorr, Bo Foxworth, Philip Proctor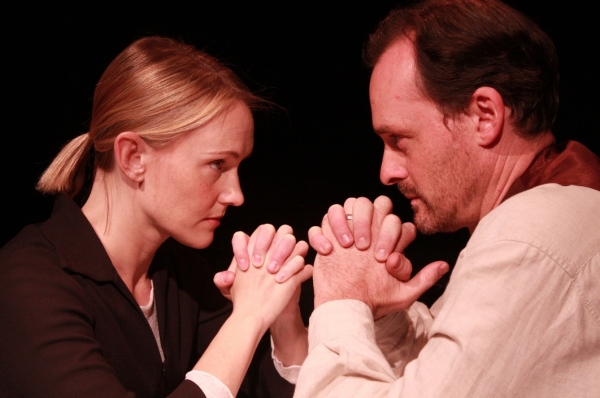 Devon Sorvari and Christopher Guilmet as Elizabeth and John Proctor

Kimiko Gelman and Bo Fox worth as Elizabeth and John Proctor