Photos: First Look at Patrick Cavanaugh and More in Dreamhouse Theatre's ALL MY SONS
Dreamhouse Theater Company presents
Arthur Miller
's play, ALL MY SONS, directed by Dreamhouse Theater Company's Artistic Director Alex Sol. ALL MY SONS, currently playing through September 2 at the Jet Theatre in North Hollywood. BroadwayWorld has a first look at the production below.
During the war Joe Keller and Herbert Deever ran a machine shop which made airplane parts. Deever was sent to prison because the firm turned out defective parts, causing the deaths of many men. Joe Keller went free and made a lot of money. The twin shadows of this catastrophe and the fact that the young Keller son was reported missing during the war dominate the action. The love affair of Chris Keller and Ann Deever, the bitterness of George Deever returned from the war to find his father in prison and his father's partner free, are all set in a structure of almost unbearable power.
The cast of ALL MY SONS features Ronald Quigley, Caroline Westhemer, Patrick Cavanaugh, Jacqueline Hickel, Ross Kramer, Brad MacDonald, Leona Britton, Lukas Bailey, Autumn Withers and Max Salinger.
The Set Design is by Ronald Quigley. The Lighting Design is by Terry Rodefer. The Sound Design is by Luke Mueller. The Costume Design is by Vicki Conrad. The stage manager will be Eric Manders. ALL MY SONS will be produced by Sarah Sol.
ALL MY SONS will open on Friday, July 20 and continue through Sunday, September 2 at the Jet Theatre, 5126 Lankershim Blvd. in North Hollywood. Performances are Fridays and Saturdays at 8:00pm; Sundays at 7:00pm. Ticket prices are $25.00.  (There will be two understudy performances on the Sunday matinees of August 12 & 19th at 2pm – Ticket Prices $15.00.) Tickets are available thru www.dreamhousetheater.com.
Photo Credit:  John Sullivan


Patrick Cavanaugh and Caroline Westeimer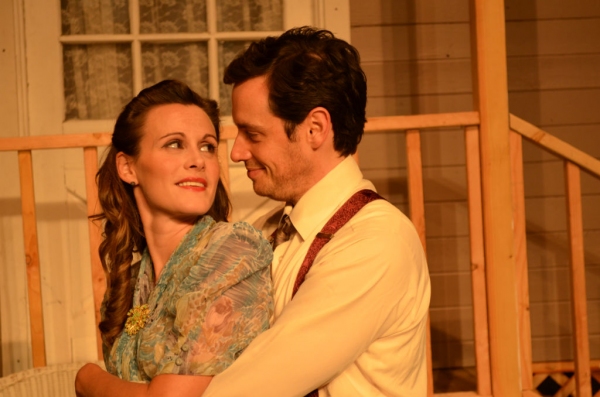 Jacqueline Hickel and Patrick Cavanaugh