Photo Flash: Andrew Garman, Larry Powell, Lucas Hnath and More Celebrate THE CHRISTIANS Opening in L.A.
THE CHRISTIANS, a new play written by Lucas Hnath, opened at the Center Theatre Group / Mark Taper Forum last night, December 13, 2015, at 7 p.m. CTG and Playwrights Horizons are presenting performances of the Actors Theatre of Louisville production through January 10, 2016. BroadwayWorld has photos from the opening night festivities below!
Directed by Obie Award-winning Les Waters ("Marjorie Prime" at the Taper and "Girlfriend" at the Kirk Douglas Theatre), THE CHRISTIANS features five cast members from the world premiere at the Actors Theatre of Louisville: Scott Anthony, Emily Donahoe ("33 Variations" on Broadway, "Homeland"), Andrew Garman ("Salome" on Broadway), Larry Powell ("While I Yet Live" and "Broke-ology" off-Broadway) and Linda Powell ("On Golden Pond" and "Wilder, Wilder, Wilder" on Broadway). Philip Kerr ("A Time to Kill," "Macbeth" and "Tiny Alice" on Broadway, opposite Dame Judith Anderson's "Hamlet" at Carnegie Hall) completes the cast after joining the production at Playwrights Horizons earlier this year.
The pastor of a large and wildly successful church has a startling message for his congregation. After 20 years of growing his church members into the thousands, Pastor Paul does some soul searching and reaches a conclusion that shakes the church's very foundation with a message that challenges one of the basic tenets of his ministry. As Pastor Paul (Andrew Garman) summons the courage to lead his flock in a new direction, he faces questions about his motivations, and his personal and professional relationships begin to fray. THE CHRISTIANS is a compelling drama that conveys the deep emotions and consequences of one man's personal revelation.
THE CHRISTIANS is staged as a church service with the live accompaniment of a choir of approximately two dozen singers per night. The singers will come from a pool of 50 local vocalists. The singers range from established performers with Broadway credits to USC students and range in age from their 20s to 60s.
Led by music director Scott Anthony (who is also portraying the role of Choir Director), the choir features Allison Aoun, Dedrick Bonner, Lisa Bode, Adrienne Brown, Gabriela Carrillo, Adante Carter, Kristin Charney, Molly Chiffer, Isaac Clay, April Colon-Haywood, Maxwel Corpuz, Erin Leigh Crites, Gina D'Acciaro, Celina Dean, Andrew Diego, Zoran Duke, Melinda Ehrlich, Tal Fox, Turner Frankosky, Gabriela Garcia, Simone Longoria Garcia, Randy Guiaya, David Hadinger, Rae Dawn Hadinger, Nancy Hale, Jennifer Haydn-Jones, Jesimiel Jenkins, Jinwoo Jung, Maura M. Knowles, Karen Lew, Kenneth Lopez, Cynthia Marty, D.T. Matias, Shane Paul McGhie, Philip McNiven, Tiffany Moon,Gregory North, Kila Packett, Pjay Phillips, Andrea Press, Christena Rich, Krystle Simmons, Adrian Smith, Chris Spicer, Kimberly Ann Steele, JC Tompkins, Lisa Webb, Jennifer Weiss, Grace Yoo and Justin Yu.
Tickets for "The Christians" are available by calling (213) 628-2772 or visiting online at www.CenterTheatreGroup.org. Tickets range from $25 - $85 (ticket prices are subject to change). The Mark Taper Forum is located at the Music Center, 135 N. Grand Avenue in Downtown L.A. 90012.
Photo Credit: Ryan Miller/Capture Imaging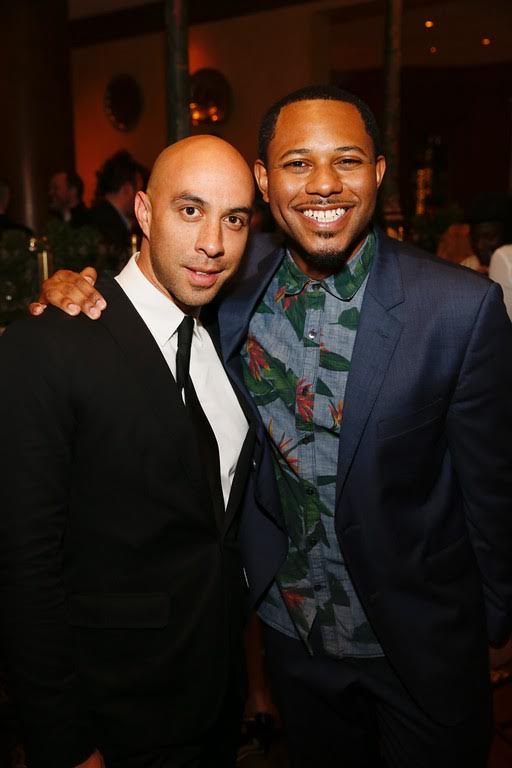 Kila Packett & Larry Powell