Paul Rodriguez In STEAMBATH - Revival Of Cult-Classic, Off-Broadway Hit At Odyssey Theatre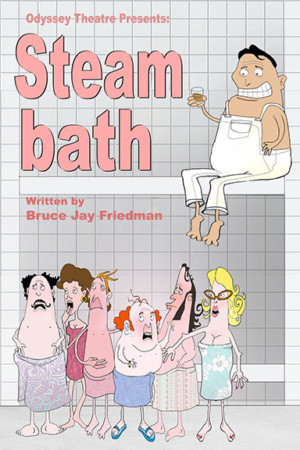 What if God turned out to be a Puerto Rican steam bath attendant, assisted by a butler named Gottlieb? Renowned stand up comedian and actor Paul Rodriguez stars in a revival of Steambath, the 1970 off Broadway hit comedy by Bruce Jay Friedman that also became a PBS television special. Odyssey Theatre Ensemble artistic director Ron Sossi directs for an Oct. 20 opening at West L.A.'s Odyssey Theatre, where performances will continue through Dec. 16.

Steambath is No Exit with a New York City twist and a Jewish comedy sensibility. Tandy (Jeff LeBeau, last seen at the Odyssey in The Dance of Dance) wakes up one morning perspiring in a steam room, only to realize... he is in the Afterlife and God is the Puerto Rican bath attendant! There, he meets kvetchy Beiberman (Robert Lesser, of Odyssey's Awake and Sing); the beautiful Meredith, whose last memory is buying a micro-miniskirt at Bloomingdales (recent UCLA grad Shelby Lauren Barry); a driven but unsuccessful stockbroker (Brian Graves: Theatre 68's Dancing at Lughansa); a young gay couple (DJ Kemp, who played a young Tiger Woods on Jimmy Kimmel Live and Devan Schoelen, recently graduated from the American Academy of Dramatic Arts); and an "Oldtimer" (John Moskal, seen recently in The Seagull at Atwater Village Theatre). Assisting God are the hapless Gottlieb (Yusuf Yildiz: You Can't Take It With You at the Firehouse Theatre) and a burley longshoreman (Anthony Rutowicz, seen in the Odyssey's The Hairy Ape and Rogue Artists Ensemble's Kaidan).

Friedman's razor-sharp comedy remains as outrageous and politically incorrect as when it first electrified off-Broadway audiences nearly 50 years ago.

"It's a hilarious example of the 'chutzpah' of the unique theater movement of the '60s," says Sossi.

According to Friedman, he came up with the idea for the play after "a bad experience with the food at a Chinese restaurant."

"I thought that was it for me," he said in an interview. "That got me thinking about death and mortality. Also I was working out at a gym, using the steam bath. There is a certain kind of talk that goes on between men in this situation, and I must have been listening. Additionally, I vacationed now and then in Puerto Rico, became conscious of the Puerto Rican/New York accent, so to speak. It all came together."

The creative team for Steambath includes set designer Gary Guidinger, lighting designer Chu-Hsuan (Seth) Chang, sound designer Christopher Moscatiello, costume designer Mylette Nora and prop master Josh La Cour. Isabel and Harvey Kibel co-produce in association with the Odyssey Theatre Ensemble.

Bruce Jay Friedman, hailed by many critics as a comic genius, was born in New York City in 1930 and started his versatile career as an editor and magazine and short story writer. Over the years, Friedman has published eight novels and four story collections, as well as writing a half dozen plays and receiving several screenwriting credits, including Stir Crazy (1980), Doctor Detroit (1982) and Splash (1984), which won an Academy Award nomination for Best Original Screenplay. Friedman attended DeWitt Clinton High School in the Bronx and then went on to earn a Bachelor's degree in journalism from the University of Missouri. Following college, he served for two years as an officer in the United States Air Force. He then became editorial director of four men's action magazines. His novels include "The Current Climate" (2001), "A Father's Kisses" (1996), "Tokyo Woes" (1985), "About Harry Townes" (1972), "The Dick" (1970), "A Mother's Kisses" (1964) and "Stern" (1962). His story collections are "Let's Hear it for a Beautiful Guy" (1980), "Black Angels" (1967), "Far From the City of Class" (1963) and "Black Humor: Anthology" (1963). His plays include Scuba Duba (1968), Steambath (1970) and Have You Spoken to Any Jews Lately? (1997). He is also the author of the non-fiction book "The Lonely Guy's Book of Life" (1982), which provided the basis for Steve Martin's film The Lonely Guy (1984), and the follow-up book "The Slightly Older Guy" (1995). "The Collected Short Fiction of Bruce Jay Friedman," published in 1997, contains 57 of his stories, and "Even the Rhinos Were Nymphos," a collection of Friedman's best non-fiction, was published in 2000.

The Odyssey Theatre Ensemble was founded in 1969 when Ron Sossi decided to demonstrate that experiment-oriented theater could have populist appeal and be fiscally solvent while maintaining the highest artistic standards. Wildly successful and innovative productions such as The Serpent and Brecht's The Threepenny Opera immediately gained the Odyssey its reputation for producing dangerous, magical and experimental work. More recent successes include hit productions of Bad Jews by Joshua Harmon; Freud's Last Session by Mark St. Germain; Conor McPherson's relentlessly dark and funny new version of The Dance of Death by August Strindberg; Punk Rock by Simon Stephens; Beckett5, a quintet of darkly humorous, seldom-seen short plays by Samuel Beckett; Sliding into Hades, created by the Odyssey's KOAN unit, which was the recipient of multiple LA Weekly awards including "Production of the Year," "Best New Play" and Best Director (Sossi); and Spanish playwright Juan Mayorga's Way To Heaven. Now celebrating its 49th season, OTE continues to explore, produce and present works on the forefront of contemporary theater art in its three-theater complex in West Los Angeles.

Performances of Steambath take place on Fridays and Saturdays at 8 p.m. and Sundays at 2 p.m. from Oct. 20 through Dec. 16. On Sunday, Oct. 21 only, the performance will be at 5 p.m. with no 2 p.m. matinee. Additional weeknight performances are scheduled on Thursday, Nov. 8; Wednesday, Nov. 28; and Wednesday, Dec. 5, all at 8 p.m. Talkbacks with the cast follow the performances on Thursday, Nov. 8; Wednesday, Nov. 28; and Friday, Dec. 7. Tickets range from $32 to $37; there will be three "Tix for $10" performances, on Friday, Oct. 26; Friday, Nov. 23; and Wednesday, Dec. 5. Additional discounts are available at select performances for seniors, students and patrons under 30; call theater for details. The third Friday of every month is wine night at the Odyssey: enjoy complimentary wine and snacks and mingle with the cast after the show.

The Odyssey Theatre is located at 2055 S. Sepulveda Blvd., West Los Angeles, 90025. For reservations and information, call (310) 477-2055 or go to OdysseyTheatre.com.

Steambath is recommended for mature audiences due to mild adult themes and partial nudity.