Native Voices at the Autry Presents Free Festival of New Plays, Now thru 5/31
Native Voices at the Autry, America's leading Native American theatre company, continues its tradition of excellence, developing plays by new and established Native American Playwrights at its highly regarded PLAYWRIGHTS RETREAT AND FESTIVAL OF NEW PLAYS, and culminating in free staged public readings of three intriguing new works today, May 29, 7:30 p.m.; Thursday, May 30, 7:30 p.m.; and Friday, May 31, 2013, 7:30 p.m., at the Autry National Center's Wells Fargo Theater in Los Angeles.
Presented during the 15th annual event are THE HEALER'S REMAINS by Lori Favela (Yankton Sioux*); STAND-OFF AT HWY#37 by Vickie Ramirez (Tuscarora*); and WHERE HAVE ALL THE WARRIORS GONE? by Darrell Dennis (Shuswap*). Illustrating Native Voices' long-term commitment to the development process, the three plays showcased at the 2013 Festival of New Plays are in various phases of development, ranging from initial stages to near completion.
Native Voices' highly respected PLAYWRIGHTS RETREAT AND FESTIVAL OF NEW PLAYS provides the opportunity during a weeklong retreat at the Autry National Center for beginning, emerging, and established Native American Playwrights to work closely in shaping their plays with nationally recognized directors, dramaturgs, and an Acting Company comprised of exceptional Native American actors. The retreat concludes with public readings in Los Angeles and La Jolla. Many works developed during this project have gone on to enjoy successful runs on Native Voices' Autry main stage and elsewhere, including the company's recent world premiere of The Bird House, its 2011 production of The Frybread Queen and its 2009-2010 season opener, Carbon Black. THE HEALER'S REMAINS, the first play written by Lori Favela (Yankton Sioux*), is directed by Robert Caisley, director, with dramaturgy by Julie Jensen, Resident Playwright at Salt Lake Acting Company. It tells the compelling story-punctuated with humorous elements-of the daughter of a formerly prominent healer who stirs up old resentments and speculations in her community about her father's mysterious death when she starts working in a reservation nursing home. Favela, who attended Haskell Indian Nations University before earning a BA in English literature from the University of Kansas, began writing six years ago. She participated in the ABC/Disney and Institute of the American Indian Arts Television and Film Writers' Workshop in Santa Fe, New Mexico, where she was mentored on writing television spec scripts. Her first screenplay is about two American Indian girlfriends living in the tumultuous 1970s during the time of the American Indian Movement.STAND-OFF AT HWY#37 by Vickie Ramirez (Tuscarora*) is directed by Native Voices Producing Artistic Director Randy Reinholz (Choctaw*), who is also Director of Community Engagement and Innovative Programs for the College of Professional Studies and Fine Arts at San Diego State University, with dramaturgy by Shirley Fishman, La Jolla Playhouse Resident Dramaturg. In this dramatic tale about political, environmental and spiritual convictions, when protestors and law enforcement clash over plans to build a highway through a reservation in upstate New York, a Tuscarora man abandons his U.S. military uniform to join the protestors and defend his beliefs. Initially created as a one-act play for the 9th Annual Theater Festival at Ohio Northern University, Standoff received a staged reading in Ohio in 2011, followed by a table reading at The Public Theatre in 2012 as well as a workshop at the Classical Theatre of Harlem. Ramirez subsequently extended it to a full-length play, which receives its first reading at the Native Voices at the Autry's Festival of New Plays. Standoff was also recently selected for Montana Rep's Missoula Colony workshop in July. Ramirez, an alumna of The Public Theater's Emerging Writer's Group 2009, is a member of Chukalokoli Native Theater Ensemble and Amerinda Theater. Her plays include Smoke, Ashes, The Varlettes vs. the Space Rock, Case 24: Roswell, NM and Leona by the Bayou. Her screenplays include MonkeyDog, and Lotto Munney. The recipient of the 2009/2010 NYC Urban Artists Fellowship and the 2010 NYSCA Individual Artist Award, Ramirez's work has been presented at The Public Theater, the Flea, Ohio Northern University, Santa Fe Theatre Festival, the Roundabout Theater's Different Voices Program, EST, BOO-Arts, Mixed Phoenix Theater Company and the 52nd Street Project. WHERE HAVE ALL THE WARRIORS GONE? by established playwright Darrell Dennis (Shuswap*), directed by Jere Hodgin with dramaturgy by Bryan Davidson, Creative Executive for Disney Animation Studios, is a soul-searching story that focuses on a murdered young woman who leaves the four men who loved her most grappling with the cultural pressures that have shaped their lives and leading them to question their own roles in the circumstances that surrounded her death. The idea for Warriors, currently in its first draft, was initially submitted in 2008 as part of Dennis's application for Writer in Residency for Native Earth. He received the residenCy Grant from the Canada Council for the Arts to develop the play and, subsequently, completed a rough draft as part of the 2010 Weesageechak Festival, which he has continued to refine since then. This is the first reading of the full-length play. Dennis is an accomplished playwright and actor whose one-man show, Tales of an Urban Indian, was nominated for two Dora Awards, toured Canada and was produced by New York's Public Theatre and Native Voices at the Autry. A television pilot based on Tales was produced by APTN and aired in 2009, and his feature film adaptation of Tales was one of 13 international screenplays accepted into the prestigious Sundance Screenwriters Lab. Another of Dennis's scripts, Moccasin Flats, was also accepted into the Sundance Film Festival. The short film became a television series on the Showcase Network and APTN. As a comedic writer, Dennis is a frequent contributor to CBC Radio. He co-wrote and hosted Revision Quest, which ran four seasons and won numerous awards including the prestigious New York Festival Award. Last fall, he won Native Voices at the Autry's 2012 Von Marie Atchley Excellence in Playwriting Award, selected by a national panel of judges, for his short play Home of the Running Brave about an Olympic runner who wants to compete under the sovereign flag of his tribal nation, but the Olympic Committee has other ideas. His extensive film and stage credits include appearances on Northwood, Leaving Normal, Planet Zoo, Brothers of the Frontier and The Rez and has guest starred on F/X: The Series, Comics and Keeping the Promise. He trained at Gastown Actors Studio and Second City. Subsequent readings of the three plays take place in the San Diego area at the La Jolla Playhouse in La Jolla as follows: The Healer's Remains on Saturday, June 1, 2:00 p.m.; Stand-Off at HWY #37 on Saturday, June 1, 7:00 p.m.; and Where Have All the Warriors Gone? on Saturday, June 2, 2:00 p.m.The Autry is located at 4700 Western Heritage Way, Los Angeles, Calif. Readings are free, but seating is limited and reservations are suggested. To reserve free tickets, call 323.667.2000, ext. 354, or visit www.NativeVoicesattheAutry.org.NATIVE VOICES AT THE AUTRY is America's leading Native American theatre company. Acclaimed by critics as "a hotbed for contemporary Native Theatre," "deeply compelling" and "a powerful and eloquent voice," the company continues to build on its storied and prolific history as the country's only Equity theatre company dedicated exclusively to developing and producing new works by Native American Playwrights. Native Voices, which provides a supportive, collaborative setting for Native Theatre artists from across North America, was founded in 1994 by Producing Artistic Director Randy Reinholz (Choctaw*) and Producing Executive Director Jean Bruce Scott. In 1999, it was established as Native Voices at the Autry, a resident company at the Autry National Center of the American West. Native Voices maintains successful long-term relationships with New York's Public Theater, Native American Public Telecommunications (NAPT), Washington's Kennedy Center, the National Museum of the American Indian, Perseverance Theatre, the Alaska Native Heritage Center, Montana Rep and La Jolla Playhouse. Hailed by critics also as "a virtual Who's Who of American Indian theatre artists" and "an established presence in Los Angeles and a growing influence elsewhere," Native Voices is widely respected in both the Native American and theatre communities for its breakthrough plays and diverse programming, which showcases the unique points of view within the more than 500 Native American nations in North America. To date, the company has produced 22 critically acclaimed new plays, including 15 world premieres, 10 Playwrights Retreats, 20 New Play Festivals, 2 Short Play Festivals and more than 150 workshops and public staged readings of new plays by Native American Playwrights featuring Native American actors.

THE AUTRY NATIONAL CENTER is a museum dedicated to exploring and sharing the stories, experiences, and perceptions of the diverse peoples of the American West, connecting the past to the present to inspire our shared future. The museum presents a wide range of exhibitions and public programs, which include lectures, film, theatre, festivals, family events, and music, and performs scholarship, research, and educational outreach. The Autry's collection of more than 500,000 pieces of art and artifacts includes the Southwest Museum of the American Indian Collection, one of the largest and most significant of Native American materials in the United States.
Pictured: Playwright/Actor Darrell Dennis (Shuswap*). Photo Credit: Joan Marcus.
More Hot Stories For You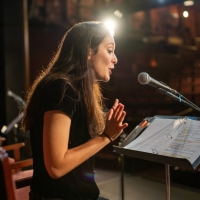 Ensemble Theatre Company Is Accepting Applications For 6th Annual Young Playwrights Festival

November 29, 2022

Ensemble Theatre Company, Santa Barbara's professional theater, is now accepting applications for its 6th Annual Young Playwrights' Festival for aspiring writers aged 14-19.
---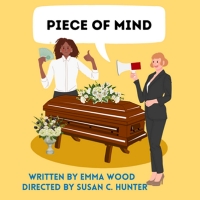 Write Act Rep Presents the World Premiere of PIECE OF MIND At The Brickhouse Theatre, Opens December 10

November 28, 2022

PIECE OF MIND, a play by playwright Emma Wood, will be performed by Write Act Rep from December 10th, 2022 – January 29th, 2023, at the Brickhouse Theatre in North Hollywood. Produced by Write Act's award-winning creative team members: Producing artistic director John Lant, producer Tamra Pica with play direction by Susan C. Hunter.
---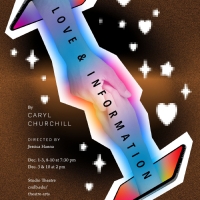 California Repertory Company Presents LOVE & INFORMATION

November 28, 2022

Be prepared for a kaleidoscopic exploration of a world full of chaos, alienation, and miscommunication in Love & Information, written by Caryl Churchill and directed by Jessica Hanna, which will open at the CSULB Studio Theater on Thursday, December 1st, at 7:30 p.m. Performances will continue through Saturday, December 10th at 7:30 p.m.
---
World Premiere Of A MOMENT to Open At Little Fish Theatre in December

November 28, 2022

What begins as an awkward exchange slowly transforms into a night that will change the course of both of their lives. Audiences will love the funny and vulnerable story of A Moment, with this world premiere opening December 14 and closing December 23.
---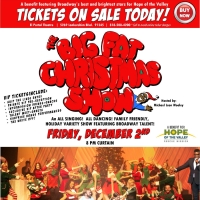 Gabrielle Ruiz, Rena Strober & More to Star in THE BIG FAT CHRISTMAS SHOW at the El Portal Theatre

November 28, 2022

Broadway to the Rescue's THE BIG FAT CHRISTMAS SHOW has announced the cast for this year's December 2nd, holiday fundraising extravaganza, at the El Portal Theatre! The list of Broadway performers this year include Carly Hughes, Jason Michael Snow, Clent Bowers, Rhett George, Greg Poland, Gabrielle Ruiz, Rena Strober, and more.
---