Latino Theater Company Premieres Get Simultaneous Runs at The LATC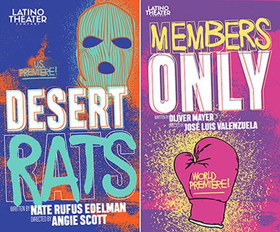 What do a couple of a petty criminals planning a kidnapping in a seedy Barstow motel and a gay, Latino, world champion boxer in 1980s New York at the start of the AIDS epidemic have in common? Each is the subject of a new play receiving a premiere production from theLatino Theatre Company at downtown's The Los Angeles Theatre Center. The U.S. premiere of Desert Rats by Nate Rufus Edelman and the world premiere of Members Only by Oliver Mayer will run simultaneously in the LATC's Avalos Theatre and Theatre 3 respectively. Opening night for both productions is Oct. 27, and performances will continue through Nov. 18. Each production will offer two low-priced previews, on Oct. 25 and Oct. 26.

Angie Scott directs Desert Rats, Edelman's dark comedy about life and crime in America's contemporary West. Walt Gray IV and Derek Chariton star as brothers whose plan to kidnap a Calabasas teenager for ransom come to fruition in a squalid motel room on a hellish day in Barstow. When day turns into night and their hostage (Jagger Waters) is brought out of the trunk, the siblings find their troubles have just begun. The creative team for Desert Rats includes set and lighting designers Cameron Mock and Emily MacDonald, sound designer Ivan Robles and costume designer Jakelinne Gonzalez. The assistant director is Michelle Tapia and the stage manager is Maricela Sahagun.

Desert Rats received its world premiere at the Arts Theatre on London's West End.

"I wanted to write a noirish crime story that shows two sides of L.A.," says Edelman. "The brothers are based on people I grew up with in a rough East L.A. neighborhood. But in L.A., even those who seem to have everything can be totally screwed up. In the play, the brothers have each other, but Amber only has money. As in the noir stories I grew up reading, the characters lose everything because they have no control over the world they live in."

José Luis Valenzuela directs Members Only, a roller-coaster ride to redemption set in 1982 - the golden age of boxing, the dying gasp of disco, the flowering of identity politics, and a time before AIDS had a name. Two decades have taken their toll on Pedro Quinn (Blood In, Blood Out's Ray Oriel), a gay Latino prizefighter still fighting well into his 40s, ducking his living-legend status and mourning a man he killed in the ring years ago. Meanwhile, a new generation continues to push the cultural and sexual envelope in and out of the ring. The cast also includes Ronnie Alvarez, Marlene Forte, Darrin DeWitt Henson,Jon Huertas, Hansford Prince, Geoffrey Rivas and Carolyn Zeller. The set designer isFrançois-Pierre Couture, lighting design is by Pablo Santiago, sound design is by John Zalewski and costume design is by Carlos Brown.

Members Only is a stand-alone sequel to Mayer's groundbreaking Blade to the Heat, which received its world premiere at the Joseph Papp Public Theater in New York and its West Coast premiere at the Mark Taper Forum, where Oriel created the role of Pedro, a year-and-a-half later.

"My generation is steeped in the experience of AIDS, whether we realize it consciously or not," says Mayer. "It sculpted us. This play is about the survivors - in this case those of us of color - who somehow escaped the scourge. Whether or not we identified as gay, we were there on the front lines, before the disease even had a name. And seemingly by luck, some of us were spared while others were taken before their time. Whether on the dance floor or in the boxing ring, all of us were in the line of fire."

Both Edelman and Mayer are founding members of The Temblers, a collective of seven diverse and acclaimed Los Angeles-based playwrights based at the Los Angeles Theatre Center under the auspices of the Latino Theater Company.

Edelman's other plays include The Belle of Belfast, which was the recipient of numerous L.A. Weekly and Ovation nominations when it premiered at EST/LA and was a New York Times "critic's pick" when it was produced by Irish Repertory in New York City; Bright Light City, which premiered at the LATC; Blind Struck; Ugly Luck; and Another Fine Mess. He received his MFA in dramatic writing from NYU. He is a member of the Choctaw Nation.

Mayer is a Mexican American playwright who attended Cornell, Oxford and Columbia Universities. Returning to L.A., he worked for eight years as literary manager at the Mark Taper Forum, helping to develop important American plays including Tony Kushner's Angels in America and Terrence McNally's Master Class. His plays have been produced nationwide as well as at the Royal Court in London and the Teatro Lirico in Mexico City. Mayer is a professor and associate dean at USC's School of Dramatic Arts.

The Latino Theater Company is dedicated to providing a world-class arts center for those pursuing artistic excellence; a laboratory where both tradition and innovation are honored and honed; and a place where the convergence of people, cultures and ideas contribute to the future. Now in its 32nd year, LTC has operated The Los Angeles Theatre Center, a landmark building in Downtown's Historic Core, since 2006.

Desert Rats and Members Only both open on Saturday, Oct. 27 at 8 p.m., with performances of each production taking place on Thursdays, Fridays and Saturdays at 8 p.m. and Sundays at 3 p.m. through Nov. 18 (dark Thursday, Nov. 8). In addition, each production will receive one additional performance on Monday, Dec. 5 at 7:30 p.m., and two preview performances, on Thursday, Oct. 25 at 8 p.m. and Friday, Oct. 26 at 8 p.m.Tickets range from $24 - $60. The Los Angeles Theatre Center is located at 514 S. Spring St., Los Angeles, CA 90013. Parking is available for $5 with box office validation at Joe's Thursday Parking structure, 530 S. Spring St. (immediately south of the theater). For more information and to purchase tickets, call (866) 811-4111 or go to http://thelatc.org/.
More Hot Stories For You