Photos: Laguna Playhouse Annual Gala Raises Record Amount as it Honors Suzanne and James Mellor
381 guests filled the Island Hotel in Newport Beach for Laguna Playhouse's annual fundraising gala. This year's event, themed Theatre Changes Lives, raised a record $600,000 in support of The Playhouse's mission to enrich lives through the magic of live theatre, to provide educational opportunities for children and adults, and to create experiences that stimulate cultural and social interaction and inspire our community. Proceeds from the event help cover the operating costs of the 96-year old icon, one of the oldest continuing operating theaters west of the Mississippi. Within the funds raised that evening, $90,000 was raised for the Suzanne and James Mellor Laguna Playhouse Tribute Fund, which will provide theatre experiences for youth by providing tickets to performances and to cover the cost of transporting youth groups to the theatre.
The celebratory event was co-chaired by Kathryn Burton Gray and Laguna Playhouse Trustee Glenn E. Gray who led this great success with the most amount of money raised at a Playhouse gala in history. The event was sold out three weeks before the event date with special accommodations being made to add in an extra sixty attendees. "We are pleased at the incredible level of support and generosity that we received from our Board of Trustees and the entire Laguna Beach philanthropic community and are proud to have had the great honor to chair this wonderful event," said Glenn Gray.
A pinnacle of the gala was recognition of Laguna Beach residents and gala Honorees Suzanne and James Mellor who, said Laguna Playhouse Board Co-chair Joe Hanauer, "Jim and Suzanne have provided unparalleled support to so many local and national arts and education non-profits and are proud to provide a legacy of philanthropy. The Mellor's are one essential ingredient to the Laguna Playhouse's success today." Playhouse supporters, leaders of other community arts organizations, Mellor family and friends, and elected officials were in attendance to honor the Mellors. Suzanne's touching remarks recalled how, growing up in Detroit at age 10, her sanctuary was hearing the Detroit Symphony perform. Jim noted, "We give and we also get, with a big multiplier. We feel privileged to serve and be part of The Playhouse. It's especially rewarding to be honored for something you love to do." Suzanne closed their comments with a memory that brought tears to the eyes of many, "we only had seven people at our wedding, this is a very, very big night for us.
Playhouse Executive Director Ellen Richard welcomed guests and provided a special thank you "to gala co-chairs, Glenn and Kathryn Gray, who are responsible for a sold out gala." Ms. Richard noted, "Our next season is beginning in June with probably our biggest and best season in years. Starting with the hit musical HAIRSPRAY, followed by A NIGHT WITH Janis Joplin, the iconic story of THE GRADUATE, ALADDIN AND HIS WINTER WISH, the featured Holiday Panto, the Pulitzer and Tony Award winning plays I AM MY OWN WIFE and CLYBOURNE PARK, a revival of 12 ANGRY MEN, and, the last subscription show will star Nathan Gunn, the world wide acclaimed baritone, in a Hershey Felder creation called FLYING SOLO. "
Ms. Richard noted, "There have been some amazing investments in The Playhouse over the last couple of years. Two years ago, Jamie Walters and Mohammed El-Elrian made a substantial contribution to our youth outreach and education programs. Last year, the city of Laguna Beach gave us an incredible gift of a four year grant to invest in our 50 year old building. And now this year, when I asked the board to make an investment in the art on our stage, one woman, Lisa Hale, took it to heart and blew me away with the news that we would be able to produce the shows we dreamed of producing."
"Lastly," Richard added, "many of you know we have a fabulous school and outreach program. This year we were in 41 schools where we brought books to life for young people who might not get an arts education. This program has been led by Donna Inglima, winner of Laguna Beach Arts Alliance award for lifetime service. Next year the young conservatory will produce three shows, THE SECRET LIFE OF GIRLS, THE LITTLE PRINCESS and one of my favorites, OLIVER."
Ann E. Wareham, Artistic Director, echoed the sentiments of the evening: "We couldn't have asked for better leaders and partners in this endeavor than Glenn and Kathryn Gray, our chairs, or for more worthy honorees than our beloved Suzanne and Jim Mellor." Throughout the evening's program Ms. Wareham provided guests a glimpse into the upcoming season by introducing musical highlights: Youth Conservatory performing OLIVER choreographed by Conservatory student Siena Yusi, Laguna's own "King" of Rock n' Roll, singer/songwriter and KX93.5 personality Jason Feddy singing Janis Joplin's "A Piece of My Heart," and cast member Kristen Daniels performed one of the hit songs from HAIRSPRAY. "I'm excited about the breadth and depth of our upcoming season. There is so much to look forward to in the future at Laguna Playhouse!"
Mr. Gray welcomed celebrated Orange County community and business leaders with a champagne toast to 96 successful theatrical years, and honoring Suzanne and James Mellor for their decades of philanthropy and leadership for arts in Laguna Beach.
Arriving guests were greeted to live piano music. Highlights from the evening included: a VIP Reception sponsored by First American Trust featuring hors d'ouevres and live music, the critically acclaimed Laguna Playhouse Youth Theatre welcoming guests with a special musical presentation of "Consider Yourself" from the play "Oliver".
The event featured a Nolet's Bar where guests enjoyed signature Nolet cocktails. An amazing array of silent and live auction items ranging from Art & Jewelry, Wine and Spirits, Chef's Tables and luxurious travel were available for bid throughout the night. The opportunity drawing sponsor, Winston's Crown Jewelers, contributed three stunning pieces of jewelry and 150 boxes filled with a piece of jewelry or a Winston's Crown Jewelers gift certificate. Unique live auction items included: Surfing with a Star....Gregory Harrison (winner Lou Rohl); naming The Playhouse's bar and signature cocktail for the new season (the Irvine Company president Ray Wirta winner), one-time walk-on roles of Hairspray and the holiday Panto Aladdin. Auctioneer Zack Krone led guests in an entertaining fundraising segment, "Fund A Need," where the audience learned how their donations materialized into full blown production elements.
The event was made possible through the generosity of many sponsors including: Crevier Classic Cars, Deborah & Cody Engle, Laguna Beach Books-Joe & Jane Hanauer, Kathryn Burton Gray and Glenn Gray, Gary and Betsy Jenkins, Scripsense, Inc. & Masson Family Foundation, Greg and Barbara MacGillivray, Suzanne and James Mellor, Tim & Lyn Carlyle, First American Trust, Nicholas Yrizarry, Paul Singarella-Latham & Watkins LLP, The Moulton Company, Nolet Spirits USA, Firebrand Media, and Winston's Crown Jewelers.
The evening wrapped up with guests dancing to music performed by DC Babylon and the Hanging Garden, a full Chicago style band complete with a horn ensemble.

Gala co-chairs Glenn Gray and Kathryn
Burton Gray
Trustees Lisa and Jim Hale with family
Board of Trustees Co-Chair Paul Singarella with Chapman University President Daniele Struppa, and Nolet Spirits USA President and CEO Bill Eldien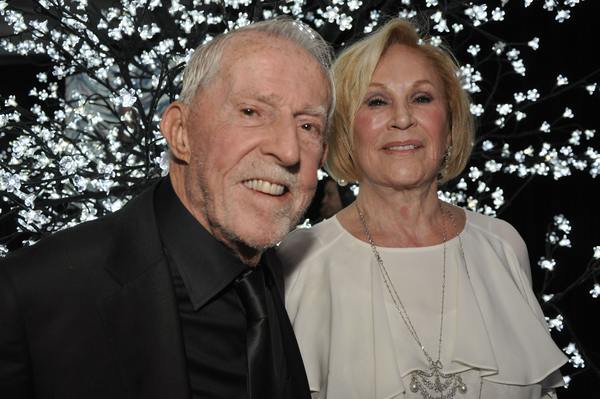 Honorees James and
Suzanne Mellor