Jewish Women's Theatre to Open New Show in Trifecta of Sold-Out Hits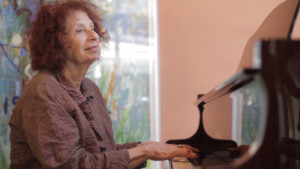 Santa Monica's The Braid, a performance and art space, which sent
Monica Piper
's Not That Jewish Off-Broadway for 200 performances and redeveloped
Rain Pryor
's sold-out hit Fried Chicken and Latkes, is at it again. This time,
Annie Korzen
Famous Actress, featuring Seinfeld's Doris Klampus, will continue Jewish Women's Theatre's (JWT) tradition of critically acclaimed, original one-woman shows when it opens on July 8.
The Braid, JWT's home, has earned a national reputation for commissioning and nurturing funny, poignant and popular solo performances by women who have something to say. In 2016, Monica Piper's Not That Jewish (a commission of JWT) won a Los Angeles Drama Critics Circle Award nomination and went on to an 8-month run at New World Stages. The New York Times called it "Funny.... Delicious...A Gem."
Next up was Rain Pryor's Fried Chicken and Latkes. Richard Pryor's daughter's memoir of growing up black and Jewish in 70's and 80's LA was called "a hilarious and heart-wrenching story." The show's limited run was extended to over 50 performances by popular demand.
"The performance of personal essay has never been more popular," said Ronda Spinak, JWT's artistic director. "The ironically titled Annie Korzen Famous Actress will once again allow JWT to showcase not just a woman, but an original spirit who has written and will perform our newest, funny and moving offering."
Korzen's new show tackles poignant personal issues plus finds humor in the people she has met and the rocky road she has traveled as an actress. She covers her "crap career" and will take audiences along on her hilarious journey from being the daughter of the world's most neurotic mother, to her singing the post-partum blues in a Copenhagen mental hospital and, more recently, to the shock of being demoted from leading lady to bit player in her son's life when he announces his engagement.
"But it all ends well," Korzen says, "And I hope our audience members will be inspired by a woman who finally finds fulfillment by letting go and reinventing herself. What I do is share my mistakes. I'm old enough to have made a lot of mistakes. And I've learned from those mistakes. I'm giving the audience a shortcut."
New York Times bestselling author and actress Annabelle Gurwitch says, "Annie's late-in-life success story keeps us in stitches and occasionally brings us to tears." Cindy Chupack, Executive Producer of Sex and the City, says, "I love every story Annie tells. She will make you laugh, cry and nod in recognition. Between laughs, she is able to capture gorgeous, surprising, life-affirming truths."
JWT stages and displays traditional and contemporary works that provide a forum for the development, performance and showcasing of Jewish talent. Now in its tenth year, its "salon theatre" of original dramatic shows, each written to a specific theme, displays the diverse and eclectic community of writers, artists and creators who comprise L.A.'s Jewish women's community. Performances take place both at its new home in The Braid Performance and Arts Space in the Santa Monica's Bergamot Arts District, in homes throughout the city, and on tour in California and throughout the nation.
Annie Korzen Famous Actress will open in previews Thursday, July 8, and run through August 13 at The Braid, home of Jewish Women's Theatre, 2912 Colorado Avenue, Suite 102, Santa Monica. Preview tickets July 8-9: $35. July 13-Aug. 13: tickets $40. Tickets at the door when available: $45. visit: http://annie2017.bpt.me/.