It's a Life, a New JWT Show Tells Funny and Moving Stories of Death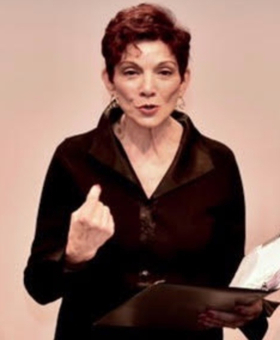 Death is part of life, and Jewish Women's Theatre (JWT) will perform stories about the many facets of death and how memories, fears, and new understandings can transform grief or relief into thoughts and actions that are positive and healing. It's a Life opens March 9 at The Braid in Santa Monica and travels throughout the state until March 28, in homes, artful venues, synagogues and JCCs.

"Presenting stories about death seems like a radical idea, and perhaps a sad one, but these stories are inspiring, funny, life affirming and empowering," explains Ronda Spinak, JWT's artistic director, "Sure, at first we were a bit reticent to create a show with such a seemingly disturbing theme, but we received over 200 submissions for this show, indicating how important it is for our community to share their experiences."

In It's a Life, audiences will meet a niece who accidently and hysterically creates a viral obituary about her character-actor uncle, and a mountain climber who finds his passion not on the top of a mountain, but in a coffee shop. There are daughters who feel their father's presence when they find feathers or see football games, or who find comfort in an unofficial Dead Dads' Club. Then there is a daughter whose distant, unlovable father makes her promise to put the words "Mr. Wonderful" on his tombstone.

Exploring the sacred traditions of Judaism are also honored through stories about the volunteers who become Chevra Kaddisha or watchers over other peoples' loved ones to assure respect while waiting for burial, and an on-call woman rabbinical student who, as a hospital chaplain, encounters an Orthodox family who was not expecting a young woman rabbi to help manage their grief. These and other stories will make you laugh and cry, and do both!

Producing director Susan Morgenstern adds, "Our goal at JWT is not only to entertain (though this show is highly entertaining), but to move hearts and minds and allow everyone to see their story on our stage. Talking about death is challenging for many of us, and this show will jumpstart meaningful conversations in our theatre and afterwards. I think everyone will connect to these stories."

It's a Life features a first-rate cast who bring talent and major acting experience to the stage. They are:

Lisa Robins has worked with JWT since its inception. She starred in The Blessing of a Broken Heart, a one-woman show that garnished stellar reviews. Other LA appearances include Love, Loss and What I Wore (Geffen) and Catskill Sonata (dir. Paul Mazursky). She has also appeared in a variety of film and TV shows including Rum Diary (opposite Johnny Depp); and James Dean.

ARVA ROSE has been a member of Jewish Women's Theater since its inception. As Arva Holt, she performed at the American Stage Festival in Miracle Worker as Annie Sullivan, Streetcar as Stella, and Front Page among many others, including the American Jewish Theater and the Hartman Theatre. She has appeared on Cheers, LA Law, Hill Street Blues and many other TV shows.

Harris Shore has worked under most Equity and SAG-AFTRA contracts for over 46 years. On Broadway & Off, he played Harry S. Truman in The Buck Stops Here, and was in Rainbow Jones (Music Box) and A Christmas Carol (Beacon). On TV, he played Mr. Lippman on Seinfeld and was in two Hallmark movies: The Crossword Mysteries: A Puzzle to Die For and The Holiday Calendar. He is an ordained cantor.

CHARLOTTE EVELYN WILLIAMS has been acting since the age of seven. Since graduating from Cal State Fullerton with a BA in Fine Arts, she has performed in several LA playhouses including the Ruskin, where she portrayed Beneatha in A Raisin in the Sun (2016 Ovation recommended). She has also costarred on several TV shows, including Unsolved (USA), Baskets (FX), and Preacher (AMC).

Opening night of the performance of It's a Life will be accompanied by an new exhibit in The Gallery at the Braid featuring photography, drawings and sculpture, all around the theme of It's a Life. An art talk with many of the featured artists will be held at 6:30 pm prior to opening night of the new show. There is no charge for the exhibit or art talk, but tickets are required for the performance.

It's a Life opens on March 9 at the Braid and will travel to the Westside, the Valley and the South Bay until March 28. For tickets, times, and Salon locations near you, visit www.jewishwomenstheatre.org or call 310-315-1400. The Braid is located at 2912 Colorado Avenue, Suite 102, Santa Monica 90404.

JWT's The Braid, voted one of the "Best Live Theatres on the Westside" two years in a row by The Argonaut, stages original dramatic performances, contemporary art exhibits, classes, and other events showcasing the diverse community of writers, artists and creators who celebrate Jewish life, one story at a time.
Related Articles View More Los Angeles

Stories

Shows
More Hot Stories For You