Independent Shakespeare Co. Presents A CHRISTMAS CAROL WITH CHARLES DICKENS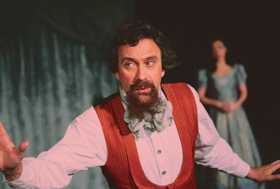 INDEPENDENT SHAKESPEARE CO. (ISC), producers of the Griffith Park Free Shakespeare Festival, presents A CHRISTMAS CAROL WITH Charles Dickens. This holiday season ISC recreates (with a little artistic license) the experience of a reading of A CHRISTMAS CAROL WITH Charles Dickens, given by Charles Dickens himself. Expect a performance full of the acting pyrotechnics Dickens was famous for, holiday music, wry humor, and redemption. A CHRISTMAS CAROL WITH CHARLES DICKENSwill perform at Independent Studio from Thursday, December 6 - Sunday, December 23 (Thursdays - Sundays) at Independent Studio in the Atwater Crossing Arts + Innovation Complex, 3191 Casitas Ave., #130 in Atwater Village.
From 1857 until the end of his life, Charles Dickens performed his most popular story to acclaim throughout Britain and America. This December, the ISC Studio transforms to a cozy Victorian drawing room and we welcome Mr. Dickens to the stage for A CHRISTMAS CAROL WITH Charles Dickens. David Melville (last summer's Bottom in A MIDSUMMER NIGHT'S DREAM and Titus in TITUS ANDRONICUS at ISC's Griffith Park Free Shakespeare Festival), gives a virtuoso performance as nearly all the characters in the story. He is joined by Kalean Ung who provides dramatic interjections, sound effects and live music. It truly is a Christmas Carol like no other. Stage Raw praised the production saying, "...the main attraction is the opportunity to appreciate Melville's versatile talents: his lightning shifts from one character to the next and the silly exuberance he brings to such sequences as his depiction of Scrooge's "Christmas Past." [The story's] message of caring for one another in a world run by Scrooges registers as more relevant now than ever."
This is ISC's 14th anniversary of presenting A CHRISTMAS CAROL WITH Charles Dickens. Says ISC Artistic Director, Melissa Chalsma, "Dickens (who as a boy of eight was sent to work in a factory) wrote A CHRISTMAS Carol To urge his fellow citizens to towards a more compassionate society. Our unplugged version of the story sets aside the commercial bells and whistles that so frequently go along with a production of this classic tale, and allows all of us to reflect on the possibility of transformation that Dickens offers. It is a humane story full of generosity, shrewd observations, and wry humor."
ABOUT THE CREATIVE TEAM AND CAST
Melissa Chalsma (Director) is the Co-founder and Artistic Director of Independent Shakespeare Co. Under Melissa's leadership, the company created the Griffith Park Free Shakespeare Festival, which has grown into the largest theater event of its kind in Los Angeles. She directs many ISC productions, including A Midsummer Night's Dream, Titus Andronicus, Measure for Measure, Richard III, Romeo & Julietand Twelfth Nightat the Griffith Park Free Shakespeare Festival,and at Independent Studio, All's Well That Ends Well,Othello, Pericles andDoctor Faustus.Other directing projects include the Western Premiere of Akio Miyazawa's Hinemi(California State University, Northridge). As an actor, she has been seen in leading roles in ISC productions, including Katharine in The Taming of the Shrewand has performed at Shakespeare festivals across the US, on Broadway (including the American premiere of Harold Pinter's Moonlightwith Jason Robards, Blythe Danner and Liev Schreiber) and in the UK, including at the Derby playhouse and London's Battersea Arts Center. She is married to ISC co-founder David Melville.
David Melville (Charles Dickens) is co-founder of Independent Shakespeare Co. and the Griffith Park Free Shakespeare Festival. David has performed in and directed numerous Shakespeare plays. This past season in Griffith Park he appeared as Nick Bottom in A Midsummer Night's Dreamand the titular character in Titus Andronicus. He wrote, co-directed and appeared in ISC's original musical, Red Barn. He has taught workshops in New York, Los Angeles, and France, and appeared in the films Ironclad and The Understudy, as well as in his own comedy series on the Travel Channel, Lawrence of America. He trained at the Webber-Douglas Academy, London.
Kalean Ung (Miss Ung) most recently wrote and starred in a solo show at the ISC Studio, Letters From Home.She has performed at The Kirk Douglas Theatre, Theatre @ Boston Court, REDCAT, Highways Performance Space, The Actors' Gang, The Getty Villa among others. She has worked with critically acclaimed theatre companies such as Critical Mass Performance Group, Independent Shakespeare Company, Four Larks Theatre and CalArts Center for New Performance. Her recent acting LA credits include, with Independent Shakespeare Co.: Measure for Measure(Isabella), The Snow Geese(Viktorya), A Midsummer Night's Dream (Titania),The Tempest(Ariel), Richard III (Margaret), Othello (Desdemona), Pericles(Marina) plus Paul Sand Presents: Kurt Weill at the Cuddlefish Hotel at the Actors' Gang, The Temptation of St. Antony(Queen Sheba) with Four Larks Theatre (Ovation Award Winner). Kalean received her MFA in Acting from California Institute of the Arts and her Bachelor of Music in Vocal Performance from UC Santa Cruz. Kalean is a faculty member at CalArts, teaching voice. More news at www.kaleanung.com
For tickets, please call (818) 710-6306 or buy online at www.iscla.org
ISC's TICKETING PRICES
Tickets: $25 - $35
Recommended for ages 8 and up.
Photo Caption: David Melville as Charles Dickens
Photo Credit: Grettel Cortes