I GO SOMEWHERE ELSE Returns This January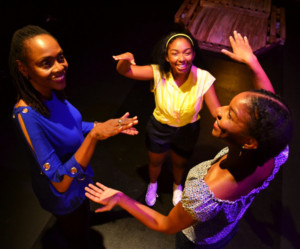 Jon Lawrence Rivera, Artistic Director of Playwrights' Arena - the first and oldest theater dedicated to discovering, nurturing, and producing original works written exclusively by Los Angeles playwrights, is thrilled to announce the encore presentation of the critically-acclaimed hit I GO SOMEWHERE ELSE by Inda Craig-Galván, with the original cast that includes Kevin Cougal,Kita Grayson, Donna Simone Johnson, Inger Tudor, and Cheri Lynne VandenHeuvel.
Playwright Inda Craig-Galván is a Chicagoan living in Los Angeles, where it's warm. Her plays have been developed and read at Eugene O'Neill National Playwrights Conference, Oregon Shakespeare Festival BLACK SWAN Lab, San Francisco Playhouse, American Blues Theatre, and others. Honors include the Kilroys List, Kennedy Center Rosa Parks Playwriting Award, Blue Ink Playwriting Prize, and Princess Grace Playwriting Prize (runner-up). Her play BLACK SUPER HERO MAGIC MAMA will receive its world premiere in March 2019 at The Geffen Playhouse (Los Angeles). Inda is a writer on ABC's The Rookie. She received her MFA in Dramatic Writing from the University of Southern California.
I GO SOMEWHERE ELSE is about one daughter's fractured memory of her troubled mother, as seen through three different perspectives. When 70s film prom queen Carrie is your role model, your adolescence must really suck. Will Lanny grow into a well-adjusted adult who can forgive her mother's many faults? Or will she burn the whole town to the ground with telekinetic powers? A girl can dream, can't she? It is play full of good music, bad memories, and the hope for a better Scott Baio.
Director Jon Lawrence Rivera is the recipient of the first Career Achievement Award from Stage Raw. He recently directed the following world premieres for Playwrights' Arena: BABY EYES by Donald Jolly, BILLY BOY by Nick Salamone; LITTLE WOMEN [a multi-cultural transposition] by Velina Hasu Houston; THE HOTEL PLAY by Paula Cizmar, Velina Hasu Houston, Jennifer Maisel, Nahal Navidar, Julie Oni, Janine Salinas Schoenberg and Laurie Woolery; BLOODLETTING by Boni B. Alvarez (also at the Kirk Douglas Theatre); @THESPEEDOFJAKE by Jennifer Maisel; CIRCUS UGLY by Gabriel Rivas Gomez; PAINTING IN RED by Luis Alfaro. He is the recipient of a NY Fringe Festival Award, an LA Weekly Award, and a five-time Ovation Award nominee.
Production Team includes: Austin Kottkamp (scenic design), Matt Richter (lighting and sound design), Lily Bartenstein (projection design), Mylette Nora (costume design). Casting Director was Raul Clayton Staggs. It will be staged managed by Christina Bryan and produced for Playwrights' Arena by Henry 'Heno' Fernandez.
Performances begin January 12, 2019, at Atwater Village Theatre, 3269 Casitas Ave., Los Angeles. Regular performances are Saturdays 8 PM, Sundays 4 PM and Mondays 8 PM. It closes on Sunday, January 27, 2019.
Tickets are $25 advance on line or $30 at the door. For reservations go to www.playwrightsarena.orgor call 800-838-3006.
More Hot Stories For You