Hollywood Stars Raise Over $436,000 For Television Academy Foundation
The Television Academy Foundation today announced it raised over $436,000 at the 22nd Annual Emmys Golf Classic.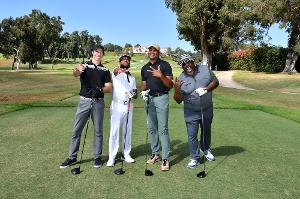 The Television Academy Foundation today announced it raised over $436,000 at the 22nd Annual Emmys Golf Classic.
Television stars, sports luminaries, entertainment industry executives, Television Academy leadership and corporate partners competed in the golf tournament at the Riviera Country Club in Pacific Palisades, California, Monday, Oct. 3.
Proceeds from the event benefit the nonprofit's renowned Internship and College Television Awards programs that provide industry access and career development opportunities for college students nationwide interested in media careers.
Cedric the Entertainer (The Neighborhood) and Andia Winslow (A League of Their Own) co-hosted the event that included stars from television, film and sports: Jonathan Adams (Last Man Standing), Frank Buckley (KTLA), Matt Craven (Lou), Patrick Fabian (Better Call Saul), Derek Fisher (NBA), Jason Her (For All Mankind), Brian Letscher (Scandal), Matt Letscher (The Flash), Willie Gault (NFL), Michael Irby (Mayans M.C.), Chris O'Dowd (Slumberland), Dr. Paul Nassif (Botched), Norm Nixon (NBA), Danielle Nottingham (California Live), Jesse Orosco (MLB), Ron Perlman (The Capture) and Patrick Warburton (Family Guy). Adam Rodriguez (Ordinary Joe) served as honorary host for the event.
"Our sincerest appreciation to Cedric the Entertainer and Andia Winslow for co-hosting the event and to all the celebrities and industry executives who participated in the tournament," said Cris Abrego, chair of the Television Academy Foundation. "Our generous corporate sponsors made this year's event a tremendous success. The funds raised will support the Foundation's year-round programming offering diverse students nationwide educational events and paid internships at top Hollywood production companies to help them on their career paths."
The tournament kicked off with "on-the-green" carpet arrivals, a putting contest, full round of golf and an afternoon cocktail reception. The day concluded with an auction and awards dinner where honors were presented, including:
● 1st Place Team: CBS with celebrity Cedric the Entertainer.
● 2nd Place Team: Lionsgate with celebrity Dr. Paul Nassif.
● 3rd Place Team: Deborah Bradley, Mark Kuryak, Jeffrey Springer and Kevin Walsh.
More Hot Stories For You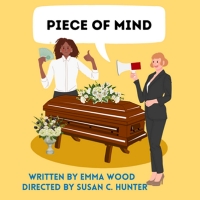 Write Act Rep Presents the World Premiere of PIECE OF MIND At The Brickhouse Theatre, Opens December 10

November 28, 2022

PIECE OF MIND, a play by playwright Emma Wood, will be performed by Write Act Rep from December 10th, 2022 – January 29th, 2023, at the Brickhouse Theatre in North Hollywood. Produced by Write Act's award-winning creative team members: Producing artistic director John Lant, producer Tamra Pica with play direction by Susan C. Hunter.
---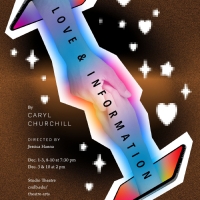 California Repertory Company Presents LOVE & INFORMATION

November 28, 2022

Be prepared for a kaleidoscopic exploration of a world full of chaos, alienation, and miscommunication in Love & Information, written by Caryl Churchill and directed by Jessica Hanna, which will open at the CSULB Studio Theater on Thursday, December 1st, at 7:30 p.m. Performances will continue through Saturday, December 10th at 7:30 p.m.
---
World Premiere Of A MOMENT to Open At Little Fish Theatre in December

November 28, 2022

What begins as an awkward exchange slowly transforms into a night that will change the course of both of their lives. Audiences will love the funny and vulnerable story of A Moment, with this world premiere opening December 14 and closing December 23.
---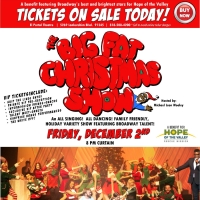 Gabrielle Ruiz, Rena Strober & More to Star in THE BIG FAT CHRISTMAS SHOW at the El Portal Theatre

November 28, 2022

Broadway to the Rescue's THE BIG FAT CHRISTMAS SHOW has announced the cast for this year's December 2nd, holiday fundraising extravaganza, at the El Portal Theatre! The list of Broadway performers this year include Carly Hughes, Jason Michael Snow, Clent Bowers, Rhett George, Greg Poland, Gabrielle Ruiz, Rena Strober, and more.
---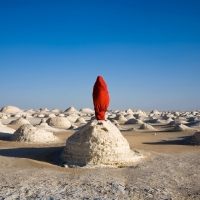 The LA Art Show to Return This Winter With a Focus on the Global Climate Crisis

November 28, 2022

The LA Art Show, LA's largest and longest-running art fair, will return to the Los Angeles Convention Center on February 15-19 to kick off the city's 2023 art season.
---