Erin Courtney's A MAP OF VIRTUE to Make West Coast Debut in November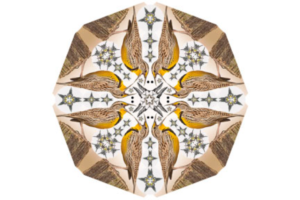 Barker Room Rep announced today that the West Coast premiere of Erin Courtney's OBIE Award-winning play, A Map of Virtue, will take place at the Atwater Village Theatre, November 2-18. This play will be the first full-length production for Barker Room Rep, a new Los Angeles-
based Production Company founded by playwright and director Mark Sitko. A Map of Virtue is a romantic, mysterious play exploring coincidence, circumstance and the relationship between people and objects. Jason Zinoman from The New York Times described it as "a delicate gem...the kind of play that could be ruined in development since its potentially disastrous affectations are also the source of its beauty." Part interview, part comedy, A Map of Virtue is a haunting, strange middle-of-the-night adventure.
The play follows two people connected by the shared ownership of a small bird statue. The most unconventional characters in A Map of Virtue are also the most essential, adding depth and layers to a story that is continually unfolding. Bookended by scenes from a documentary interview, the play's symmetrical structure centers around a life-changing event and examines how the most significant events in our lives can alter the landscape of our reality. Under Mark Sitko's direction, this production of A Map of Virtue stays true to Courtney's vision, allowing the audience to explore each of the many subtle themes that make this work so poignant.
"The play is a little bit of a formal adventure but it contains a varied emotional landscape, which includes love, fear, and friendship, " says playwright, Erin Courtney. "I'm excited A Map of Virtue is getting a West Coast premiere and psyched for it to be directed by Mark Sitko and produced by his new, groundbreaking company Barker Room Rep. Sitko has a passion for plays that engage all of the senses, plays that make you think but also might make you dizzy. I can't wait to see what Barker Room Rep will bring to the theatrical landscape of Los Angeles."
Mark Sitko, Founder and Artistic Director of Barker Room Rep, director of A Map of Virtue, said, "Barker Room Rep was started out of a desire to see more creatively progressive, thought-provoking art on stage in Los Angeles. As champions of the unconventional, we're working to foster ambitious new voices in theater while expanding their appeal to greater audiences. I'm thrilled to bring Erin Courtney's mind-bending work to Los Angeles as our first production. A Map of Virtue is the perfect embodiment of the type of stories we're looking to tell."
Starring Megan Branch (Redcat) as Sarah, Sam T. West (The Bushwick Starr) as Mark, Donald Rizzo (La Jolla Playhouse) as Nate, Ryan Ashton (Zack Sinnett on CBS's The Young and the Restless) as Victor, Mary Jane Gibson (Cultural Editor, High Times Magazine) as June, Ian Merrigan (creator of the musical The Unfortunates) as Ray, and Michael Rahhal (Blue Man Group) as the Bird Statue.
The creative team includes sound designer Bobby McElver (Wooster Group), lighting designer David Roy (Clubbed Thumb), and costume designer Randal Sumabat (The Globe). The production manager is Matt Richter (resident designer at LA LGBT Center) and production stage managers are Liz Nielsen, Logan Smith, and Jon Michael Villagomez. House Manager is Alexa Maris.
Erin Courtney's other plays include I Will Be Gone, which premiered at the Humana Festival of New American Plays in 2015 directed by Kip Fagan, Honey Drop, Black Cat Lost, Alice and the Magnet, Quiver and Twitch, and Demon Baby. A California-native, she was awarded a Guggenheim Fellowship for playwriting in 2013, is a member of 13-P, a New Dramatist resident playwright, an affiliated artist with Clubbed Thumb, recipient of a NYSCA grant and two MAP Fund grants from the Rockefeller Foundation, and has been a resident at the MacDowell Colony. Her work has been produced and developed by Clubbed Thumb, The Flea, New York Stage and Film, Adhesive Theater, Soho Rep, The Vineyard, and The Public. She teaches in the MFA playwriting program at Brooklyn College and graduated from Mac Wellman's MFA program at Brooklyn College, 2003, and Brown University, 1990.
Mark Sitko is the Founder and Artistic Director of Barker Room Rep. He received his MFA in Playwriting at Brooklyn College studying under Mac Wellman while serving as the Associate Artistic Director of the Bushwick Starr. His plays include Paki-man, TUBE, Gonna See a Movie Called Gunga Din, Rocky Philly, Slabtown, Tipoldemoder, and Ketamine.
A Map of Virtue received an Obie Award for its 2012 New York production.
Performances of A Map of Virtue take place Thursdays, Fridays, Saturdays at 8 p.m., and Sundays at 4 p.m. and 8 p.m., November 2-18. There will be two preview performances taking place Thursday, November 2 and Friday, November 3, both at 8 p.m. Tickets range from $15-$25. Atwater Village Theater is located at 3269 Casitas Avenue, Los Angeles, 90039.
For theater information and to purchase tickets, visit www.barkerroomrep.org.
About Barker Room Rep
Barker Room Rep is a new experimental theatre company based in Los Angeles, established in 2016 with the production of two one-acts; Playing Uno with Gil by Jacob Burstein-Stern and Paki-Man by Mark Sitko. Named for the room on the Brooklyn College campus where MFA playwriting students gather to workshop their plays with Mac Wellman, Barker Room Rep aims to showcase the work of the most creatively ambitious playwrights writing today; providing a space for inclusive, diverse, and controversial stories, and fostering artists and art that reflect these values. With a simple philosophy, Barker Room Rep aims to produce plays that are pieces of art. Plays that speak to the modern mind. Plays that challenge the [ ]. Fill in the blank.