Crown City Theatre Company to Premiere SOMEWHERE IN THE MIDDLE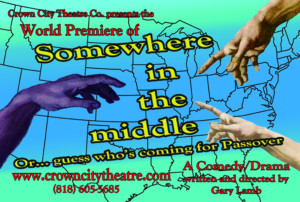 Crown City Theatre Company turned 21 this year and to commemorate their 10th season in their own home will open with the World Premiere play "Somewhere in the Middle (or guess who's coming for Passover) by Co-Artistic Director Gary Lamb.
Produced by Co-Artistic Director William A. Reilly and the Crown City Theatre Company, "Somewhere in the Middle" will be directed by Gary Lamb and features Cynthia Kania, Richard Van Slyke, Saige Spinney, Julie Lanctot, Adam Krist and Luke King.
Featuring costumes by Amanda Walters, set by Joanne McGee, lights by Zad Potter who also will Stage Manage, and assistant stage manager Madison Cole Garfinkle.
"Somewhere in the Middle" is about a Jewish-Christian, middle-class family living in the Midwest. It's a funny and heartwarming comic-drama about prejudices and religious beliefs, which are brought to the forefront when the eldest over-achieving child (Sarah) comes home for the Passover/Easter holiday dressed in Muslim garb. Her Middle-aged Mother (Lauren) and her Grandmother (Roz) are taken aback, while her smart-ass younger brother (Adam) loves the idea that he can now become the number one child in his parent's eyes. Her Father (David) is concerned that his daughter's religious studies class is making her question her Jewish heritage. But is this a rouse to lighten the impact of bringing home her college boyfriend? The conversation about getting Roz to move into a retirement community and back into "the real world" after having lost her husband a year ago, takes a back seat to the new guest of honor. With a nod to "Guess Who's Coming To Dinner" when the boyfriend shows up discussions get a little heated and nothing is off-limits. From the Midwest to the Middle East is there really any one-sided truth or does the truth live somewhere in the middle.
IF YOU GO:
"Somewhere in the Middle, or guess who's coming for Passover"
At Crown City Theater, 11031 Camarillo Street, North Hollywood, CA 91602
Previews: Friday and Saturday August 25, 26 and Friday September 1 at 8:00pm
Gala Opening with reception: Saturday September 2 at 8:00pm
Running Fridays & Saturdays 8:00pm and Sundays 3:00pm thru October 8.
With added alternative cast* performances on Thursday nights September 14, 21 & 28.
Ticket prices are $10 for previews and Thursday night performances, $20 for all other nights.
Info & tickets: www.crowncitytheatre.com | 818-605-5685.
*Alternative cast includes: Susan Sommer, Martin Sottile, Zach Louis, Sarah Yannie and Tony Tambi.