BWW Review: THE HUMANS Brings Horror and Recognition to the Ahmanson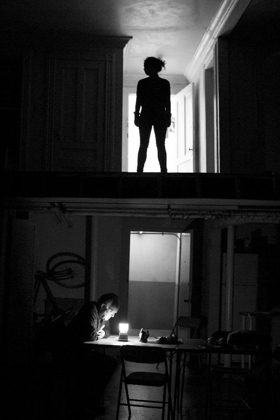 The Humans/by Stephen Karam/directed by Joe Mantello/Ahmanson/through July 29
Humans fear monsters, and monsters we are told are even more scared of humans. Monsters are not real but horror really does exist in the human experience. Ask the Blakes. Losing one's job, facing illness, the worst being dementia, is a part of their lives and many others in the decaying/disappearing American middle class. In Stephen Karam's riveting play, The Humans, the Blake family gather for Thanksgiving in daughter Brigid's latest dwelling, a New York apartment in Chinatown, that she shares with boyfriend Richard, some year since the devastation of 9/11/ 2001 The parents and grandmother have made the long trek from Scranton, Pennsylvania; they love their children that much and of course like to meddle in their lives. Currently onstage at the Ahmanson, the Tony winning play with the original Broadway cast and directed by Joe Mantello, induces self-inspection, and is simultaneously relatable and entertaining.
Bickering between Deirdre (Jayne Houdyshell) and daughters Brigid (Sarah Steele) and Aimee (Cassie Beck) is normal and pretty much expected in any family with traditional values. The Blakes are Irish Catholic, so when Brigid speaks of her unmarried state with Richard (Nick Mills), or of her plans for cremation, or makes light of a gift from her mother - a statue of the Blessed Virgin - Deirdre obviously unravels. Her husband Erik (Reed Birney) has secrets that are festering within him, but one of his greatest worries is his mother Fiona named Momo (Lauren Klein) who is in the last stages of dementia. Deirdre is thoroughly loyal to taking care of her mother-in-law, a trait almost unheard of in today's family scene. So despite the dysfunctions, the Blakes do love one another and go to great extremes to express just how grateful they feel to be with their family this Thanksgiving.
Writer Stephen Karam peppers the dialogue with so much humor. When Brigid focuses on depression and complains about the way life has treated her, her father reminds her that she is living organically, buying expensive food that is good for prolonging her life...why should she care if she hates life that much? Director Joe Mantello has action taking place on two levels, as the apartment is a duplex with upstairs and downstairs living quarters. The family members rapidly interchange conversations in both places, back and forth, as in life, with a kitchen.sink reality that audience can readily relate to. David Zinn has designed the incredible duplex to reflect the play's and the characters' dark mood. The floor below seems to hold more happiness than the one above that is a cluttered mess. However, they must pass through it to partake of their journey in all of its forms. The humor comes from them and their issues and is never forced.
As to the ensemble, they are all first-rate whether expressing or conceaing their emotions. Houdyshell and Birney are superb; their love and tolerance for the family is remarkabley brought to light by their sincere performances. Aimee is a lawyer and a lesbian. She is dealing with the loss of a job, and a lover, and is about to have surgery on her intestines; she suffers from advanced colitis. Beck is awfully good walking a tightrope between her own problems and those of her family. Brigid is well physically but is busting her gut working a night job so she can study for a music career by day. Her mate Richard is also a student pursuing a degree in sociology. Their distress, however strong, is far less than what their parents are going through, not only with Momo but because they are forced to let go of their Pennsylvanis home, for lack of finances. Both Steele and Mills express a vivid sense of support that goes above and beyond the call of duty.
The ending of the play seems a nightmare with rumbling sounds, darkness and an eerie light from the hallway like the end of the world. For all these characters life is not a bowl of cherries but like most of us, they hang on to whomever and whatever they have. Cling to your values at all costs!
(photo credit: top: Brigitte Lacombe; middle: Joan Marcus; bottom: Lawrence K. Ho)